Cheap eats in River North and Streeterville
With ramen, burgers and doughnuts galore, River North and Streeterville boast some of the best cheap eats in Chicago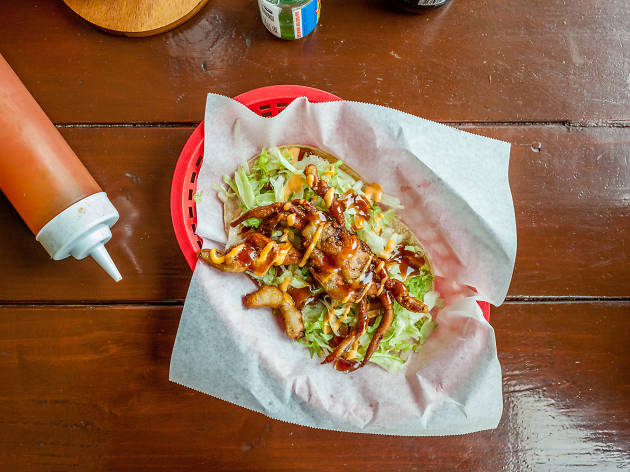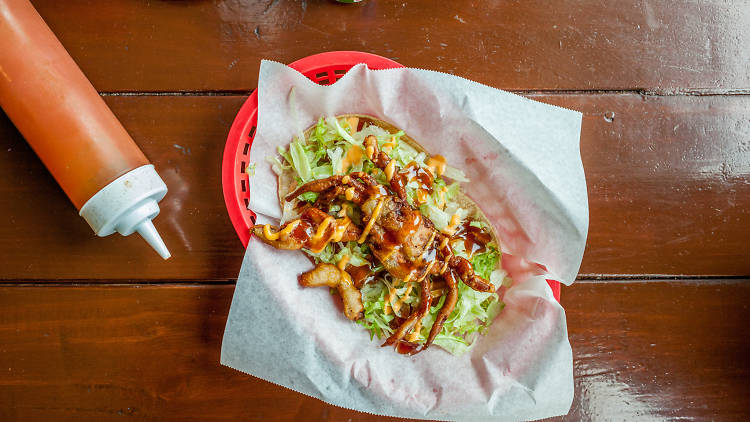 A second bakery from Alliance Bakery, this airy patisserie focuses on French desserts, including macarons, petits gateaux and breakfast pastries. For lunch, you'll find sandwiches and cheese plates, while for breakfast, there's quiche and flaky, buttery croissants. They'll offer to heat up your croissant, so take them up on it—the warm ham and cheese croissant, alongside a cup of Bow Truss coffee, is the perfect start to the day.
Read more
This quick-service fish shack has some gourmet leanings: It's run by former Hell's Kitchen contestant Tony D'Alessandro. The tacos, particularly the fried fish tacos, are excellent, burgers are made from Angus beef and the French fries are larded with hunks of foie gras. Nearly everything is less than $10 (and most items are less than $5), making this one of the best cheap meals in the city.
Read more
The counter-service pizza and sub joint serves New York-style slices that are large, foldable and completely satisfying for a quick lunch or snack. You can't beat the classic thick-cut pepperoni, though the artichoke pie is a nice mild blend of artichokes, spinach, aged provolove, mozzerella and white sauce, and the wild mushroom adds black truffle. Sandwiches skew classic and include an Italian with giardiniera and a BLT with prosciutto and garlic mayo.
Read more
Brendan Sodikoff's doughnut shop is the best in town, with a perfect buttermilk old-fashioned, glazed chestnut and sprinkle-bedecked birthday doughnut among our favorites. You'll have to wait in line, but this is a line that's worth it.
Read more
The Italian megastore can certainly be pricey when you dine at a sit-down restaurant (our favorites are the vegetable and seafood-focused spots), but when you just want a snack, pop by the Nutella bar. There, fresh, crusty bread slathered with Nutella costs just a couple of bucks, and it's one of the most satisfying snacks around.
Read more
Jonathan Fox's offering to the doughnut-crazed masses is adorably vintage, with boxes of mostly classic flavors (old fashioned buttermilk, chocolate-glazed) wrapped in bakers' twine. The triple-chocolate is a solid replication of chocolate birthday cake, and the old-fashioned is one of the most modest in town—a fact that will thrill smaller eaters. Yet the only Firecakes doughnut that really makes a statement technically isn't a doughnut at all: It's the crisp and surprisingly light apple fritter.
Read more
The M in M Burger may as well stand for McDonald's, or at least McDonald'sish, because the place has the same greasy aroma, detectable from down the street, and the same magic bullet that shoots directly into our pleasure receptors whenever we take a bite of its food. Maybe it's all that sugary ketchup, or the sugary buns, or the soft mouthfeel of the beef that makes for effortless inhaling. Whatever it is, eating these burgers is pure happiness.
Read more
This über-efficient local chain, begun in Villa Park in 1963, is mostly found in the suburbs. But at the one city Portillo's, in tourist-heavy River North, out-of-towners flock in search of an authentic Chicago dog. The thick, nicely juicy dog comes on a poppyseed bun steamed to perfect softness and with a generous helping of thick-cut tomatoes, onions and a hefty pickle slice.
Read more
Chicago finally has a Shake Shack, which means you don't have to leave town to sample the griddle-cooked burgers, crinkle cut fries and rich frozen custard your friends in New York have always bragged about. Its prime location in River North makes the restaurant a tourist trap, but the s'mores concrete made with Bang Bang Pie is worth waiting in line for.
Read more
Show more