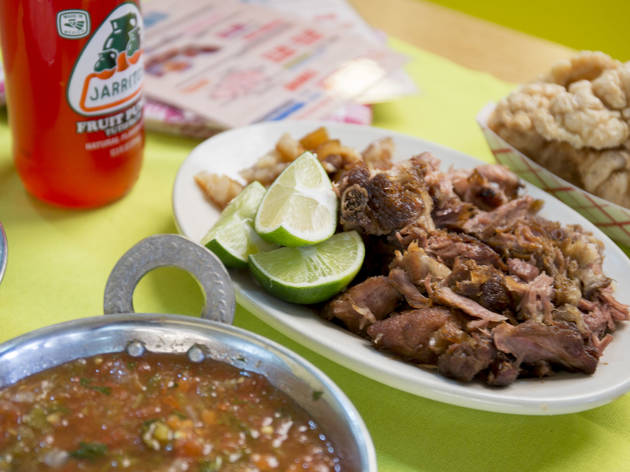 The 15 best cheap eats in Chicago
The best part? Everything on this list rings up well under $10.
You can learn a lot about a city through its everyday food—the stuff that locals eat without much thought. Oftentimes, these inexpensive delicacies get knocked off best-of lists for fancier fare and gastronomical bragging rights. But like a seriously tasty trip to a museum, the best cheap eats in Chicago paint a picture that's rich in history and embedded with culture. From the top hot dog stands in Chicago and one of the oldest restaurants in Chinatown to an inconspicuous taco stand inside a corner market, these are the culinary building blocks of a great city. The best cheap eats in Chicago are easy on your wallet, too, with everything on this list ringing up under $10. There's never been a better time to get to know the city on a more intimate level, and there's no sweeter way to do that than through your taste buds.
RECOMMENDED: Discover more of Chicago's most iconic dishes
Best cheap eats in Chicago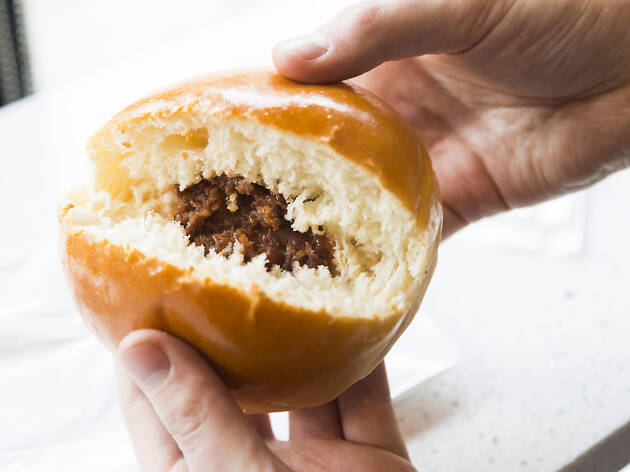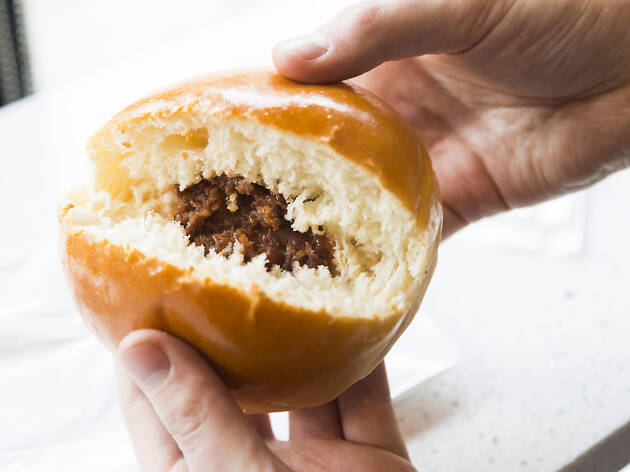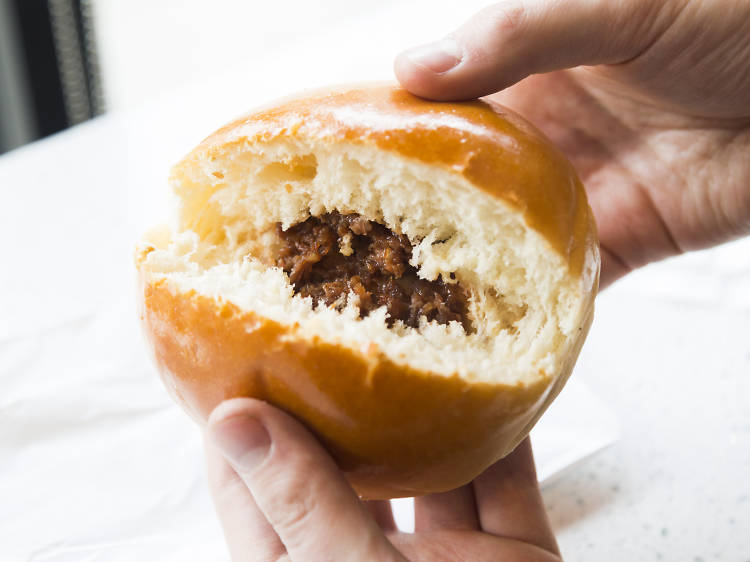 Photograph: Jaclyn Rivas
The $1.25 BBQ pork bun at Chiu Quon
If there's a more heavenly savory pastry in Chicago, we have yet to find it. Lucky for us, the case at Chiu Quon—one of Chinatown's oldest bakeries—is always stocked with the drool-inducing buns. Each golden orb is stuffed with tender, melt-in-your-mouth shredded pork that's been marinated in sugar, salt, soy sauce, oyster sauce and sesame oil. The fluffy, slightly sweet dough that surrounds the savory center tears easily with two hands (or your teeth). Save yourself the heartache and order a few extras for the road.
The titular meat is served by the half-pound at Carnitas Uruapan, a popular Pilsen storefront with a newer second location in Gage Park to satisfy the city's demand. Locals line up early to place their order before the restaurant sells out for the day, which can happen well before closing time. The succulent, slow-roasted pork is accompanied by salsa, handmade tortillas, lime wedges, raw onion and cilantro—everything you need to make some of the tastiest tacos in Chicago.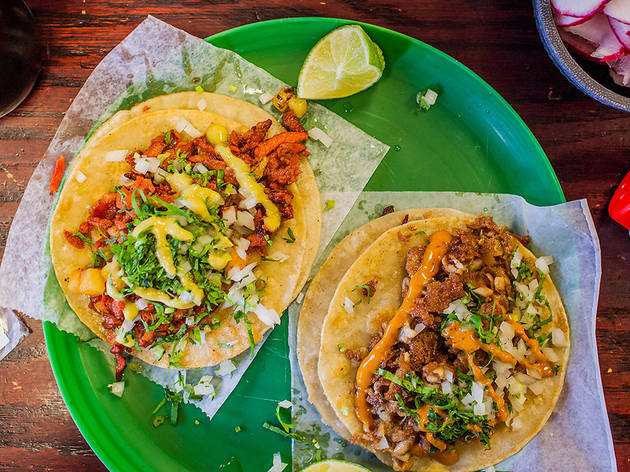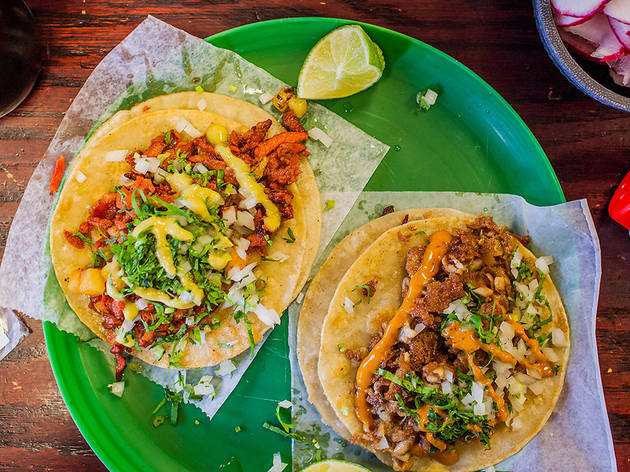 Photograph: Nick Murway
The $3.25 lengua taco at La Chaparrita Grocery
If you've gotten this far without trying lengua, or beef tongue, it's time to change that—stat. Try it at this iconic Little Village corner store that peddles tacos, huaraches and aguas frescas. The super tender, remarkably soft meat is a flavor conduit, so keep it simple with a sprinkle of diced raw onions and cilantro, a squeeze of lime and a spoonful of salsa. While you're here, you might as well sample the cabeza (head) and the tripa (tripe)—two close seconds to the lengua.
Though it was franchised at the turn of the millennium, this location of Al's is the oldest (having opened in 1938) and the only direct descendant of the original (a stand at Laflin and Harrison). These days, you'll find Italian beefs all over town, but there's something about eating one at this surviving piece of Little Italy. A six-inch bun piled with tender, thinly sliced beef is only better as a "combo" (topped with char-grilled sausage), "dipped" in beef jus and finished with hot giardiniera. Skin-on fries smothered with cheese are required eating for a meal lingering locals would be proud of.
This not-so-hidden gem in Albany Park deals in unimaginably cheap sushi, three words that could be a turnoff but aren't at Lawrence Fish Market. Most of the rolls ring up well under $8, but we love shopping the à la carte section, where you can snag single slices of pristine sashimi for around a buck. Choose from tender tako (octopus), buttery salmon, ruby-red tuna or marinated mackerel. Just don't forget to stop at the ATM before you place your order—Lawrence Fish Market is cash-only.
A beacon of cheap eats, Sultan's Market boasts locations in Wicker Park, Lincoln Park and Logan Square—making it easy to get your hands on Middle Eastern fare no matter how much money you have in your wallet. For a couple of bucks, you can snag a soft, toasty pita that's stuffed to the brim with creamy hummus, roasted chicken, tomatoes, onions and Jerusalem salad. Opt for the medium spice to kick things up a notch. It's the kind of thing you can scarf down on the go, no seat required.
Father-son duo Robert Adams Sr. and Jr. moved their Honey 1 BBQ from the Northwest Side to Bronzeville, but they're still churning out delicious house-smoked meats with Arkansas flair (Adams Sr. hails from the Southern state). Particularly drool-inducing: the spot's spicy-hot links and tender rib tips slathered in a sticky barbecue sauce. The meal comes in a variety of sizes, but the mini is enough to serve one person. Fries and bread help soak up excess sauce.
The menu at Portillo's is long on expertly prepared fast-food staples, but the exemplary Chicago-style hot dog is an absolute must. Each sausage comes wrapped like precious cargo, but as you peel back the wax paper, you'll catch a glimpse of the bright-green relish, crimson tomatoes and sport peppers. The steamed poppy seed bun holds it all together like a warm hug, but you'll surely wind up with a bit of mustard on your chin. One glance around the room and you'll see that no one notices—they're all entranced with the food in front of them.
Did you know that the jibarito was created in Chicago? In our minds, the ingenious Puerto Rican sandwich is as iconic as the Chicago-style hot dog or the Italian beef. You'll find a stellar example of the sandwich at this no-frills restaurant in Back of the Yards, where the beef jibarito is accessorized with melted cheese, tomato, grilled onions and lettuce. But the star of the show is the garlicky plantain "bun," which is expertly seasoned and fried to crispy-chewy perfection.
We know what you're thinking—a double-digit sandwich that almost maxes out the $10 limit? But the handhelds at this Humboldt Park hideout are easily splittable, or you can wrap up leftovers for another meal later on. Though familiarity will tell you to order the cubano, we're telling you to go with the Knuckle, which finds tender steak, havarti, pickled peppers, onions and Sazón-spiced mayo getting cozy on a hunk of soft and slightly sweet bread. Thanks to a quick ride on the press, this sandwich is served warm, with the melty havarti glueing everything together in tangy, meaty bliss.
The barrel-sized steamer pots behind the counter conceal a treasure trove of tamales stuffed with chicken or pork in red or green sauce—all priced well under $2 a pop. Two or three should quell your hunger, but save room for a sweet dessert tamal flavored with fresa (strawberry), pina (pineapple) or elote (sweet corn). A word to the wise: This place closes at 6pm and often sells out, so visit around the lunch hour if you want your pick of the menu.
It's damn near impossible to find an excellent burger and fries for less than $10 in Chicago, but at Red Hot Ranch, it's all in a day's work. The cash-only, late-night hang slings crispy-edged griddle patties that are dressed up with a slice or two of American cheese, LTO and special sauce. It's everything you want on a burger and nothing you don't. The thick-cut fries are nothing to scoff at either—and they make the perfect vehicle for all the drippings from one of Chicago's best burgers.
Like many of the menu items at this Chengdu-homaging restaurant in Bridgeport, these supple, crescent-shaped pork dumplings arrive swimming in a searing, bright-red oil made from dried chilies and numbing Sichuan peppercorns. They're painfully addictive, and a slow burn will haunt your lips long after the meal ends.
Sometimes all you really need is a single slice of deep dish pizza. Art Shabez, the owner of the Art of Pizza, gets it—which is why he sells all of his fan-favorite 'za by the piece and the pie. There's a lot to look at on the menu, but you're here for the stuffed special: an ooey-gooey mess of onions, sausage, mushrooms and green peppers anchored by a firm, buttery crust and covered in bright, oregano-flaked sauce. Heck, you should probably just toss another slice in your order—just in case.
Photograph: Jaclyn Rivas
The $7.75 1/2 dark chicken dinner at Harold's Chicken
These days, Chicago is home to a number of fantastic chicken shops, but none is more iconic than Harold's. The franchise has locations all over town (and across state lines), but shops No. 88 in Bronzeville and 36 in Wicker Park are among our favorites. For less than $10, the filling 1/2 chicken dinner (light or dark meat) comes served atop a slice of white bread and a bed of fries. But Harold's tangy, fan-favorite Mild Sauce is what takes this crispy bird to the next level. Go ahead and order extra.
Best selling Time Out Offers