10 places in Chicago for a Lenten fish fry
From Friday specials to daily offerings, here are our favorite spots for a fish-and-chips fix during Lent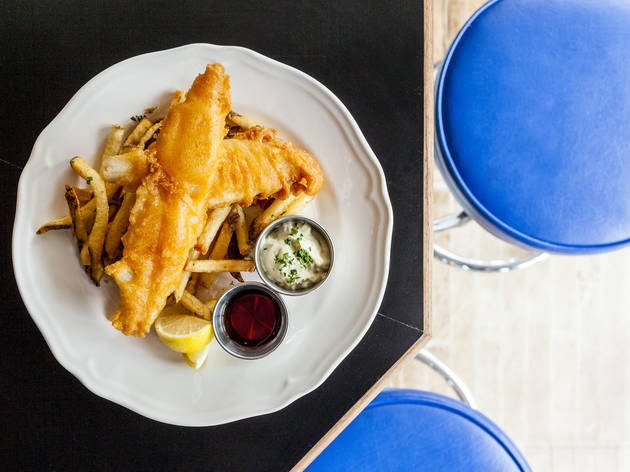 If you're observing Lent—or just love seafood—this is the season for fish and chips. There are seven Fridays in Lent, and we found seven great spots where you can chow down. From seafood restaurants to a spot for British food, here's where to get your fish and chips fix.
RECOMMENDED: Easter events in Chicago
Where to find a fish fry
The special Lenten fish fry includes Harp lager–battered North Atlantic cod served with coleslaw and steak fries. There's also an all-you-can-eat special for an additional $2, although we're not entirely sure you need it—the regular serving is hefty all on its own. Available Fridays for $14.
Read more
This place might get packed for its fried chicken, but its fish fry specials attract the same crowds. Whitefish ($8.95), lake perch fillet ($14.95) and more are available with sides of coleslaw, cottage cheese, fries and bread and butter.
Read more
The Gage is a great spot for a traditional plate of fish and chips. The fish, fried in a Guinness batter, comes tucked in mock newspaper tissue (like in the U.K.) and is served with sides of malt tartar sauce and a lemon wedge to drizzle as you please. Be sure to order a pint of Guinness for the perfect pairing. $19.
Book now
Read more
The fish and chips at Johnny's Grill is about as authentic as you can get. Owner and head chef Sarah Jordan is from Ireland, and you can tell from this dish's non-fussy taste and presentation. The catch of the day has a crisp breading and is served with house fries, tartar sauce and lemon. Though very simple, this fish fry means business. $12
Read more
Kinmont's offering its regular fish and chips dish at a lower price every Friday during Lent. For $10, enjoy fish and chips with a tempura batter and tartar sauce.

Book now
Read more
Every Friday, New England Seafood hosts an all-you-can-eat $10.95 fish fry, but fish and chips are available all the time for $14.
Read more
This quintessential spot for British food serves up its fish and chips all the time, with haddock and house-cut chips with a malt vinegar mayo, pea puree and sauce gribiche. $18.
Read more
Fridays at this Bridgeport favorite are for beer-battered, fried fish served with hand-cut chips and house-made preserved-lemon tartar sauce. $12.
Read more
The fish fry at Revolution Brewing is much like the brewpub's hoppy beers in that it's different than most others. The fish comes as three pieces of cod battered in an extra pale ale and sits on top a serious bed of fries. On the side, a honey jalapeno slaw delivers a spicy but manageable kick and a sweet roasted red pepper remoulade departs from the traditional tartar dipping sauce. You won't find too much that's traditional about it, apart from the lemon wedge and malt vinegar. $14.
Read more