Mardi Gras food and drink specials
Celebrate Fat Tuesday with gumbo, jambalaya, drink specials and parties at Chicago restaurants and bars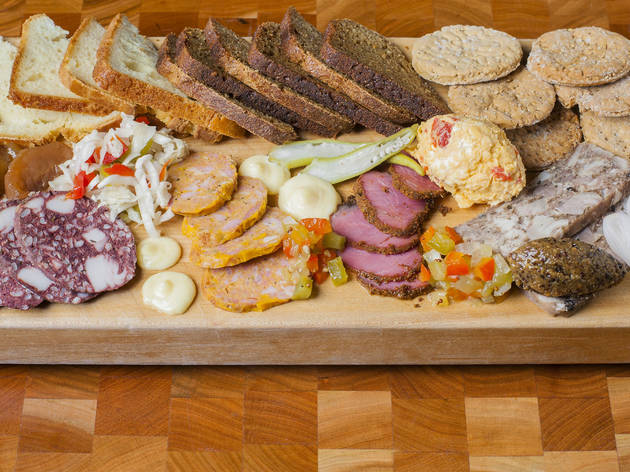 If you can't make it to New Orleans for Mardi Gras this year, don't worry: There are specials on hurricanes, po'boys, all-you-can-eat crawfish boils and paczki at some of the best Chicago restaurants and bars. These Mardi Gras food and drink specials are being offered on Fat Tuesday—February 28—unless otherwise noted.
RECOMMENDED: Our guide to Mardi Gras

Where to celebrate Mardi Gras in Chicago
Cajun and creole cooking are on the menu at Big Jones for Mardi Gras. Choose from both a la carte options and a prix fixe menu. Pick from dishes like an oyster po'boy, lump crab cakes and a blackened andouille po'boy. The prix fixe option is $33 and only available for dinner, but you'll pick from choices like gumbo, etoufee and jambalaya. Both menus are available February 10–March 2.
Book now
Read more
Alligator gumbo? Just for Mardi Gras. Grab this dish along with a muffaletta and chicken jambalaya to start your Mardi Gras festivities off on the right foot.


Book now
Read more
The annual Fat Tuesday Shrimp Boil is back at Frontier at 6pm, with tickets for $35 including all-you-can-eat shrimp, corn and potatoes with complimentary beads, masks and king cake for dessert. Drink specials like $5 Abita, $5 hurricanes and $6 sazeracs will be available all night long.
Book now
Read more
Enjoy specials like jambalaya ($13) and beignets ($8) paired with hurricanes and sazeracs for $7 starting at 5pm.
Read more
Head to Chicago Q for an all-you-can-eat crawfish boil with music from a jazz band. You can pick your tickets up on their website for $40, which include one drink ticket. You can also add dishes like house-boiled peanuts ($4) and beignets for $9, and grab a personal size of the crawfish boil for $21. The boil will take place on Saturday, February 25 from noon–4pm.
Book now
Read more
Celebrate the holiday at Easy Bar's "Big Easy" party with the release of New Belgium's Voodoo Ranger IPA. They'll be serving up the new beer for $6.50 while giving away beads and king cakes (while supplies last). Whoever finds a baby in their king cake will receive New Belgium swag.
Read more
Teaming up with Butcher & the Larder, Blackwood BBQ is offering up a smoked andouille po'boy February 22–28 available at all Blackwood BBQ locations until they sell out.
Read more
Get the party started at Brando's Speakeasy with $5 hurricanes and complimentary Mardi Gras beads. They'll also be hosting trivia in the Essaness room starting at 6:30pm with $4 bottles of Goose Island's 312 and Stella Artois.
Read more