Heads up! We're working hard to be accurate – but these are unusual times, so please always check before heading out.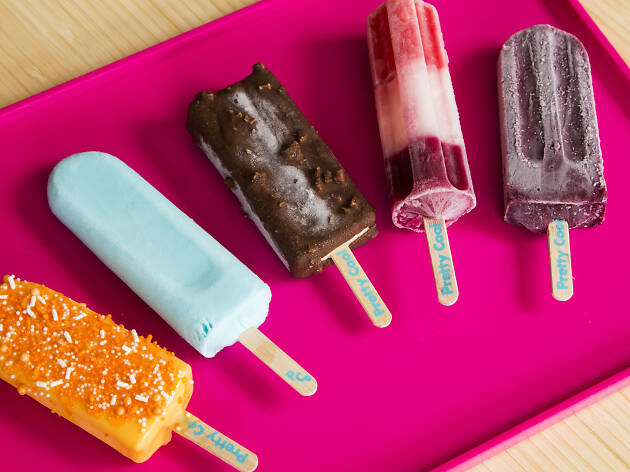 8 ways to support Chicago restaurants and bars right now
Show your love by ordering delivery, buying gift cards and stocking up on cookbooks
As restaurants and bars across the city close their doors to dine-in guests this week, you might be wondering what you can do to help. Good on you. After all, these are the folks who have always welcomed us in for date night, birthday celebrations and late-night shenanigans. Now it's our turn to show up, and thankfully there are plenty of ways to support Chicago restaurants and bars over the next couple of weeks. From ordering delivery and stocking up on gift cards to grabbing beer from Chicago breweries on your next grocery run, these are eight easy ways to show love to Chicago's best restaurants and bars during this uncertain time.
Editor's note: Things are changing by the second, and many restaurants are still figuring out what works best for them. We'll keep this article updated, but please be safe, use your best judgement and call ahead if you're uncertain.
RECOMMENDED: Why we changed our logo to Time In—for now
How to support Chicago bars and restaurants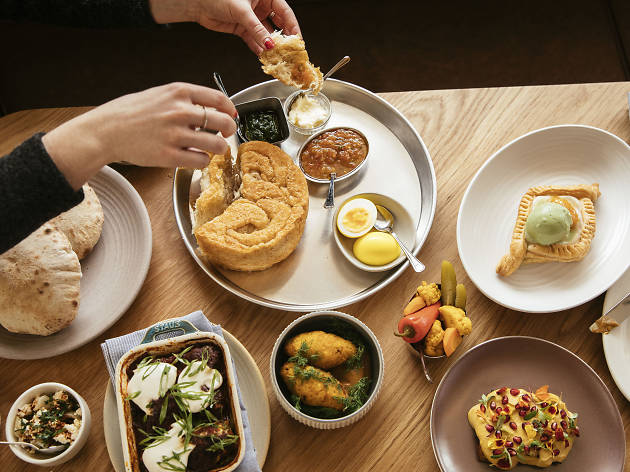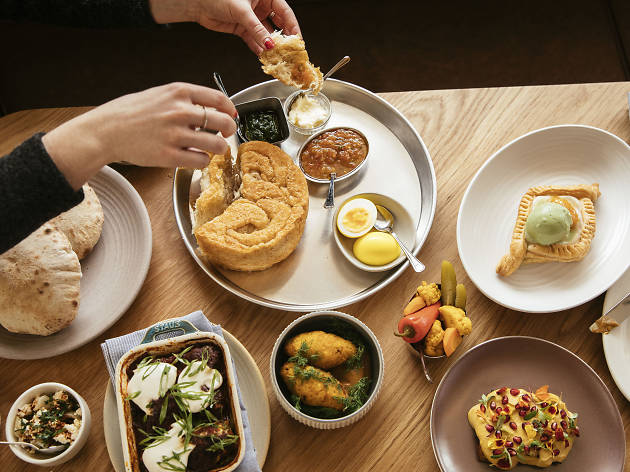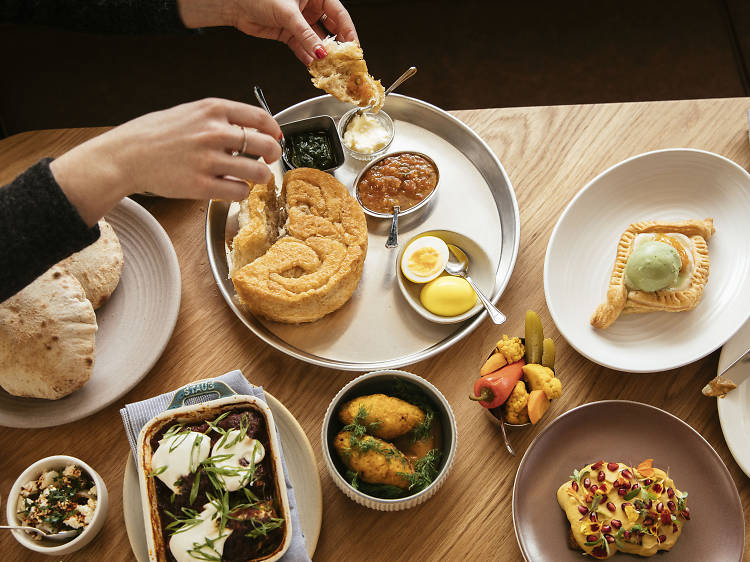 Photograph: Sandy Noto
Order delivery or curbside pickup
Let's start with the most obvious (and delicious) avenue of support. Many of the best restaurants in Chicago have turned to curbside pickup and delivery to keep the lights on. In addition to the usual suspects, you'll find upgraded options from eateries that don't usually offer these services, like dining destinations Galit, Elizabeth and Temporis. Heck, you can even get a fondue kit from Geja's Cafe to really spice things up at home.
Chicago-made website Dining at a Distance is a great resource to peruse nearby options and find out who's offering what. If you can, consider ordering pickup or delivery directly from the restaurant to help them avoid service fees. And for the love of humanity, please tip generously.
Let's not forget about our local breweries, roasteries, distilleries and bars. Consider swapping out your Starbucks order for beans from local outfits Metropolis, Dark Matter or Metric—even if their cafés aren't open, you can usually find their products at your local grocery. The same goes for Chicago booze producers, like KOVAL, Rhine Hall and Moody Tongue. More fun still are Hopewell Brewing's mixed cases of beer, which can be ordered with a tropical plant or cactus—because why the hell not!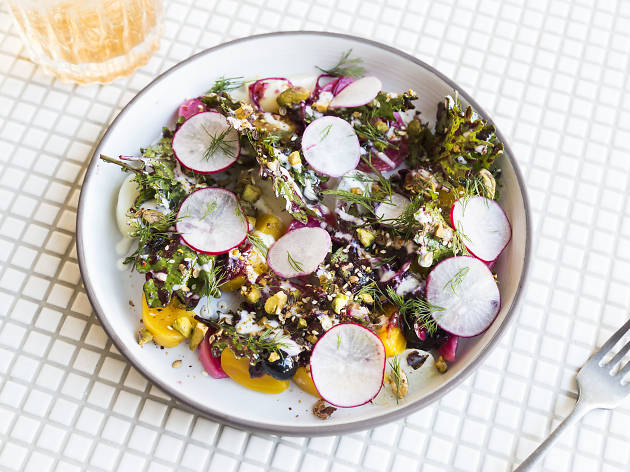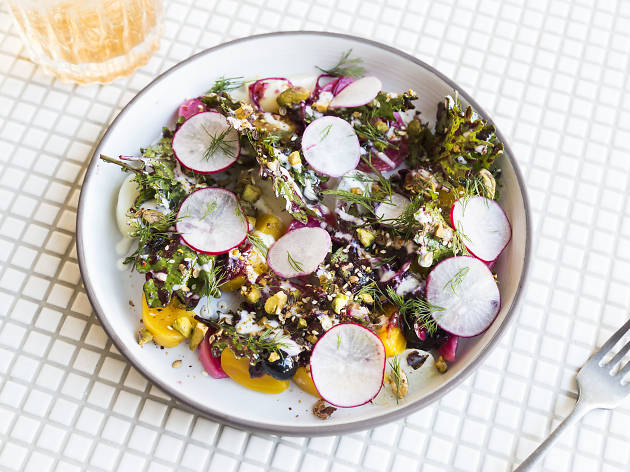 Photograph: Jaclyn Rivas
Feed the crew with a family meal
If you're stuck at home with little ones or roommates, upgrade to a family-style feast. Pacific Standard Time is offering a new order-ahead meal daily that includes a salad, a shareable main and dessert, with the option to toss in a bottle of wine (worth it). The folks at River Roast are packaging up their signature, soul-soothing roasts with all the fixings for curbside pickup. Bonci's Roman-style pies can be ordered with a salad, dessert and drinks, while Brightwok Kitchen is selling stir-fry kits you can easily toss together at home.
Stock up on pro provisions
Give your neighborhood grocery store a moment to restock and shop your favorite restaurant's pantry instead—we bet they have access to better products than Trader Joe's, anyway. In West Town, Bar Biscay debuted Bodega Biscay with dairy, produce, rice pasta, select proteins, spices, wine, beer and soda (you can snag a family meal here, too). The folks at Middlebrow Bungalow are doing the most with their bread subscription service, with beer and pizza add-ons starting at less than $10 a week.
The House of Glunz now serves as a hub for displaced Green City Market farmers, with a farm-truck pickup location for goods outside their store on Saturday mornings from 8 to 10am. Chicago steakhouse Gene and Georgetti also allows guests to order from its pantry, which is stocked with homemade sauces, pasta, fish and steaks—perfect for an elevated meal at home.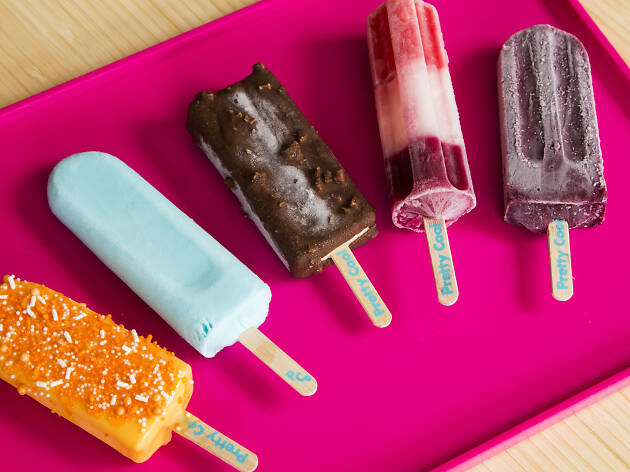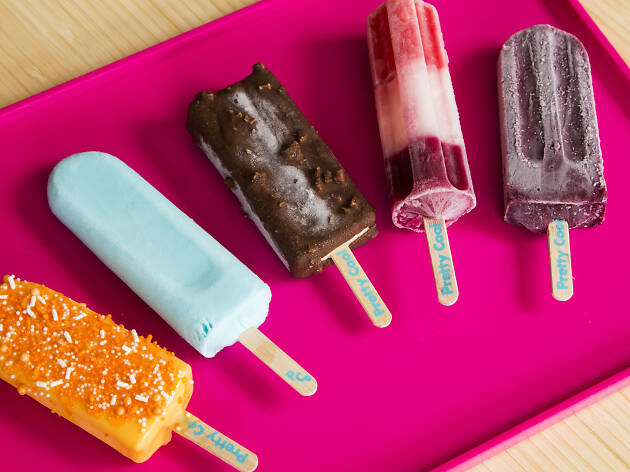 Photograph: Jaclyn Rivas
Never underestimate the power of sugar to bring a smile to your face. In addition to a menu of croissants, breads, cookies and cakes that are all available for carryout seven days a week, Aya Pastry has rolled out a menu of take-and-bake treats like cookie dough and biscuits that you prepare at home (an especially great move if you've got kiddos). Pro tip: You can also get your fix of Pretty Cool Ice Cream's whimsical popsicles via delivery, so make room in your freezer.
If you're going to be cooped up at home, you might as well learn how to cook, and who better to teach you than your favorite local chef. Sarah Stenger of Prairie Grass Café in Northbrook set up a hotline (847-920-8437) that's open daily from 2 to 4pm so that home cooks can call in with meal-prep questions (Sarah, what the hell am I supposed to do with these dried beans?) Similarly, the vino experts at All Together Now opened the Wine and Cheese Hotline (773-661-1599) to offer personalized recommendations.
Plus, there's never been a better time to invest in a cookbook, and we have it on good authority that Abe Conlon, Paul Kahan, Bill Kim and Stephanie Izard's tomes are all top-notch.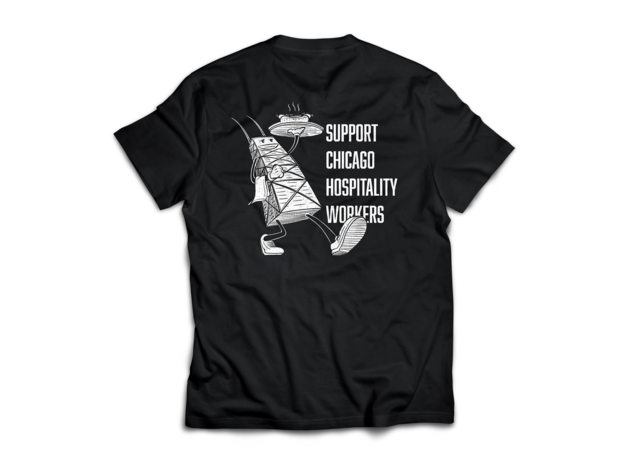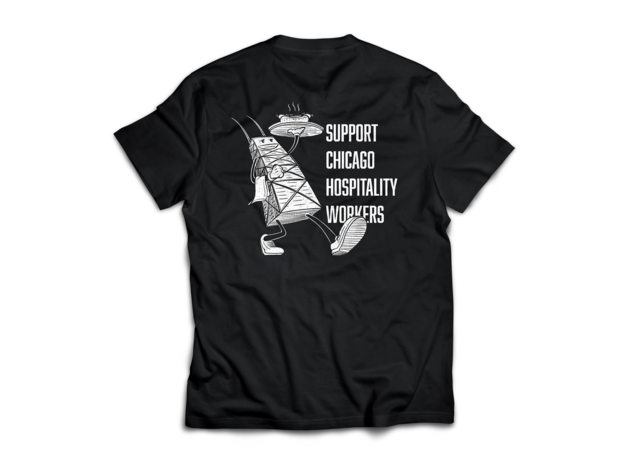 Photograph: Courtesy Stock Mfg.
Fill your closet with swag
Don't feel comfortable getting takeout? That's cool. Rock some sweet swag in support of your stalwarts instead. Stock Mfg. Co. and Leisure Activities teamed up to create these charitable T-shirts, with 100 percent of net proceeds benefiting hourly restaurant workers at dozens of local spots, from Mott St. and Elske to Passerotto and Birrieria Zaragoza. And get this: Before we even knew about coronavirus, many of our favorite restaurants and bars were creating branded T-shirts, hats, koozies and onesies, so browse their websites in search of product.
Many Chicago bar and restaurant owners are pointing to gift cards as a quick way to financially support their operations during this tough time. It's not hard to see why: When diners purchase gift cards, it provides direct cash flow to the restaurant or bar of your choosing—kind of like an IOU. And when the dust settles and venues reopen, you'll have a special meal to look forward to. Lots of restaurants and bars offer digital gift cards online, or you can call directly to arrange something over the phone with your neighborhood joint.