The 15 best food trucks in Chicago
Among the 60+ Chicago food trucks, these 15 stand out for their excellent sandwiches, tacos and other dishes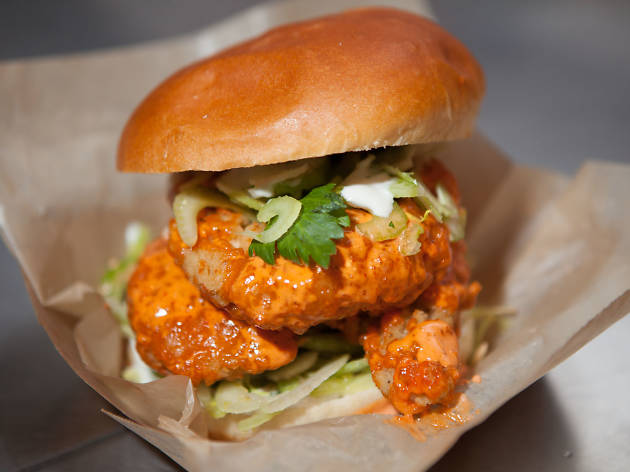 Chicago's food truck scene is growing steadily, and among all the roving purveyors of Chicago pizza and tacos out on the road, a handful of trucks stand out. The best food trucks offer a global culinary tour, from Belgian frites in paper cones to Korean-tinged dishes and Maine lobster rolls. Want more? Check out our full guide to all the food trucks in Chicago.
1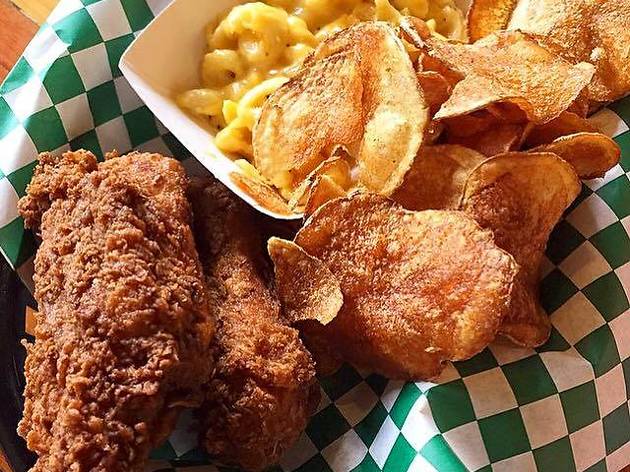 The Roost
The Roost's fried chicken sandwiches are the very best in Chicago, so track down the truck to score one if you can't make it to the Lakeview location (a River West location is also on the way). Both spicy and Nashville hot styles are available and come on buttery buns with pickles and slaw. In the morning, snag a bacon, egg and cheese breakfast sandwich.

Twitter: @TheRoostKitchen
2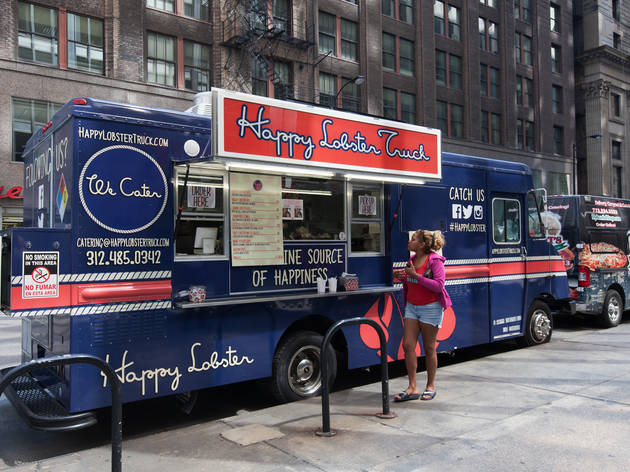 The Happy Lobster
Great lobster rolls are hard to come by in Chicago, so it's a surprise that one of the city's best is available on wheels. The Happy Lobster truck serves "happy" rolls, with just mayo, butter and spices, while "angry" adds some feisty heat from giardiniera. The meat is tender and lightly dressed, so the sweetness comes through. Both are available in whole or half sizes, so you can save space for a marvelous whoopie pie brought in from Maine.
Twitter: @TheHappyLobster
3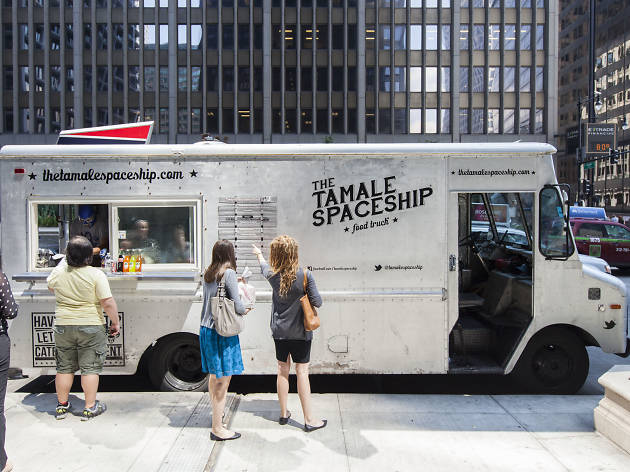 Tamale Spaceship
Tamale Spaceship, the silver food truck manned by luchador-masked guys, serves up very solid tamales, like adobo chicken tamales cloaked with deeply flavored mole and roasted veggie tamales with a spritely tomato guajillo sauce. Each order of tamales comes as a pair, so bring a friend to trade flavors. Stop by the permanent location in Wicker Park—it's BYOB, too.

Twitter: @tamalespaceship
4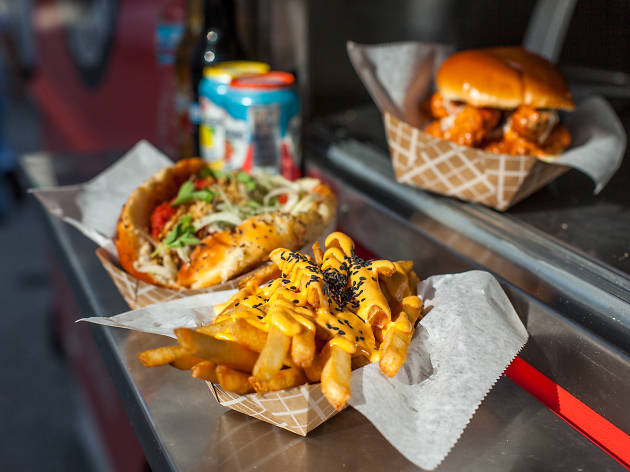 The Fat Shallot
The sandwich truck serves up spins on classic sandwiches, like grilled cheese with sautéed spinach and caramelized onions or the truffle BLT, a massive pile of super-crispy bacon, arugula, tomatoes and truffle aioli between two slices of Texas toast. It's huge, but you still need to get a side—the crisp golden fries come with spicy sesame aioli or truffle aioli, and are a must-order.
Twitter: @thefatshallot
5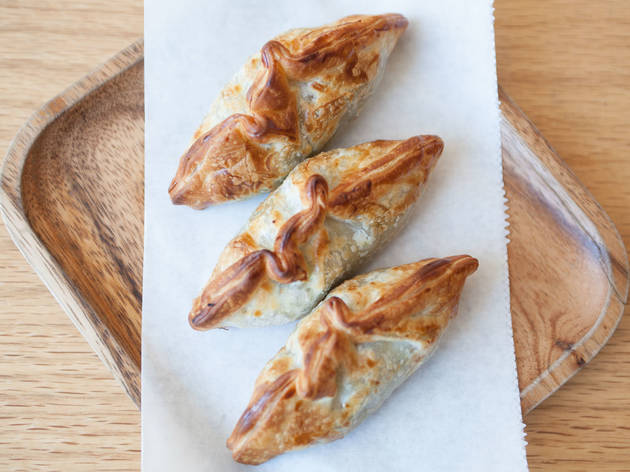 5411 Empanadas
The best truck fare is something you can easily eat on the sidewalk, with zero utensils and minimal mess. That's why empanadas are perfect, particularly those from 5411, which also has several permanent locations. The empanadas are baked so they're nice and flaky and come stuffed with fillings like ham and cheese, malbec beef and caramelized onion and Parmesan. You'll need a few to make a meal, so be adventurous—and tack on a side of chimichurri dipping sauce.

Twitter: @5411empanadas
6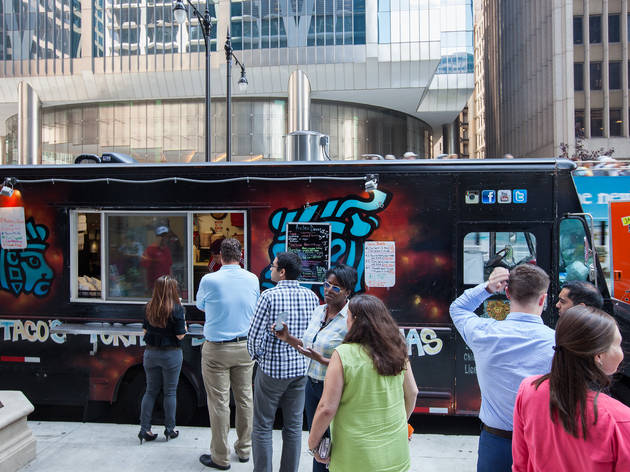 Aztec Dave's Truck
The Loop isn't exactly known for tacos, so it's nice when trucks like Aztec Dave's pull up. The Mexican truck serves tortas, tacos and burritos, stuffed with a choice of skirt steak, chicken or al pastor. Tacos are $8 for three, and you can mix and match fillings, though the steak is the best. The double corn tortillas hold a respectable amount of beef, and the tacos come with onions and cilantro. For a sauce, choose the pineapple devil, a sweet-hot salsa.

Twitter: @Aztec_Daves
7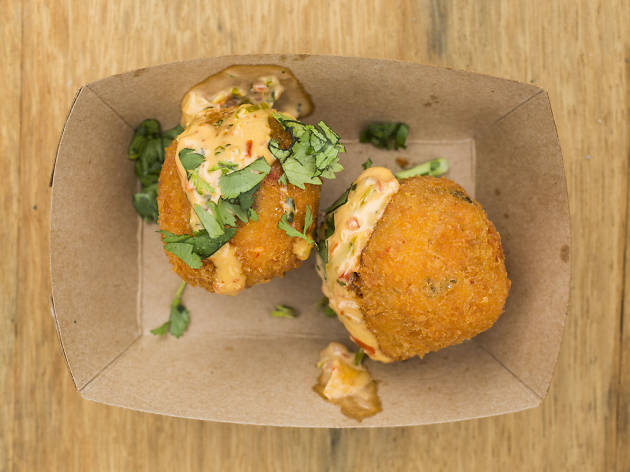 Yum Dum Truck
The mostly Korean-infused menu incorporates other Asian aspects into its dishes, like Thai chicken basil dumplings. There are also pillowy baowiches, like crispy fish with house-made sriracha tartar sauce, which are $3.50 each (and quite generous). But it's the spicy kimcheesy rice balls, arancini stuffed with cheddar, kimchi and jalapenos and doused with jalapeno sriracha mayo, that you need to order.

8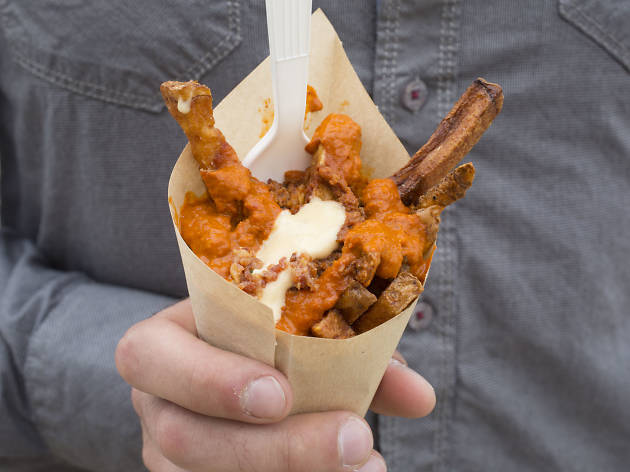 Bruges Brothers
Frites stuffed into paper cones come to us from Belgium, but the dish translates well to Chicago. Bruges Brothers takes things up a notch—while the menu does include basic frites, perfectly fried in beef and duck fat, and served with a choice of sauce, like housemade dijon aioli or Indian curry, the main event here is the entree cone. The entrees are takes on classic dishes and they're massive—the papas bravas cone features chorizo and roasted peppers, bravas sauce, garlic aioli and crisp ham, while the roquefort steak includes grilled steak, warm roquefort butter and crispy leeks.
Twitter: @BrugesBrothers
9
Southern Pitch
With a focus on Negro League baseball, Southern Pitch is easily the most intriguing truck on the road—and the food is solid too. The truck features images of Negro League baseball players, which you can look at while you wait for food, like enormous turkey legs, tender and doused with spicy jerk sauce, creamy mac and cheese and collard greens. The sweet potato pie is a must-order for dessert.

Twitter: @southernpitchft
10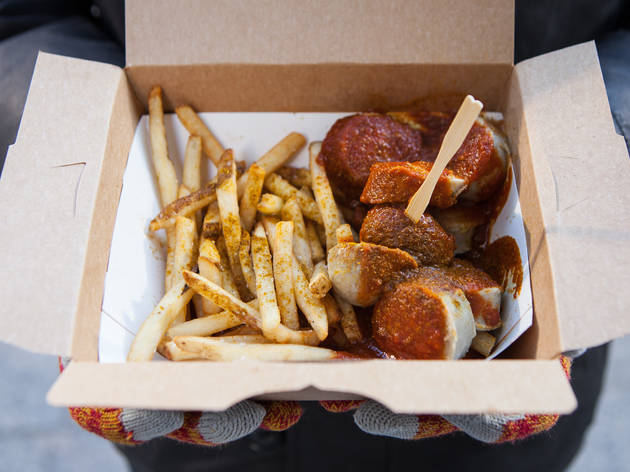 DönerMen
Döner, the traditional street food of Turkey and Germany, isn't too easy to find in Chicago, but luckily DönerMen does a darn good job with it. Its chicken variety is excellent, and the currywurst, grilled sausage doused with rich, tomato-y house-made curry sauce and served with fries, is also terrific.

Twitter: @DMenTruck
11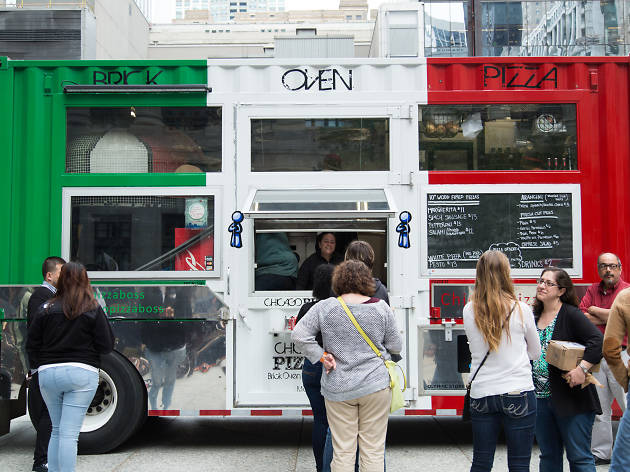 Chicago Pizza Boss
You can't miss this truck—it's enormous and painted like the Italian flag—or its long line. The wait is worth it, though, since the pizzas are excellent Neapolitan-style pies and come topped with flavorful ingredients, like the margherita, which is tied together with a drizzle of olive oil and grated Parm.

Twitter: @ChiPizzaBoss
12
Pierogi Street
Some of Chicago's top pierogi are available from the roving Pierogi Street truck, which also has a permanent location in Humboldt Park. You can mix and match various fillings, like tangy sauerkraut or creamy potato, then dress the whole plate up with bacon, sour cream and caramelized onions. Bonus: Sometimes there are desserts, like paczki.
Twitter: @PierogiStreet
13
Doughnut Vault
The tiniest food truck of them all is the Doughnut Vault food truck. If you don't happen to work by one of the locations dishing out these doughnuts, the Vault Van serves old-fashioned–style doughnuts like lemon poppyseed and pistachio. There are daily specials and coffee, so you'll be able to get all the fuel you'll need for an early morning.
14
La Cocinita
Tacos are among the best dishes to grab for lunch and La Cocinita does a pretty damned good job. The pseudo-build-your-own options let you pick from tacos, arepas, flour tacos (called "Burri-Tacos") and a bowl with your choice of meat and sauces. We're a fan of the lechon, but they're all pretty delicious. Don't forget to finish your meal with a Mexican Coca-Cola to cap off the whole meal.
15
Boo Coo Roux
New on the scene in 2015, Boo Coo Roux serves up Cajun and Creole dishes like hush puppies, shrimp Po' Boys and gumbo. The dishes are bursting with flavor and are a great lunch if you're looking for some seafood on the go. The daily menu changes regularly, so if you've tried the truck a few times before, stop by again and see if there's something new that strikes your fancy.