The best free things to do in April in Chicago
Find the best free things to do in April in Chicago with our complete guide to gratis events and city living on the cheap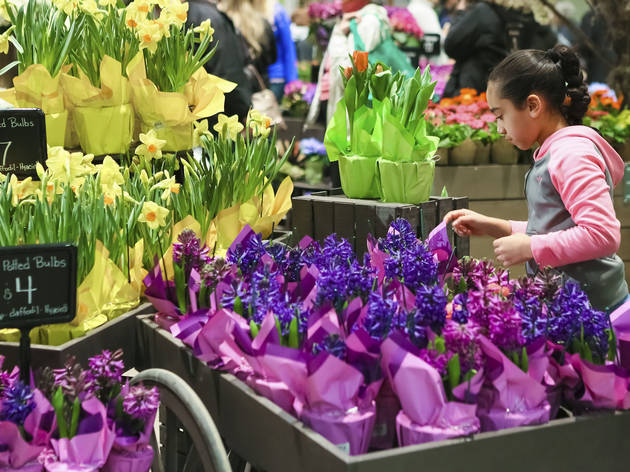 Free things to do in April
Contrary to popular belief, you don't have to spend a fortune in order to visit some of Chicago's best museums and cultural institutions. If you're willing to plan ahead, you can take in masterpieces at the Art Institute or gaze at tropical fish while strolling through Shedd Aquarium without spending a dime. You'll need to be an Illinois resident to take advantage of many of these offers, but that's one of the perks of living in Chicago. RECOMMENDED: Complete guide to Chicago museums
Read more
Designed by William Le Baron Jenney in the mid-1800s and enhanced several years later by Jens Jensen, Humboldt Park was once the nation's greatest public park, boasting acres of Prairie-style gardens, grazing animals and a meandering river scene. Though the animals are long gone, the park still offers extensive rose beds as well as tennis courts, an inland beach, baseball fields and bike paths.
Read more
Described as "landscape art under glass" when it opened in 1908, the conservatory, while being one of the largest in the world, also boasts revolutionary architecture. With the building's haystack shape and walls of stratified stonework, landscape architect Jens Jensen considered the Fern Room in particular, with its "prairie waterfall"—a stone and water element within a glass structure—to be one of his greatest achievements. About 120,000 plants representing some 600 species occupy the conservatory's 1.6 acres, and four times a year flower shows premiere to herald the change in seasons.
Read more
At this polysexual Logan Square dance-off, party purveyor Kristen Kaza and DJ Audio Jack drop the needle on love-drenched classics by Al Green, Marvin Gaye, Prince and the queen of lovers' rock, Sade. Admission is always free and the Whistler's capacity is limited, so there's usually a line out the door. Arrive early if you want to start grooving on the crammed dance floor ASAP.
Read more
The Newberry Library, founded in 1887, is an independent research library located right in the heart of the Gold Coast. From illuminated medieval manuscripts to the personal papers of local authors, the Newberry is home to an impressive collection of work. The library hosts exhibitions, theatrical performances, lectures, seminars, workshops and more. It is free and open to the public. 
Read more
Carrie Secrist Gallery celebrated its 20th anniversary in early 2013 and over the past two decades has focused on established contemporary artists, with a recently renewed interest in adding new, emerging artists to its roster. Among our favorite works the gallery has exhibited are Kim Keever's water tank diorama photography; Megan Greene's recontextualized Audubon prints and Derek Chan's abstract paintings thoughtfully incorporating Native American symbolism.
Read more
Comedy review by Matt Byrne Since its start in 2012, stand-up comedy showcase Congrats on Your Success has steadily built up an audience of dedicated regulars, who pack every bit of available space in Logan Square's Uncharted Books. The show's loose, friendly vibe is reinforced by interactive bits and between-set segments that engage attendees with the show's hosts and producers, who describe their audience as "DTF."Lured by the promise of free, BYOB comedy located in a used bookstore just steps from the Logan Square Blue Line stop, these crowds are treated to sets from Chicago's comedy scene staples as well as many up-and-comers who rarely get stage time outside the open mic circuit.
Read more
Catch a staged reading of a new play in progress or listen in on a discussion about the playwriting process at Chicago Dramatists' free weekly series. Check the website for a detailed schedule.
Buy tickets
Read more