Everything you need to know about the Chicago No Pants Subway Ride
For one day each year, CTA riders strip down to their underwear and board the train during Chicago's No Pants Subway Ride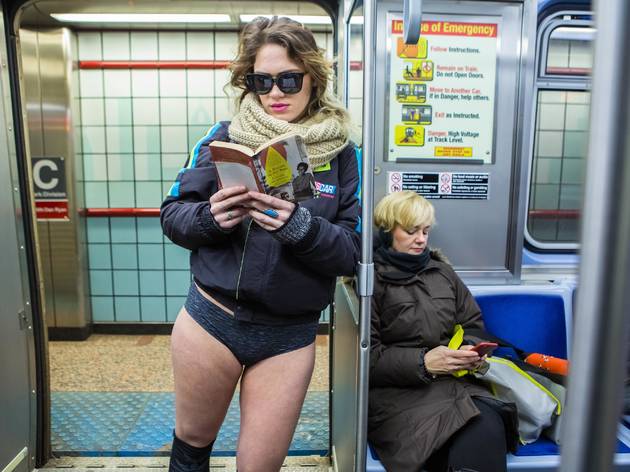 There's no shortage of things to do in Chicago this winter, but some people prefer to think outside of the box. During a time of year when most of us are relearning how to tie a winter scarf, a brave group of CTA riders drop trou and board the Red Line during the annual No Pants Subway Ride—these aren't the typical people you'll see on the CTA. We've gathered everything you need to know about this year's pantless ride, as well as photos from previous events. Here's a tip for would-be participants: Invest in a nice pair of underwear.
What is the No Pants Subway Ride?
The No Pants Subway Ride is an annual event founded by Improv Everywhere in New York City in 2002. Each January, a group of riders remove their pants and board a train. Pantless riders are instructed to act normal and enjoy looks of surprise and confusion that they receive from fellow riders. In Chicago, the event usually takes place on the CTA's Red Line, beginning at the Loyola Station and ending in the Loop.
When is the No Pants Subway Ride?
This year's No Pants Subway Ride has yet to be announced. Stay tuned to this space for the official announcement!
Where is the No Pants Subway Ride?
The No Pants Subway Ride takes place on the Red Line and the event's secret meeting place is revealed on its Facebook page.
No Pants Subway Ride photos