Things to do in Chicago today
The day's best things to do in Chicago—including free and cheap activities, concerts, screenings, shows, parties and more. It's your social emergency savior.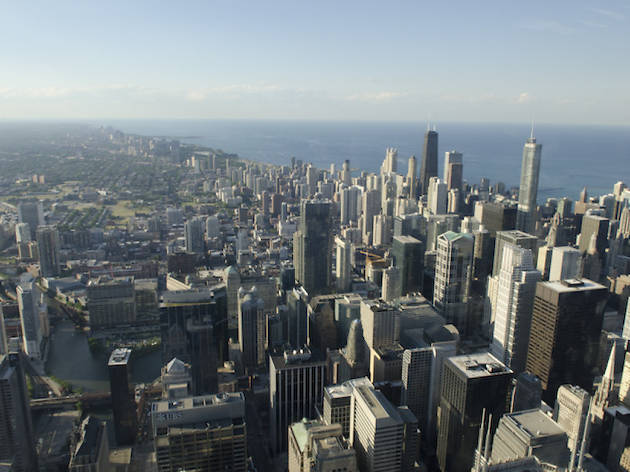 Looking for something to do this evening? Have a friend coming into town who wants to see the sights? You're in luck, because Chicago is a city filled with attractions and things to do (including some that cost absolutely nothing). Seize the moment with our list of today's best concerts, shows, activities and more.
Take a deep-dive into the Chicago improv scene at this yearly festival, where performers will make you laugh out of thin air. Catch Chicago staples and discover your new favorite group.
Read more
In their monthly Ramen Battle, two chefs from the Chicago area face off to compete for the best ramen of the night. Price includes ramen, soft serve and a draft cocktail.
Read more
Robert O'Hara's collection of interconnected sketches, loosely organized around a character standing in for the playwright's experiences growing up black and gay in the South, evokes George C. Wolfe's similarly structured The Colored Museum from two decades earlier. One of Bootycandy's individually titled scenes, "The Last Gay Play," even seems to directly reference Museum's "The Last Momma-on-the-Couch Play." When the final scene of the first act is styled as a playwrights' panel with a white male moderator asking writers of color to explain everything we've seen up to that point, it's clear O'Hara is here to interrogate the relationship between institutional theater and individual identity. But while Bootycandy isn't a traditional theatrical narrative, it's also far from academic exercise. In Windy City Playhouse's Chicago premiere, directed by O'Hara, it's bitingly funny, provocative, uncomfortable and engrossing. From Osiris Khepera's fiery sermon about alleged homosexuals in the church choir and Krystel McNeil and Debrah Neal's jokey, multicharacter telephone sketch, O'Hara quickly establishes we're in for an evening as uproarious as it is interrogative. Rob Fenton shows off his range with an array of characters often set up in opposition to the indispensable Travis Turner, in the role representing a version of O'Hara himself; Turner's innate intelligence and charm are necessary leavening for some of O'Hara's more abrasive moves. With an intersectional, unpredictable vi
Book now
Read more
This weekly night of comedy, curated by a group of funny dudes, puts local stand-ups on your radar.
Read more
Dance is the domain of movement and feats of physicality—it's not an art form that immediately lends itself to being the subject of a largely static museum exhibition. The late dancer and choreographer Merce Cunningham viewed the stage as a place where kinetic maneuvers could coalesce with other artistic disciplines, from visual installations to experimental music. The Museum of Contemporary Art's "Common Time" exhibition (presented and curated in conjunction with a simultaneous Cunningham-focused exhibit at the Walker Art Center in Minneapolis, Minnesota) expands upon this cooperative approach, focusing on Cunningham's creative confidants. Common Time is largely an exhibition about collaboration, showcasing the work of the many artists, designers and composers who contributed to Cunningham's innovative vision of dance performance. While there's plenty of archival concert footage on display (most notably in a striking multi-screen video installation designed by longtime Cunningham Dance Company videographer Charles Atlas), the bulk of the collection is comprised of costumes, set dressings, sculptures and music that graced performances by Cunningham's company throughout his career, demonstrating the choreographer's constantly evolving aesthetic. Even if you're not a dance aficionado, the central figures of "Common Time" will likely be familiar. The work of influential multimedia artist Robert Rauschenberg is a nearly constant presence, ranging from polka-dotted leotards to s
Read more
Let's not mince words, since we've already spilled so many of them: Hamilton, writer-composer-lyricist Lin-Manuel Miranda's biography of Alexander Hamilton as refracted through a hip-hop, pop and R&B lens, is a sprawling, stunning, singular achievement. By filtering the story of the American Experiment's beginning into modern, meticulously rhymed vernacular and populating the stage with performers of color to play the likes of Hamilton, Washington, Jefferson and Madison, Miranda and his regular collaborators (director Thomas Kail, music supervisor Alex Lacamoire and choreographer Andy Blankenbuehler) make the founding fathers feel fresh and, miraculously, human. RECOMMENDED: Our complete guide to Hamilton Chicago Weeks out from the country's naming its 45th president, Hamilton's new Chicago company arrives to remind us our democracy has always been messy, political, personal, and worth fighting for. Kail and Blankenbuehler fill designer David Korins's spare set—which suggests that, like the country, it's still under construction—with movement as thrilling and dense as Miranda's lyrics. (The few moments of stillness are also used to great counter effect.) The nearly all-new Chicago cast (ensemble member Emmy Raver-Lampman is the sole transfer) easily lives up to the originals while finding their own new moments and shades. Miguel Cervantes is a rather more grounded Hamilton than the more frenetic Miranda, who originated the role, but Cervantes conveys the man's vital, fatal
Book now
Read more
Billed as the first major exhibition to examine the impact of the AIDS crisis on the American art scene, "Art AIDS America" comes to Chicago on the final leg of its national tour. Artists represented include the likes of Keith Haring, Jenny Holzer, Kia Labeija, Robert Mapplethorpe, Tino Rodriguez and Chloe Dzubilo; newly added for Chicago are works from locally connected names such as Roger Brown, Danny Sotomayor and Michael Qualls. Admission is free, but advanced reservations are highly recommended.
Book now
Read more
A live-action spin on the classic Disney animated romance, starring Emma Watson, honors the love for the original film
Read more
An orphan's daily challenges come to life with beautiful stop-motion animation and an unflinching eye for hard truths
Read more
We're on King Kong's home turf for a reboot that brings the stomp but skimps on heart
Read more
Matt Damon joins a predominantly Chinese cast in this silly, noisy but generally enjoyable fantasy-action flick
Read more
You'd have to be a masochist to submit yourself to the dullness of the Fifty Shades of Grey sequel
Read more
Keanu Reeves is back in a sequel that, if anything, feels more gory, more stylish and more deliriously silly (and fun) than the original
Read more
A little plastic bat (with a huge ego) fights the forces of evil in this hilarious comic-book pastiche that often works better than the Christopher Nolan films
Read more
Show more