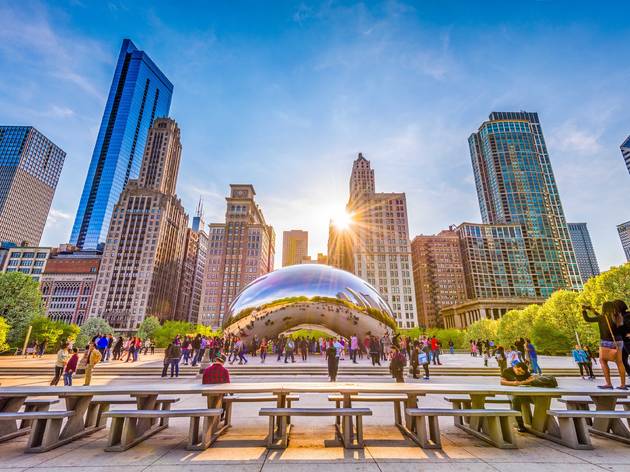 When will Chicago reopen and what are the latest social distancing rules?
Everything you need know about how to protect yourself as social restrictions ease
As of June 26, Chicago is officially in Phase 4 of the city's five-phase reopening, allowing many local businesses to continue cautiously reopening with new safety procedures in place. We're not out of the woods just yet—Phase 5 (a return to relative normalcy) won't arrive until an effective treatment or a vaccine becomes available. Residents are asked to continue to wear cloth face coverings when they're out and about, maintain social distancing and stay at home if they're feeling ill. Take a closer look at some of the most frequently asked questions regarding reopening and current social distancing guidelines in Chicago.
What phase of the reopening plan is Chicago in now?
As of June 26, Chicago is in Phase 4 of Mayor Lightfoot's five-phase plan to reopen the city. It's the penultimate phase of the city's reopening plan, which means that we're going to be living in Phase 4 for a while—at least until an effective treatment or a vaccine becomes available.
What businesses have reopened to the public?
In Phase 4 of Chicago's reopening, museums, zoos, performance venues, movie theaters, summer camps and indoor restaurant and bar seating are opening with limited capacities. They join the long list of businesses that reopened in Phase 3, including childcare centers, hotels, non-essential retail, salons and libraries.
Don't expect everything to reopen at once—many businesses are still determining how to safely welcome customers back while adhering to the guidelines handed down by the city. If you're unsure if your favorite spot has reopened, don't hesitate to call ahead.
Is Chicago still under a "stay-at-home" order?
No, the city's "stay-at-home" order officially ended on June 3 (and the state's let up on May 29) and Chicago is now in the process of cautiously reopening.
It's worth noting that Mayor Lori Lightfoot has warned that the city's phased approach doesn't just move forward. If there's a spike in confirmed cases, the city can decide to move back into a more restrictive phase, which means that there's a possibility of a future "stay-at-home" order.
Do I still need to wear a face covering?
Yes, the official advice from the city, the state and the Centers for Disease Control and Prevention is to wear a face covering when you're around others while maintaining 6 feet of social distance.
Many local businesses are requiring customers to wear face coverings to gain entrance, though restaurants, bars and movie theaters will allow patrons to remove their masks while eating or drinking.
If you don't have a face mask yet, you should get one—for the safety of yourself and others. Here's a list of Chicago businesses that are selling face masks.
Can I visit my family and friends?
Phase 4 allows for non-business, social gatherings of up to 50 persons for indoor events and up to 100 for outdoor events. While it's not required, it's not a bad idea to wear a face covering and practice social distancing when meeting with friends or family—if you care about someone enough to want to see them, you should care about protecting their health.
What happens if I break the rules?
While there haven't been any official announcements about enforcement of social distancing guidelines in Phase 4, it will likely stick to much of the guidance established under Illinois "stay-at-home" order. Law enforcement has been authorized to intervene when they encounter "crowds of people gathering" (in Phase 4, this won't include indoor gatherings of up to 50 people or outdoor gatherings of up to 100 people), "a flagrant violation" (such as an unauthorized business reopening) and "employees being asked to report to work in-person where the business is not supposed to be open or appropriate social distancing precautions are not taking place."
In press conferences, Mayor Lightfoot has made it clear that no one will be arrested for not wearing a face covering. She's hoping that Chicagoans will self-enforce the guidelines the city has provided, encouraging others to wear face masks and maintain social distance.
In Chicago, we know that the Chicago Department of Public Health and the Department of Business Affairs and Consumer Protection will be enforcing the new safety guidelines given to businesses reopening in Phase 3 and Phase 4. We expect that law enforcement may also get involved if customers decide to violate social distancing and face covering guidelines that have been imposed on businesses.
How can I protect myself from COVID-19?
There's currently no vaccine for COVID-19, but there are several things you can do to protect yourself and others. Like cities around the world, Chicago recommends that folks wash their hands often, maintain 6 feet of distance between yourself and others in public, wear a cloth face covering when you leave the house, disinfect surfaces frequently and stay at home if you're feeling sick.
Can I get tested in Chicago? Where?
Yes, there are various locations throughout the city (including clinics, hospitals, immediate care centers and health centers) where you can go to receive a COVID-19 test. The Illinois Department of Public Health has assembled a map of all testing locations in the state, accompanied by the requirements for testing. Many sites require an appointment or a curbside exam, so reach out to your chosen testing site if you have any doubts about whether or not you qualify for testing.
It should be noted that state-run facilities (and many other testing providers) are offering free tests, regardless of whether you have health insurance or not. If you're not sure if your test will be free or not, make sure to reach out to the testing facility to confirm.
Yes, CTA trains and buses are still running on regular schedules, with new cleaning procedures and safety measures in place to protect passengers and operators. Capacity is being limited to approximately 15 customers on standard 40-foot buses and approximately 22 customers on 60-foot articulated buses and each train car (though it's unclear how this is being enforced). The use of face coverings is also recommended, though it is not being enforced by operators.
To help riders avoid congested commutes, CTA is releasing a weekly bus-crowding report that uses ridership data to track the best times to ride less crowded buses. Additionally, the CTA is encouraging customers to use alternative modes of transportation (like walking or biking) for shorter trips, allowing the CTA to be used by essential workers and people with mobility issues.
When can I return to work?
Though office-based jobs were given the go-ahead to reopen as of June 3, Mayor Lightfoot advised that anyone who can work from home continue to do so, as not to overwhelm the CTA. She also encouraged businesses to stagger their start and end times for the same reason.
While you may be able to return to your office, many companies across the city and the country are rightfully allowing their employees flexibility during this time, and some have committed to remote work for the foreseeable future.
When will Chicago restaurants and bars reopen?
Restaurants and bars were able to reopen outdoor spaces (like a patio or rooftop) with limited capacity in Phase 3. The arrival of Phase 4 on June 26 allows restaurants and bars to reopen indoor dining rooms at 25 percent capacity or with up to 50 people (whichever is less).
The city has also launching a pilot program that will close down six roads to allow restaurants to offer additional seating that pours into streets and parking lots. The program is set to expand to neighborhoods like Chinatown and Andersonville in the coming weeks.
Of course, there are plenty of new guidelines in place for restaurants and bars welcoming back customers. Patios, rooftops and indoor dining areas will be reconfigured to allow for 6 feet between tables, servers will be required to wear masks and group dining is limited to six people. In many cases, you'll need to make a reservation to snag a seat. Be sure to call ahead or check your favorite restaurant's website for additional safety measures before heading out the door.
When will Chicago salons reopen?
Put down the scissors and step away from the at-home dye kit. Chicago barbershops and hair/nail salons were allowed to reopen on June 3. Like other business sectors, salon owners are proceeding with an abundance of caution, which includes providing PPE for employees, asking guests to wear masks and spacing out customers in accordance with social-distancing rules. Several salon owners gave us a rundown of what it will be like to get a haircut in the immediate future.
When will Chicago movie theaters reopen?
As of June 26, movie theaters are able to reopen their auditoriums, making way for what's left of the summer slate of blockbusters. But it won't be business as usual; each theater will be limited to 25 percent of its capacity or 50 people (whichever is less), rows will be decommissioned to create space between groups and face masks will be required (unless you're in your seat digging into some popcorn.
Don't feel like watching a movie indoors? A number of drive-in movie theaters have popped up throughout the city, though the programming leans on classic movies like The Blues Brothers and Star Wars.
When will outdoor attractions like the Lakefront Trail and the 606 reopen?
As of June 22, the Lakefront Trail and the 606 have reopened under a new set of safety guidelines. Visitors can walk, run, bike or rollerblade on the paths, but they'll need to keep moving—to prevent crowding, sitting down to admire the view or have a picnic isn't allowed at this time.
Access points to the Lakefront Trail are limited (the Park District is hosting a map of the available entry points) and face masks are required on both the lakefront and the 606. Social distancing ambassadors will be present on both trails to remind guests of the rules. And don't even think about heading for the beach—for the time being, they're still closed to the public.
Yes, the arrival of Phase 3 allowed non-essential retail stores to reopen, including clothing boutiques and record shops. The city is mandating a 25 percent capacity for non-essential retail stores and a 50 percent capacity for essential retail stores (grocery stores, home improvement stores, etc.). You may have to wait in line for entrance if you're visiting a popular retail store on a weekend or in the evening.