Amazing tiny houses near Chicago you can rent on Airbnb
Check out these Midwestern tiny houses, whose creative use of limited space make for a very unique getaway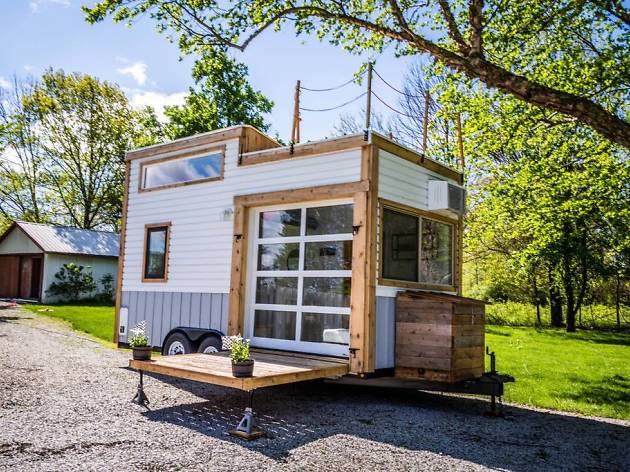 So you're planning a Midwest vacation—may we suggest booking a tiny home? Tiny homes aren't just the manifestation of HGTV-induced hallucinations. They're a great option for vacationers who want their own rental for less dough. These adorable abodes maximize limited space to make an inviting home out of less than 200 square feet. Plus, they're really, really cute. From Petosky, Michigan to Southern Wisconsin, we found the eight most delightful tiny homes for all your getaway needs.
Looking for a little more space? Check out these 10 fantastic Midwest cabin rentals.
Tiny houses to rent near Chicago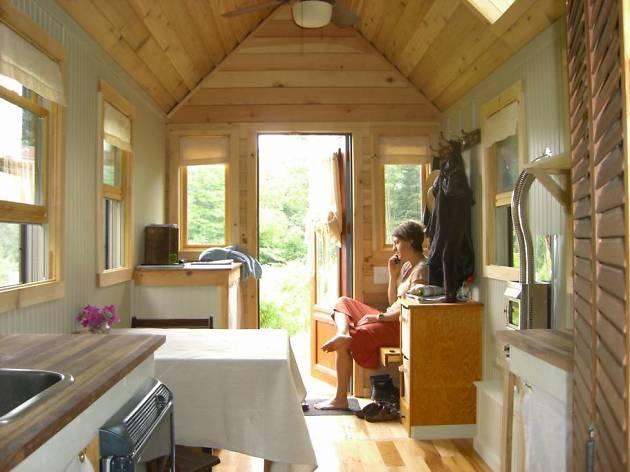 Photograph: Courtesy Airbnb
Northern Michigan home base
Parked on the western coast of Lake Michigan, this 125 square foot abode is in the perfect spot for exploring the best of the region. It's just a short drive from Sleeping Bear Dunes, Traverse City, the Huron-Manistee National Forest, and lots of options for skiing, hiking, biking and more. The house itself ain't too shabby, either. The cozy log cabin boasts a lofted queen-sized bed, and a bonfire and hammock on the property. Note: the bathroom is technically outside the house (though quite close).
Photograph: Courtesy Airbnb
Hoptastic hideaway in Indianapolis
Beer geeks will get a kick out of this craft-brewery themed tiny home, aptly titled the Tiny Pint House. It's located near the hip Indianapolis 'hood Broad Ripple, meaning a wide selection of restaurants and bars is just a short drive away. The structure itself features handsome wooden interiors, including a hefty sliding door for a rustic chic feel. It comfortably sleeps two guests in a queen-sized lofted bed, with an extra air mattress available as well. The Tiny Pint House is a great choice for urban adventurers.
Photograph: Courtesy Airbnb
Garden getaway in Wisconsin
This delightful little garden home is just a half-hour outside of Madison in the town of Belleville, Wisconsin. With tasteful, sleek decor, a dreamy farmhouse-style design, and flower and vegetable gardens surrounding, this tiny home looks like a fairy tale escape. If you're looking for seclusion, this isn't your best bet, as the tiny house is just adjacent to a full-sized rental home. There's certainly an upside to that, though. Discounts are offered for renting both properties, and tiny house renters have access to the main house's gas grill and main deck, as well as their own private bathroom in the main house.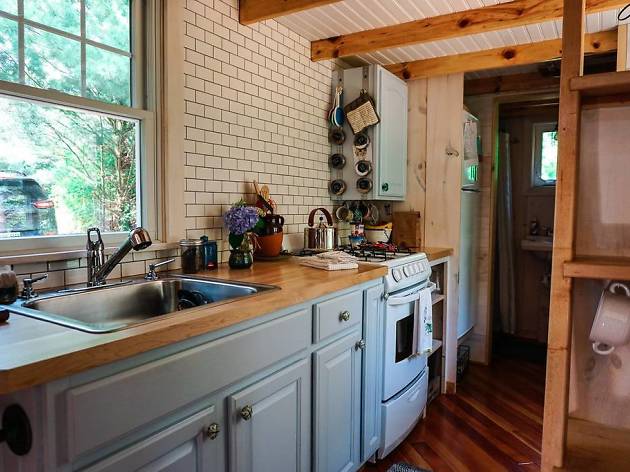 Photograph: Courtesy Airbnb
Sunlit Charlevoix retreat
This impeccably designed dwelling is well worth the hike up to northern Michigan. Situated two miles outside of Charlevoix, a stay here means easy access to gorgeous hiking trails and bike paths, and just a short drive to the beach. The house is just 200 square feet, but every inch is thoughtfully curated with a light, airy aesthetic, sleek white tiling and gorgeous wood floors. In-wall heaters are available for wintertime use (or on cool summer evenings).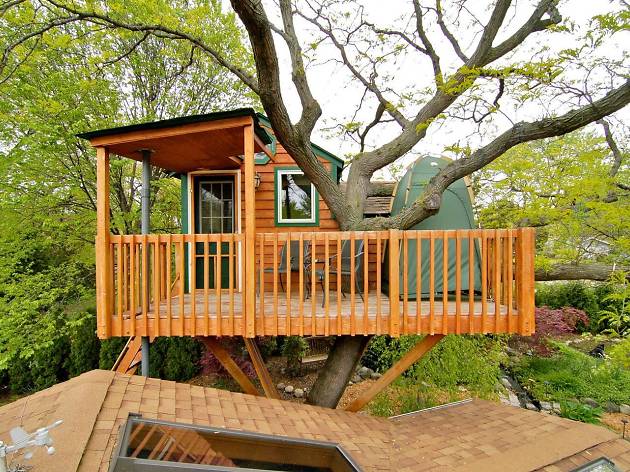 Photograph: Courtesy Airbnb
Chicagoland garden treehouse
This one's technically a treehouse, but its compact size and clever use of space gives it tiny home cred in our books. Located in the suburb of Schaumburg, this three-person abode is an accessible retreat for Chicagoans. The house boasts eco-friendly windows, a fireplace, Wi-Fi, hot tub access, a feather bed comforter, a Keurig and a complete kitchen. It sits just above a koi pond in a spacious backyard—talk about relaxing.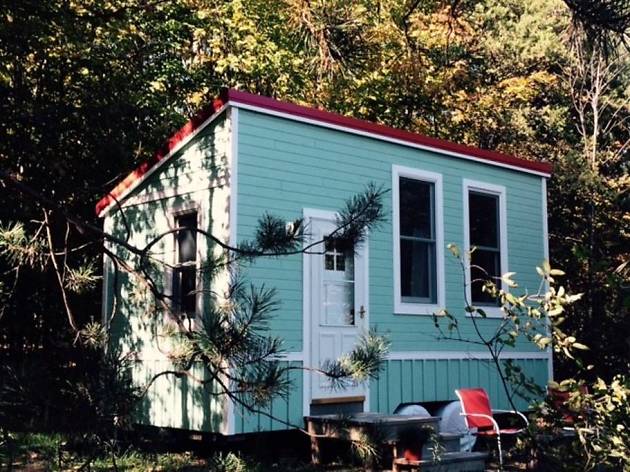 Photograph: Courtesy Airbnb
Dreamy turquoise hideaway
If you're wont to heavily Instagramming your excursions, this northern Michigan tiny house might be your dream digs. This shack features eye-popping colorful designs on the inside and outside alike. Though just 144 square feet, the one-story getaway features a queen-sized bed, a breakfast bench, and a full kitchen—though the bathroom is in a separate trailer. Guests can enjoy the outdoor fire pit and easy access to hiking trails, not to mention the other outdoor activities the Sleeping Bear Dunes region has to offer.
Photograph: Courtesy Airbnb
If you can't clear your head at this hideaway, you might be out of luck. Tucked away in a field of an actual, working farm in Charlevoix, Michigan, this four-guest home makes for a great family escape. One bed is lofted, and the other a pull-out couch on the main floor. The scenery might be this house's most appealing feature: It boasts 26 acres of property and easy access to the Horton Creek wetlands nature preserve. However, we aren't kidding when we say "rustic." This house has no electricity or heat, so plan to make a summertime visit.
Photograph: Courtesy Airbnb
Countryside paradise in Indiana
Situated in the countryside town of Zionsville, Indiana, this tiny house retreat is a fantastic city escape. Though just 18 feet by 8 feet, it features an impressive amount of natural light, including skylight and a garage-door window. All that sunlight makes the house's lovely interior design pop. The queen-sized bed is lofted above the kitchen, and a sofa bed folds down on the main floor. We especially love the reading porch, situated just off the main house, as well as the rooftop deck.