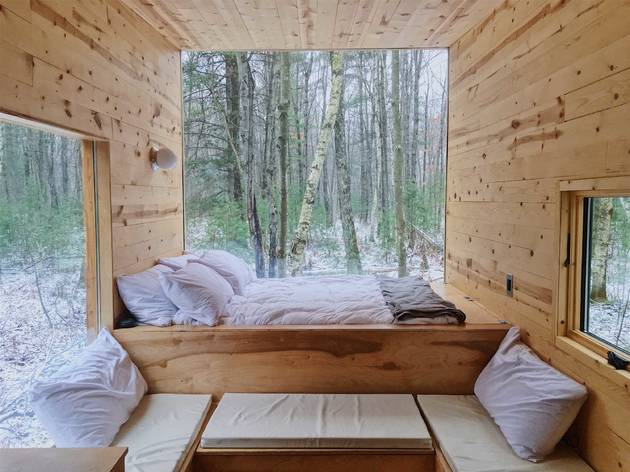 13 secluded Airbnb homes you can rent near Chicago
Get off the grid with these hidden homes within driving distance of the city
Travel restrictions may be in place. Please check before booking, and travel responsibly.
Traveling to big, bustling cities can be wonderfully exciting, but when you need a break to reset and reflect, consider booking a trip that takes you off the grid. These secluded Airbnb homes near Chicago do just that, offering land to roam, lakes to swim in and cozy nooks built for reading the day away. And because they're located within driving distance from the city, all of the locales on this list make ideal weekend getaways from Chicago—no flight required. Book a beautifully modern cabin tucked in the woods or go all out with a yurt that's situated on a private lake. Some of these hidden homes even offer easy access to the most scenic hiking trails near Chicago. Pack a few books and board games and don't forget to load up on groceries—these secluded Airbnb homes near Chicago offer the perfect backdrop for a restful getaway.
RECOMMENDED: Lakefront Airbnbs you can rent near Chicago
This article includes affiliate links. These links have no influence on our editorial content. For more information, click here.
Secluded Airbnb homes near Chicago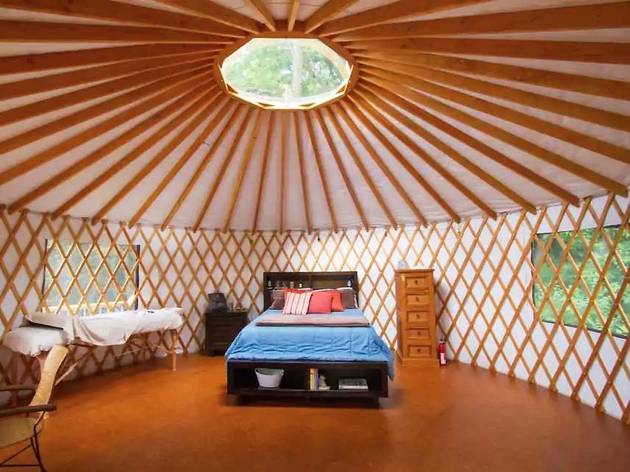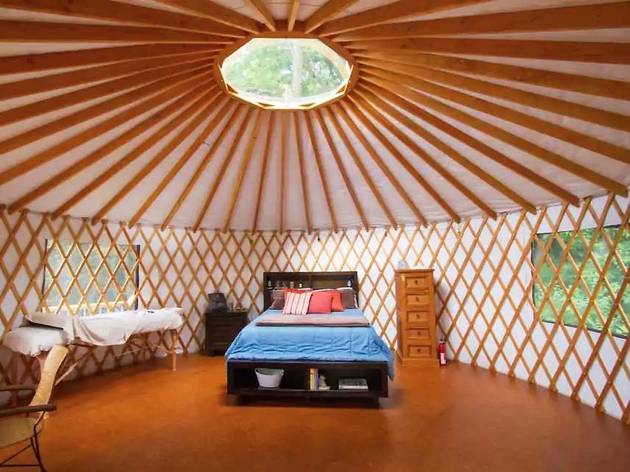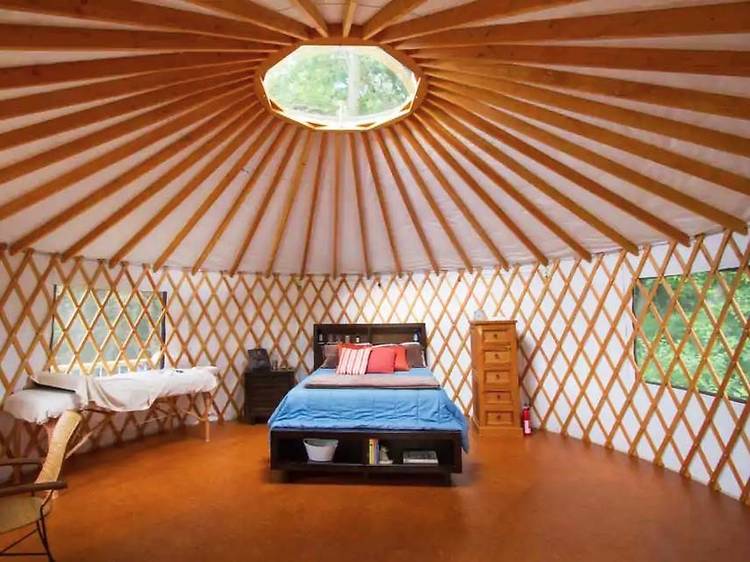 Photograph: Courtesy @YurtCation
YurtCation in Cambridge, WI
Situated on 40 acres of pristine wilderness overlooking a mostly private lake, this classic yurt feels like it's miles away from civilization. In reality, you're just a stone's throw from Madison, Wisconsin. Guests can enjoy bonfires, go canoeing, read on the deck or venture out on a nature hike. There's a fireplace inside the yurt and a clean Porta Potty onsite, but guest should come prepared to disconnect and embrace nature.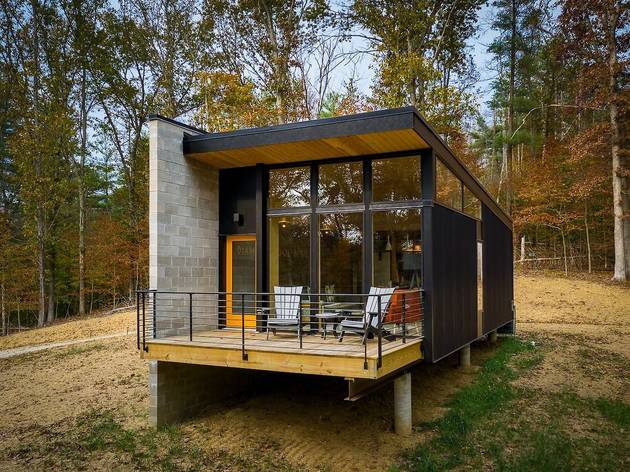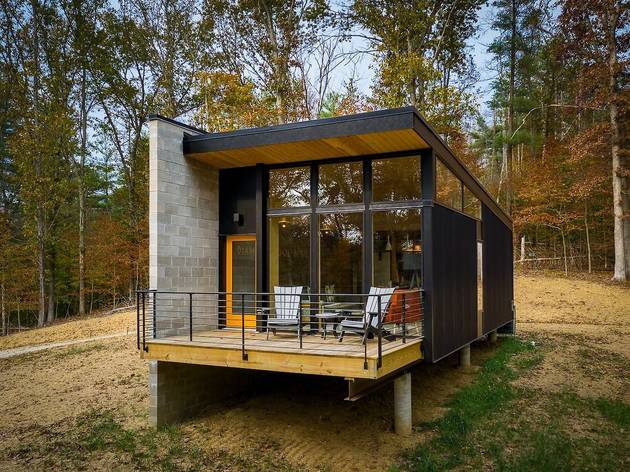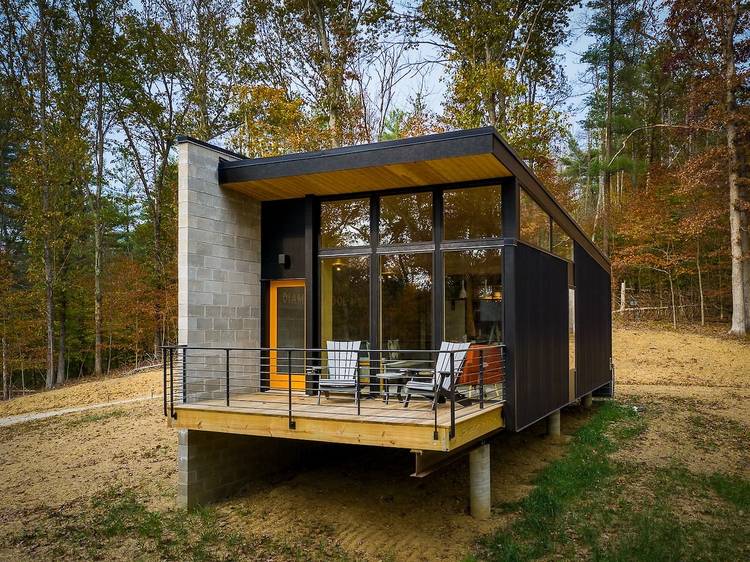 Photograph: Courtesy Airbnb
Nestled in the woods of Brown County, Indiana, this wonderfully modern abode was recently completed in mid-2020. Whether you want to hole up and watch old movies or disconnect over some classic board games, this cabin has it all. But we imagine you'll spend most of your stay on the elevated patio out back, which affords guests stellar views of the surrounding nature—a focal point no matter the season.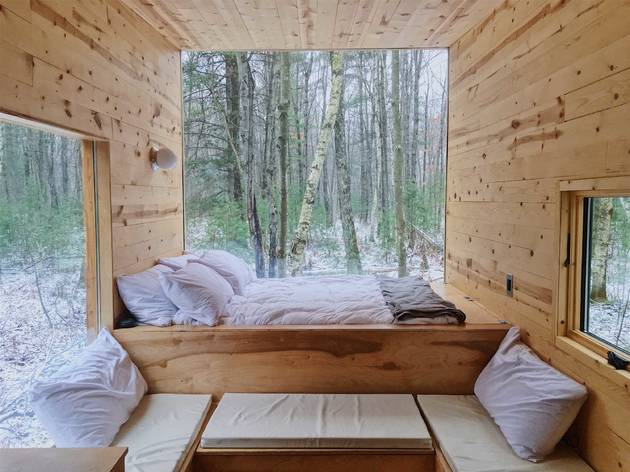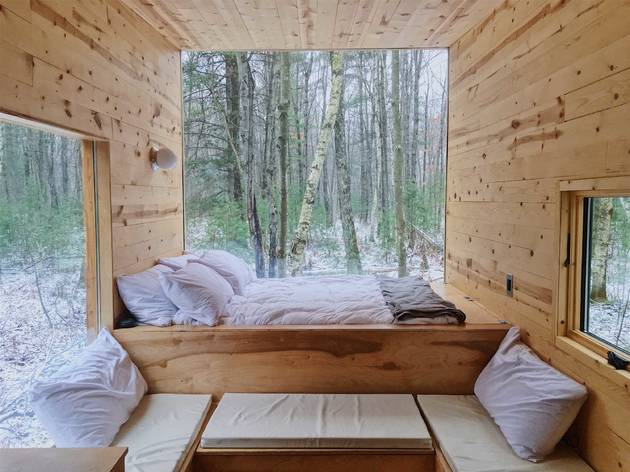 Photograph: Courtesy Off-Grid Inn
Tiny House by Off Grid Inn in Fall Creek, WI
Become one with the woods when you book a retreat at this truly unique tiny house that's nestled deep inside the Wisconsin wilderness. The minimalist and chic cabin is ideal for couples or solo travelers who are craving some serious time away (complete with spotty cell service). In addition to a queen-size bed, the cabin also features a small kitchenette and a shower-equipped bathroom. Come summer, guests will enjoy panoramic views of thick green forest; in the winter, the cabin becomes your own private snowglobe.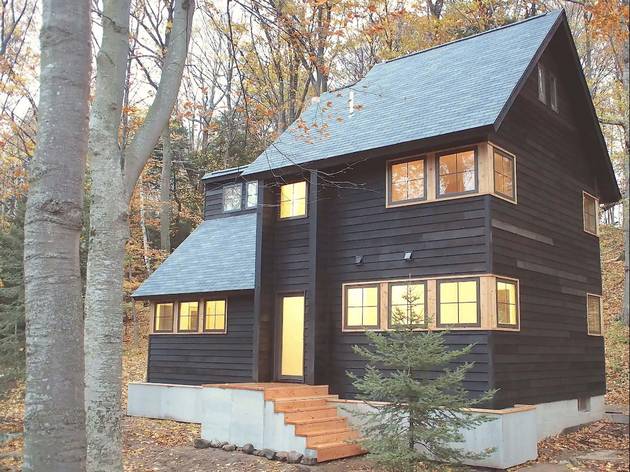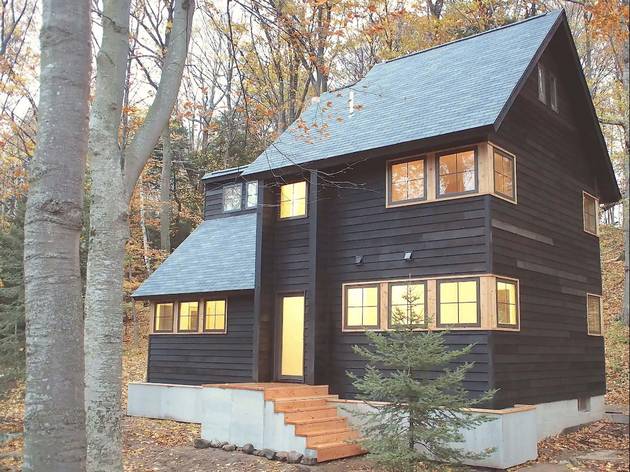 Photograph: Courtesy Hygge Stay
Wayfarer Treehouse in Lake Leelanau, MI
Not ready to rough it just yet? This three-bedroom ultra-modern Scandinavian home is beautifully appointed with thoughtful design touches, including an inviting kitchen table and a luxurious soaking tub. The home itself is surrounded by trees, offering picturesque views no matter the season. Guests are invited to hike through nearby cherry orchards, walk to Lake Leelanau or hole up inside this stunning abode.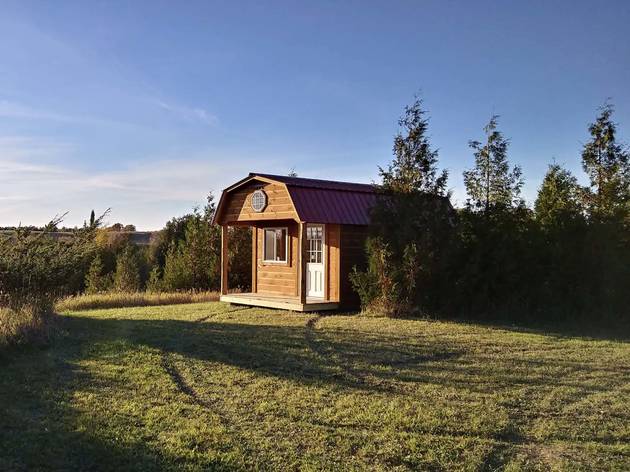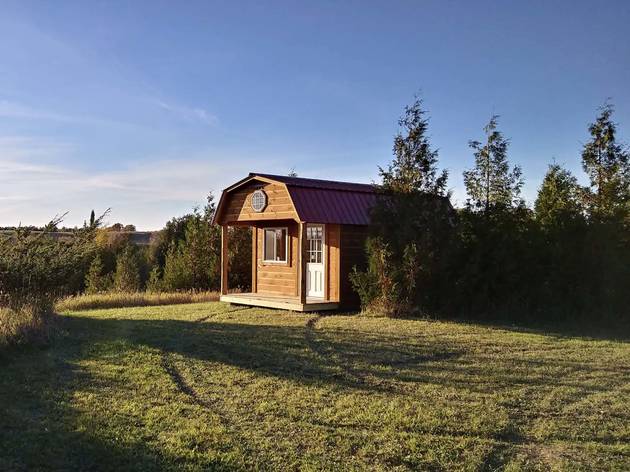 Photograph: Courtesy Carl Dhaseleer
Cabin on a Century-Old Family Farm in Charlevoix, MI
Located on a private wooded hilltop, this rustic cabin allows guests to fully escape the hustle and bustle of city life. Inside, there's a queen-size bed as well as a small lofted space that can sleep two more in a pinch. It's worth noting that the bathrooms and shower are located in a nearby events space, which is a short walk from the cabin. Bikers will love the fact that the property is located off of Bicycle Route 35, a 500-mile route that mostly follows the Lake Michigan shoreline through Indiana and Michigan.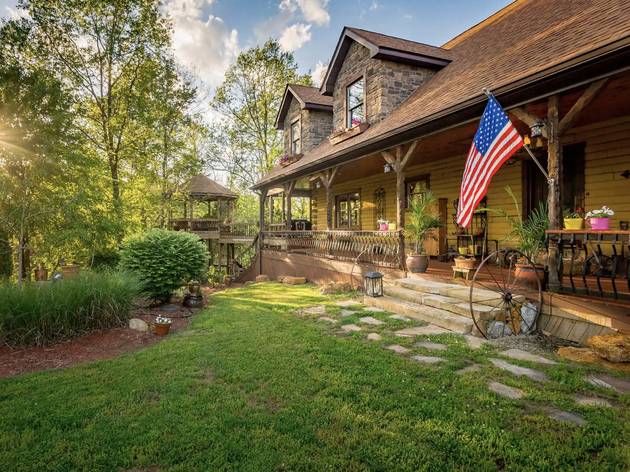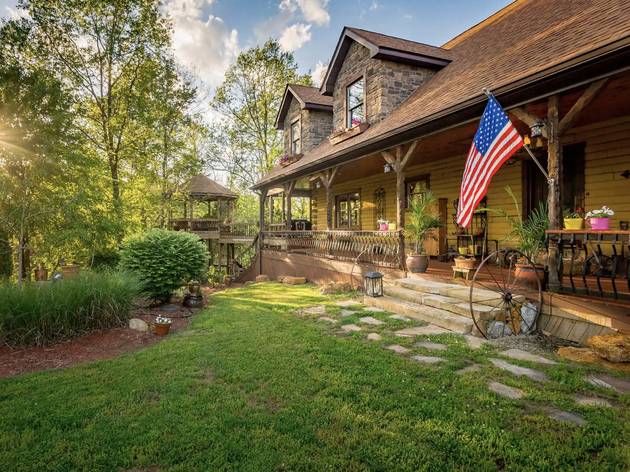 Photograph: Courtesy April Jacob
Isolation Paradise in Henryville, IN
Even though it's located just outside of Louisville, Kentucky, this private estate is situated on 3 acres of land, making it feel like its own hidden oasis. The 2,500–square–foot home boasts four bedrooms and three bathrooms in addition to a full kitchen, private office and spacious living room. Though it will be tempting to stay indoors and enjoy the luxury home, the outdoors beckons with a hot tub, fire pit and wrap-around decks and porches that showcase the stunning grounds.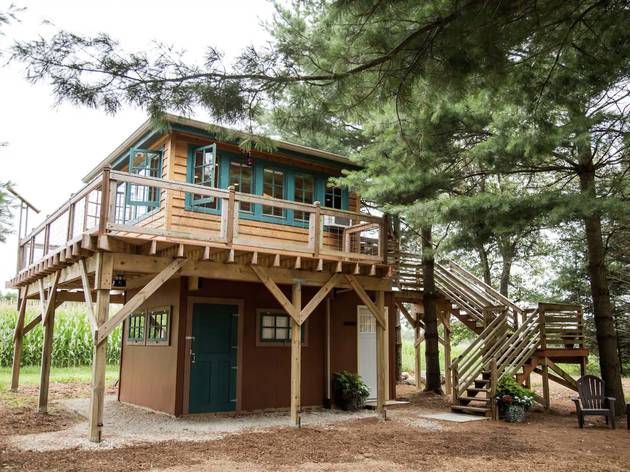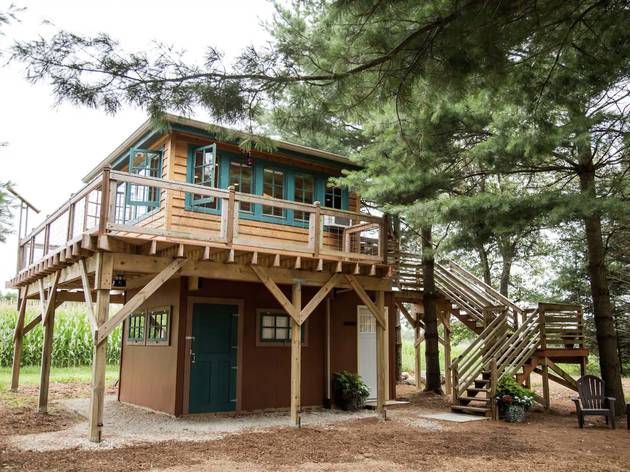 Photograph: Courtesy Stan & Deb
Outpost Treehouse in East Leroy, MI
Inspired by a forest ranger's lookout, this treehouse-style property is located in a white pine forest on a 65-acre working farm. The one-bed, one-bath space sets itself apart with 15 custom windows and a wrap-around porch that allow for panoramic views of wildlife, including deer, turkeys and owls. The host provides a light continental breakfast (pastries and coffee), and WiFi is available should you need to plug in.
Photograph: Courtesy Airbnb
Escape Village in Chetek, WI
Put your phone down and don't even bother bringing your laptop—this serene slice of paradise doesn't have WiFi. It's all the better to enjoy the surrounding hiking trails, two private lakes and bountiful wildlife. Located north of Eau Claire, this cozy one-bedroom tiny home has a great screened-in porch that's ideal for reading books, sipping wine and enjoying a quiet moment before the day begins.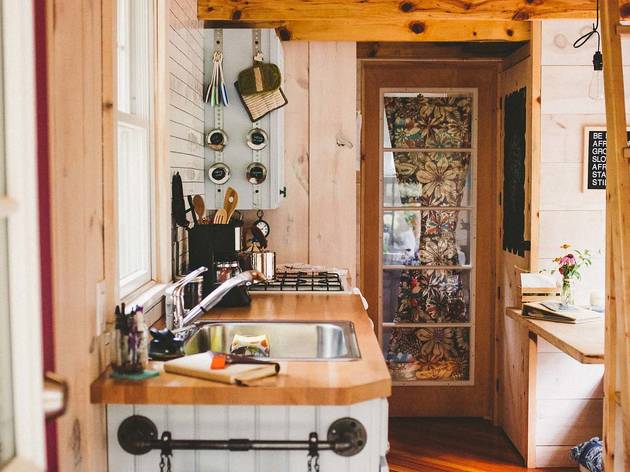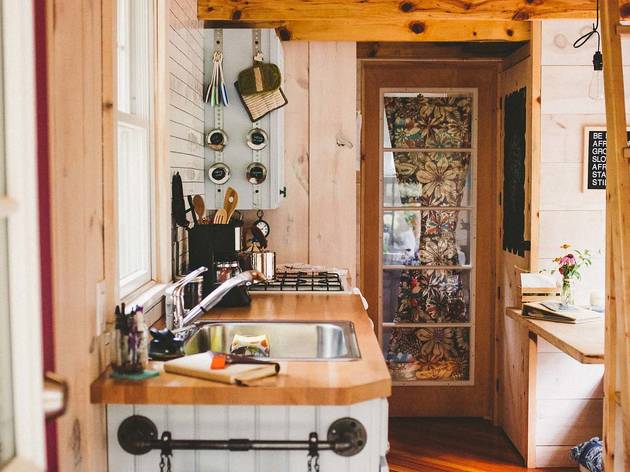 Photograph: Courtesy Elizabeth Romeyn/Christina Vera Photography
Simple Tiny House Getaway in Charlevoix, MI
Step away from the distractions of city life and get back to the basics. This cute-as-a-button tiny house weighs in at just 200 square feet, but what it lacks in size it makes up for in character. Tucked into the woods in northern Michigan, the one-bedroom property is surrounded by picture-perfect walking trails and bike paths, making it ideal for an active couple. Downstairs, guests will find a kitchenette and cozy reading nooks; a ladder leads up to a lofted queen bed.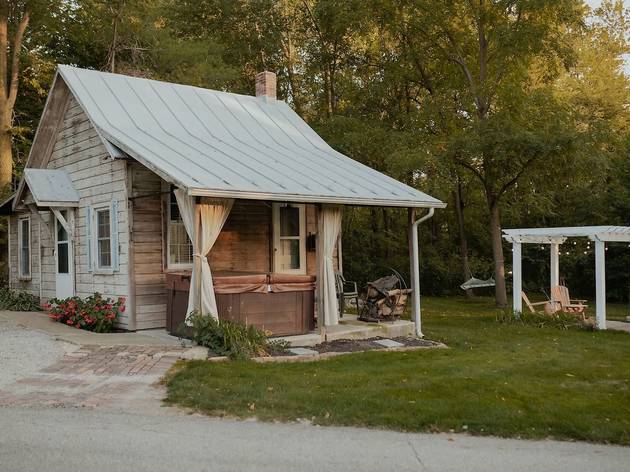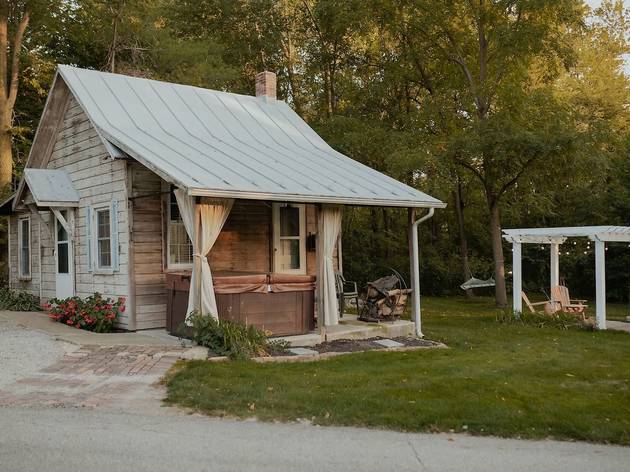 Photograph: Courtesy Airbnb
Cozy Couples Getaway in Goshen, IN
Skip the pricey hotel and book your next romantic weekend away at this semi-private guesthouse that comes equipped with a hot tub and a pergola strewn with string lights. The interior is decidedly rustic with posh touches, like two Herman Miller chairs that have been restored, a towel warmer in the bathroom and a great little kitchenette. At night, there's no better place to cozy up than the fire pit out back—just be sure you request the marshmallow roasters from the host ahead of time.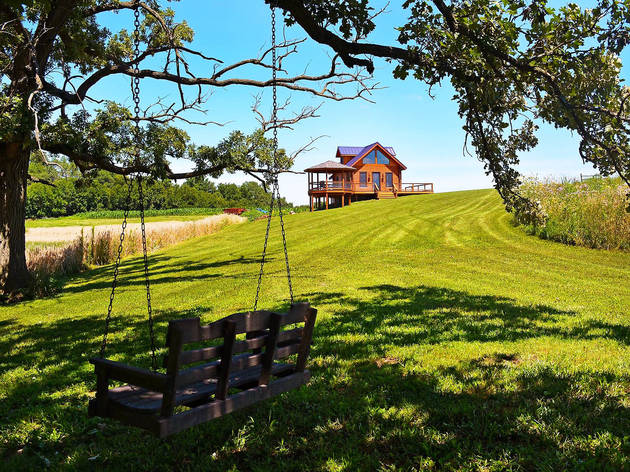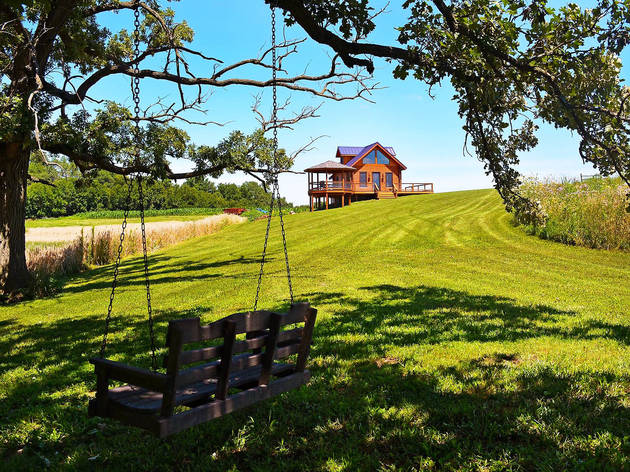 Photograph: Morgan Rhyner
Highview Country Escape in Stockton, IL
This two-bedroom log home is situated on a remote hilltop on a family farm that encompasses 10 acres of wildflowers, prairie grasses and food plots. Off to the west, guests will find another 15 acres of timber as well as mowed walking and snowshoeing paths. The hosts, who live in the main house within eyeshot of the rental property, also have a six-person hot tub that's available for guests to use. Wake up early to catch an epic sunrise, or stay up late to gaze up at the starry skies.
Photograph: Courtesy Abey Kuruvilla
Treehouse Getaway in Racine, WI
Surrounded by lush forest, this affordable rental is part of a split-level home, though guests enjoy the privacy of a separate entrance. The one-bed, one-bath suite has its own dedicated deck and acces to another common deck that houses an epic gazebo with a large dining table that overlooks a rambling creek—the perfect setting for a romantic dinner for two.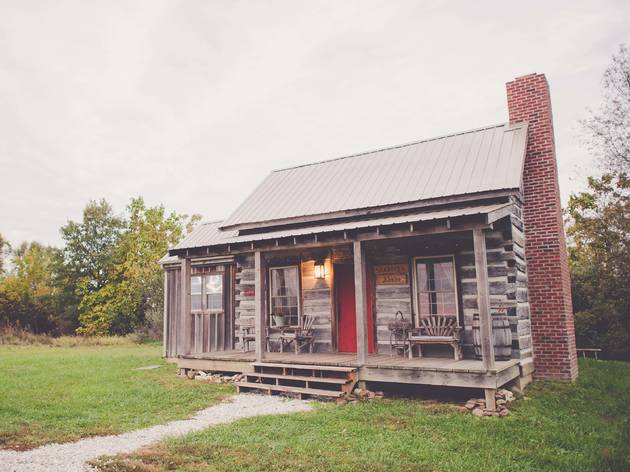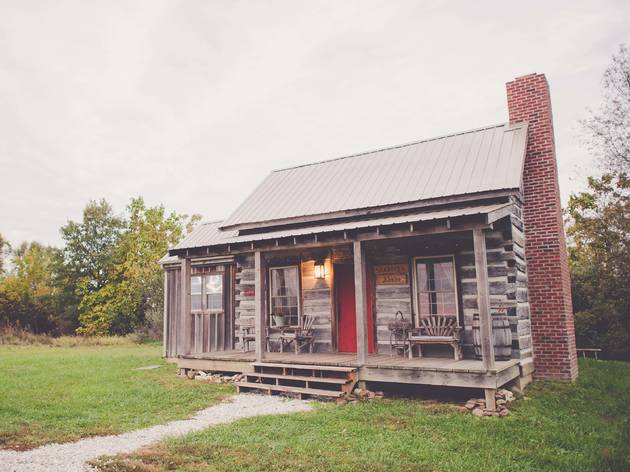 Photograph: Courtesy Bryan Leonard/Kara Evans Photography
Audrey's Abode in Jacksonville, IL
Rent a piece of history when you stay in a fully restored log cabin that was relocated from Lima, Illinois, and painstakingly fixed up using all reclaimed materials. Once inside, guests will have no trouble relaxing in the comfy two-bedroom that sleeps eight guests total. The fully furnished kitchen makes it easy to cook during your stay, and the porch out front is ideal for sipping wine and relaxing while watching the sun go down.