Travel to Philadelphia
Philadelphia has the perfect blend of historical attractions, jaw-dropping eats and world-class art for the time-strapped traveler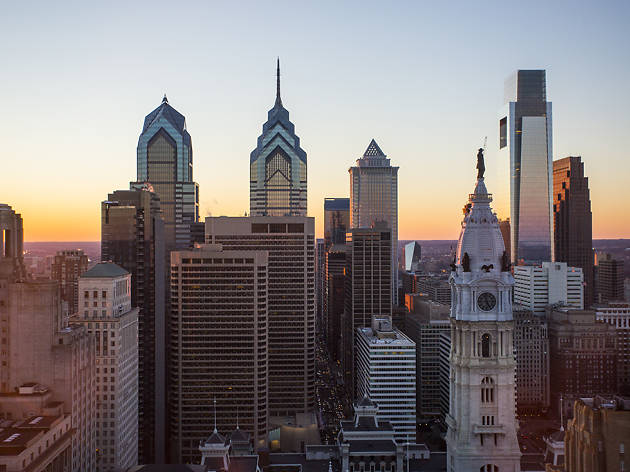 RECOMMENDED: More weekend getaways from Chicago
The City of Brotherly Love is never too far away. Flights from Chicago regularly hover around $100, and you'll be off the plane after just a few chapters of your new book. First thing's first: Get a Philly cheesesteak—it's a cliché but a delicious one. Head to Jim's Steaks South Street (400 South St; 215-928-1911, jimssouthstreet.com) for an authentic sandwich along a charming road lined with cute cafés.
Need a chaser? Check out Yards Brewing Company (901 N Delaware Ave; 215-634-2600, yardsbrewing.com), known for its hoppy and dark ales. The free weekend tours fill up fast at the city's first wind-powered brewery, but the wait is worth it to learn what goes into making these environmentally conscious beers.
A trip to City Hall (1401 John F. Kennedy Blvd; 215-686-1776, phila.gov) is essential. The world's tallest masonry building has a statue of city founder William Penn on top and looks spectacular at night. While in the area, stop at the Liberty Bell (Sixth and Market Sts; 215-965-2305). Another worthy sight is the castle-like Eastern State Penitentiary (2027 Fairmount Ave; 215-236-3300, easternstate.org). The former prison once held Al Capone.
You're running up the Rocky stairs, right? Find them at the Philadelphia Museum of Art (2600 Benjamin Franklin Pkwy; 215-763-8100, philamuseum.org), where Joseph Kosuth's thoughtful neons are on display, as well as "International Pop," a Pop Art exhibit that highlights Andy Warhol and Roy Lichtenstein.
End the night with a show at the Electric Factory (421 N 7th St; 215-627-1332, electricfactory.info), a standing-room-only concert hall. Or, for a quiet evening, wind down with an old-fashioned ice cream and a soda at the Franklin Fountain (116 Market St; 215-627-1899, franklinfountain.com).
Before you go, be sure to see the Fabric Workshop and Museum (1214 Arch St; 215-561-8888, fabricworkshopandmuseum.org), where a new exhibit of collaborative sculptures and installations opens in April. A block away, the historic Reading Terminal Market (51 N 12th St; 215-922-2317, readingterminalmarket.org) has been treating the senses since 1893.