World Naked Bike Ride Chicago
Prepare for the annual World Naked Bike Ride Chicago with route details, tips for riders and photos from previous events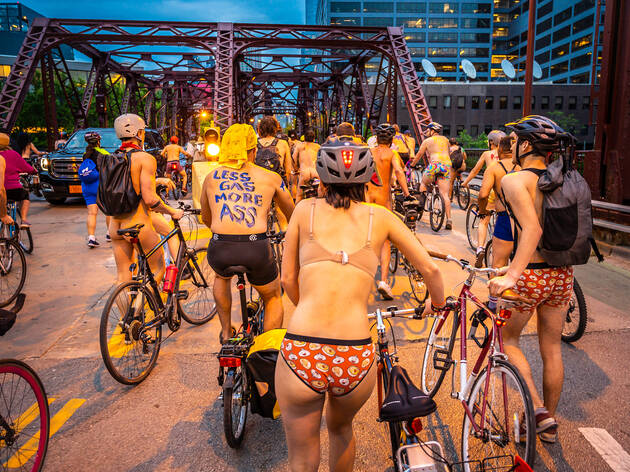 You know that summer has arrived when the city comes alive with Chicago summer festivals, the beaches start getting crowded and a parade of cyclists showing plenty of skin zoom through the streets. Organized to raise awareness for bicycle rights, celebrate people-powered transportation and support body positivity, the World Naked Bike Ride is open to anyone willing to pedal through the city's streets for four hours wearing minimal clothing (a tune-up at one of Chicago's best bike shops might help). Much like the No Pants Subway Ride, it's an event that elicits some amazing reactions from unsuspecting people who encounter the cyclists streaking by. You can relive previous World Naked Bike Rides through our NSFW photo galleries and prepare for this year's nearly-nude cruise with the help of our guide.
When is the World Naked Bike Ride Chicago?
This year's event takes place on June 8, 2019. Bikers meet up beginning at 6pm and the ride will begin just before sunset (around 8:30pm).
Where is the World Naked Bike Ride Chicago?
Exact details of the event (including the route) are usually kept under wraps until the day before World Naked Bike Ride takes place, but you'll find all the information you need by following the @ChiNakedRide Twitter account or the Facebook event page.
World Naked Bike Ride photos