20 great things to do on Pag Island
Discover the best things to do on Pag Island with our insider's tips on nightlife, dining and the great outdoors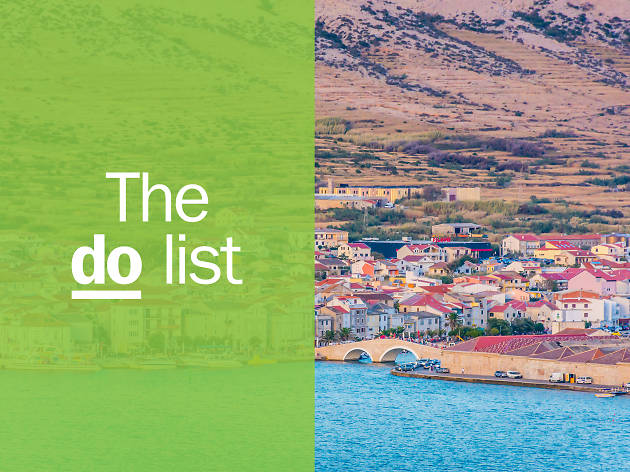 Pag is Croatia's up-and-coming island, its profile raised by the Ibiza-like phenomenon of Zrće, a stretch of beach nightspots near lively Novalja, home to Hideout and Sonus festivals. Quieter Pag town is where to shop and sightsee. Salty, rocky Pag is otherwise known for its local cheese, lamb and wines.
RECOMMENDED: where to eat, party and sleep on Pag Island.
The full list
1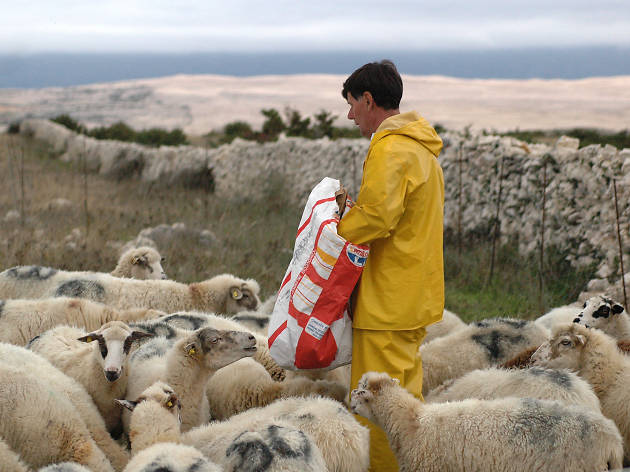 © Carly Calhoun
The salty air and vegetation across Pag island help create particular local delicacies best enjoyed in situ. One such is Pag lamb. Said to be at its most succulent in the earlier months of the year, Pag lamb,pa
š
ka janjetina
is a roasted delight, usually served with potatoes. It can also be grilled but most kitchens prepare it in roast chunks, sometimes even in the pan itself. As you travel round Pag, you may even see it spit
-roasted to provide that authentic, side-of-the-road experience.
2
Given the rocky, inhospitable terrain around Pag, the quad bike seems the most logical form of transport to get around it and take in the views. Local tour agency
Sunturist
organises various
tours
that start out from Novalja. The entry-level excursion heads towards Zaglave, taking an hour to trundle along flat roads, stopping at times to take in the prime views of the surrounding islands from on high. Those keen to explore more can also venture as far as the mysterious
Pag Triangle
, real rocky ride that puts any quad bike through its paces. Swimming breaks can also be combined with any quad jaunt.
Long established at the nightlife hub of Zrće, beachfront Aquarius keeps ahead of the game every summer with its big-name DJs, choice festival co-hosting, including Hideout and Sonus and regular new features. For 2017, it's cabanas, little thatched huts to provide relief from the bright sun and offer an exotic touch to an afternoon's chilling. Privacy, that all too rare commodity amid the party hordes of Zrće, is another boon. The huts, hired by the day, are dotted around the ever more popular VIP area.
4
Novalja is not all partying and nightclubs – not quite. Its one key historic sight is an original Roman aqueduct, known locally as the Talijanova buža, the 'Italian hole', that runs for more than a kilometre that once supplied the town with water from the fields around it. While walks down its gloomy, dark passages need to be arranged through the Novalja tourist office, its entrance is easily found within the Town Museum on ulica kralja Zvonimira, just behind the seafront. On the one hand a feat of engineering dating back to the 1st century AD, the aqueduct still reveals the sheer strength it would have taken to carve out of solid rock by human hand.


5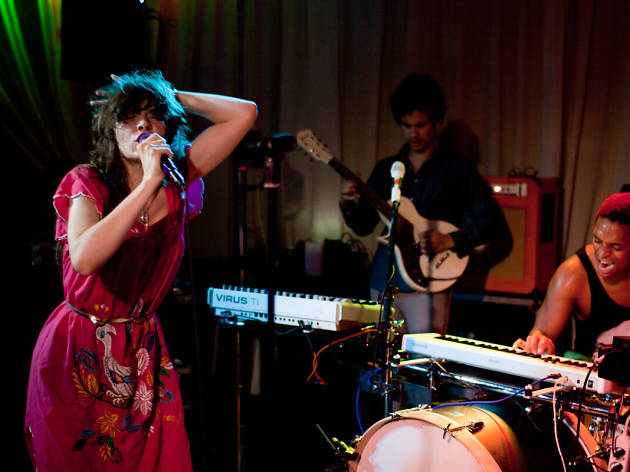 © Big Yellow House
As the Zrće clubbing scene and summer-long festival programme bring ever more planeloads of visitors to Pag, so the nightlife at nearby Novalja cannot fail to improve. One venue in particular is doing its utmost to keep partygoers in town and not jump into taxis to Zrće: the Big Yellow House. Part hostel, part lively bar open to non-guests through the summer, this seafront spot stages regular live music, and not just Croatian-language domestic acts either. A handful of American artists washed up on the shores of Novalja in 2016, including Deantoni Parks of Mars Volta fame. More can be expected.
6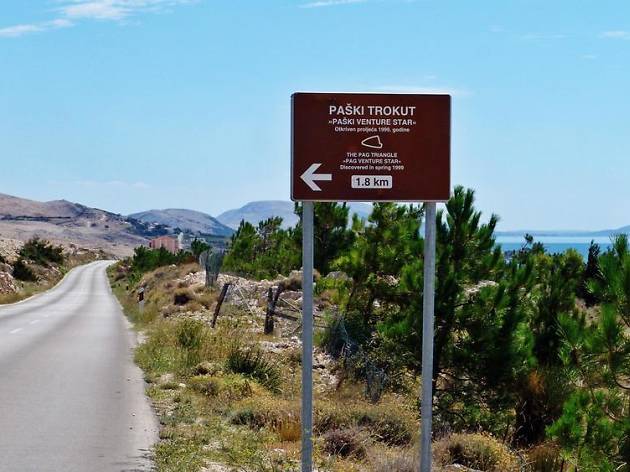 © Visit Pag
Discover Pag's Bermuda Triangle
On a deserted hill past Caska towards Žigljen just off road 106, a bizarre phenomenon was discovered in 1999. Attracting UFO investigators, seekers of alternative forms of energy and curious tourists, the so-called Pag Triangle was first seen from the air. On the ground, as painfully rocky as it is, these investigators, seekers and tourists need a sturdy pair of boots and an intrepid sense of adventure, because it's a fair trek from the signposted turn-off to three sides of unusual stone patterns some 30 metres across. How they got here, of course, is the mystery, but the rocks along the triangle sides differ significantly in shape and character to the millions of stones that litter the Moon-like landscape of Pag.
Commonly acknowledged to be the top table in Pag town, Na Tale overlooks the bay that has provided it with that day's fresh catch, lightly prepared with top-quality olive oil produced and bottled within equally close range. What's available is usually displayed a tray for you to choose. Meat-eaters may opt for Pag lamb, as succulent as any you'll find hereabouts, and there's a shaded courtyard to escape the blazing sun in high season.
The most enduring of the many nightspots at Zrće, near Novalja, Kalypso turns 30 years old in 2017. It's hard to believe now, but when it opened, serving a few beers near the beach, there was no such thing as the Croatian Ibiza. Now almost every week through summer there's some major festival or other, hundreds of thousands of partygoers flying into Zadar or Rijeka to catch the Zrće vibe.Later megaclubs such as Noa have Kalypso to thanks for much of this phenomenon.
Never one to rest on its laurels, Kalypso is still one of the big four, co-hosting major international events such as Sonus, Hideout and Black Sheep, but never thinks itself too important to give a chance to domestic DJs when it can.
9
Wikicommons
At the far south of Pag, where it stretches into a near deserted no-man's-land towards the ancient civilisation of Nin, the reeds and marshland of Veliko Blato provide shelter for nearly 150 varieties of birdlife. A clearly designated ornithological reserve, with observation huts and instructive signboards, Veliko Blato becomes busiest during the nesting and migration seasons. Endangered species include the gadwall and the calandra lark but you're more likely to see grey herons, great crested grebes and spoonbills. The tourist office at the nearest town of Povljana can provide more details.
10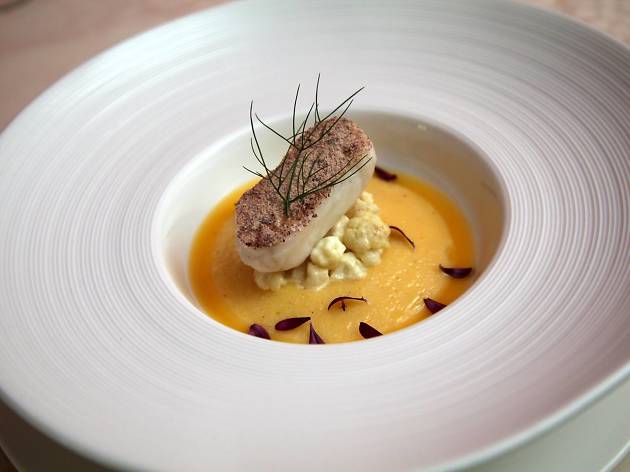 © Boškinac/Picasa
Dine on Pag delights at Boškinac
Easily the best place to stay on Pag, Boškinac is also a first-class restaurant and wine cellar, where local produce comes to the fore. Championed by Anthony Bourdain and featured on his travel show, Boškinac's co-owner Boris Šuljić understands the culinary heritage of his native Pag and puts it to full creative use, lamb, fish, prosciutto and fresh seasonal vegetables – not to mention, of course, the famed local cheeses – prepared and presented in creative, contemporary fashion. Diners, non-hotel guests included, may choose à la carte or go for a tasting menu to sample the full range of whatŠuljić, and thus Pag, has to offer. The huge wine selection isn't limited to Pag alone, but it would be churlish not to order a white Gegić or a red Burin to accompany.
11
© TZG
Pag's summer carnival snapped by tourists in the height of summer is only for show. The real event is performed by and for locals, and runs every Saturday from Epiphany in early January right up to Ash Wednesday, the climax to three days of festivities around the main square of Pag town. After several weeks of patient build-up, residents let themselves go on the first day of Lent around a communal bonfire, upon which an effigy of an unfortunate character named Marko is duly set aflame to much merriment and imbibing.
12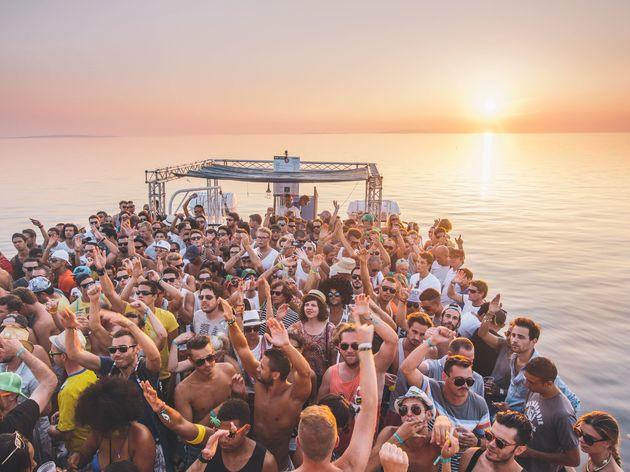 © Kidkutsmedia
Support local musicians at Sonus
Outlook, Fresh Island, Spring Break, Barrakud, how many festivals does one island need? Scheduled over five days and nights in August, Sonus is one Pag music event with a difference. Putting Croatian talent to the fore, either by giving artists chance to play in the same space with the main festival guests or dedicating whole stages for Croatian label showcases, Sonus attracts the most discerning and knowledgeable crowd. Here a big-name foreign DJ doesn't just turn up and live on his reputation. At the same time, Sonus doesn't lose its sense of fun or boat-party hedonism – this is, after all, Zrće.
13
© Fumie Suzuki/Time Out
The terms 'brandy' or 'grappa' do travarica a disservice. It wasn't that long ago that the concoction of this local aromatic herbal spirit was kept within a few select families, and was often used for medicinal purposes. Any signs of rheumatism or gum inflammation, and a bottle would be produced and its strong contents judiciously applied. Produced with grape remains and, it is said, up to 20 types of plants found wild around Pag, travarica is today readily available at most bars and restaurants – you'll probably be offered a complimentary nip at the end of your meal. Handle with care and you should taste the herbal element, particularly fennel.
14
Get muddy and get smelly, in fact, for the curative soil in the shallow waters of
Lokunja
, a short walk south-west of Pag town, stink to high heaven. But wallowing in these muddy layers for an hour or so should help heal any skin or rheumatoid ailments you may have. Sadly, you can't cheat and fill a few plastic bottles with the stuff then lather yourself later, somewhere away from prying eyes – the mud will oxidise and turn white. Get right in there, slap in all over then wash yourself off after a damn good soak. Don't worry – there's bound to be a few older locals doing the same
15
© Grad Pag
The island capital of Pag town was not always the centre of religious activities and local rule. About a kilometre south stands Stari grad Pag, Pag Old Town, whose residents did very well from the salt trade. Gradually it became deserted, perhaps because of drought, and everyone moved to the current site of Pag town. Back in the Middle Ages, Stari grad Pag contained a church, monastery and various channels used to connect with the salt pans. Today there's a gradual excavation and clearing process going on amid its ghostly, uninhabited remains, a short walk from the centre of Pag town.
16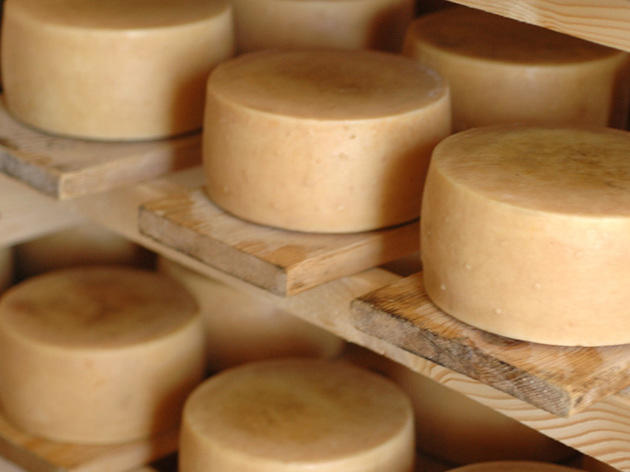 © Carly Calhoun/Time Out
Before the recent nightlife boom at Zrće, Pag was known for one essential thing: its cheese. Paški sir, a mainstay on nearly every domestic menu south of Zagreb, comes from paški ovca, the local breed of small sheep whose milk has a salty flavour typical of all island produce. Matured for several months, even years, it is hard and flaky, and best served with prosciutto and/or olive oil, as well as a glass of dry white Žutica. One place to sample these delicacies is the Trapula Wine & Cheese Bar, with an alfresco setting in historic Pag town.
17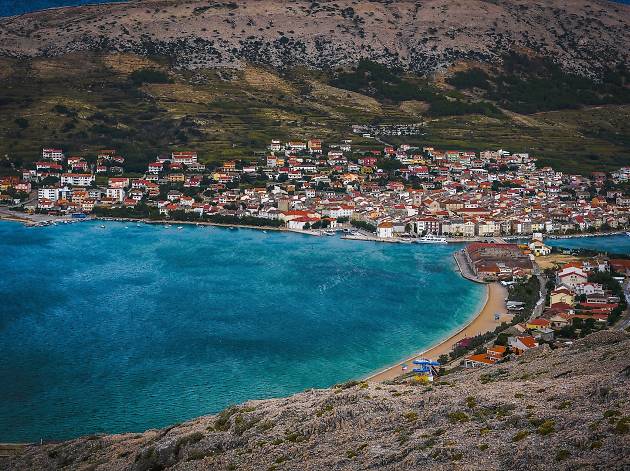 A pleasant, easy glide from Novalja, Pag Bay is picturesque and historic. In this sheltered enclave, the Romans established their city of Cissa, thought to be the forerunner of today's Novalja. Buried under a mass of mud, seawood and sand is the sunken Roman city, not visible to the naked eye but able to elicit a sense of wonder from the tourists on board the twin-deck open boats that sail out from Novalja on regular excursions. It is now thought that an earthquake left the town in ruins and sent residents scattering west, past Zrće. Caska stands on what was Cissa, with its own medieval landmarks, not least the Church of St George.
The rest of the cruise is dedicated to relaxation, with plenty of time on sandy beaches and swimming in caves around Caska. Novalja-based Sunturist lays on all-day boat tours from 9.30am.
18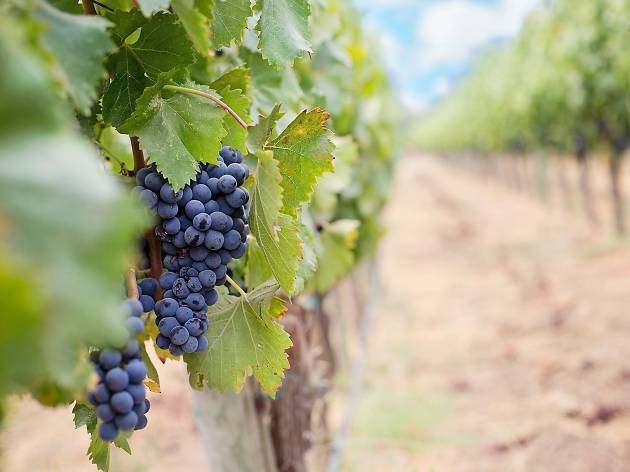 Whether the long-established, golden Žutica or the lighter Gegić, Pag wines gain their dry character from the sandy soil and provide the ideal accompaniment to that other celebrated local delicacy, Pag cheese. Until fairly recently, Gegić was dying out, but was revived some 15 years ago and is now a familiar sight on many restaurant tables. It's high in alcohol, so go easy as you pour. Another revived favourite, this one ruby red, is Burin, again found across Pag at shops and eateries
The only place at Zrće that could be termed a superclub, Noa Beach offers partying on land and on sea, its dancefloor poking out into the Adriatic, with a ladder leading down into the water for this who want to take a dip while getting their groove on. This is no beach bar with a few beats thrown in, this is a mini festival site in one nightspot, with 11 bars, a food court, a spa and even its own cash machine. Yachts may dock alongside. Up to 4,000 revellers can be catered to on any one night – just in terms of the crowds, you may want to chuck yourself into the Adriatic at some point.
20
Scale the crags of Stogaj
Given Pag's Moon-like appearance, much of it barren, karst rock face, it's no surprise that it's a popular destination for climbers. A short drive from Novalja, near Metajna, seafront Stogaj is the most well-known climbing spot, offering nearly 20 marked routes over four sections. Absolute beginners can attempt a short, easy ascent of ten metres while experienced climbers can attempt the Skorpion or the Spyder. Check with the Novalja tourist office for more details. Take plenty of water with you and a towel – there'll be a rewarding swim after your exertions.