'ILHAM Contemporary Forum' exhibition at ILHAM Gallery
We take a look at ILHAM Gallery's latest exhibition and how it characterises our contemporary culture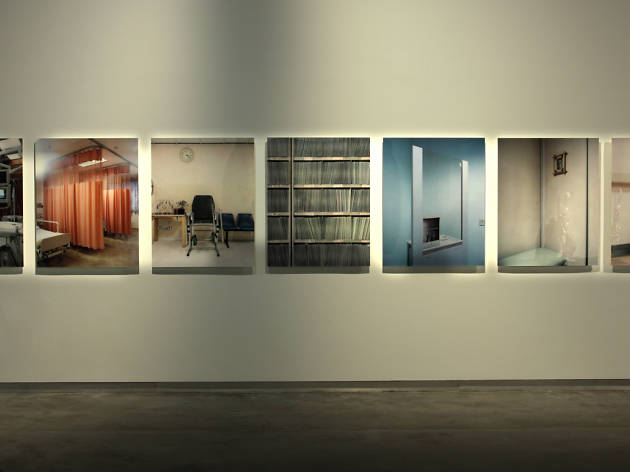 Ever since ILHAM Gallery opened in 2015, they've wasted little time in spearheading the cultural discourse of the city, maybe even the country. Their first exhibition, 'Picturing the Nation', wasn't so much an exhibition as it was a short art festival (if you attended all their events). They had panel discussions which included prominent artists and writers such as Lat and Jo Kukathas, music performances, screenings and even art classes for children. Ever since then, they've applied this model for the rest of their exhibitions.
All of ILHAM's previous exhibitions were largely focused on a specific issue or carried a clear central theme. For example, their last exhibition 'Afterwork' explored issues of class, race, labour and migration in the region. So not only are their exhibitions focused, they're not afraid to raise difficult questions about socio-political issues either.



One of the works displayed at 'ILHAM Contemporary Forum': 'Weeds/Rumpai', 2013, Sharon Chin
However for this ongoing project titled 'ILHAM Contemporary Forum', they've gone for a more experimental approach. 'With this new project, ILHAM wanted to depart from past practice, and engage questions of curating contemporary art and culture,' says Lee Weng Choy, one of the co-facilitators of the project. Fellow project facilitator Rahel agrees, she sees this as part of ILHAM's focus on developing professional methods like curatorial practices.



One of the works displayed at 'ILHAM Contemporary Forum': 'Not so long ago', 2013, Novia Shin
For this ambitious pilot project, seven curators – all art professionals below the age of 39 – were selected and tasked to put together an exhibition looking at contemporary art and culture in Malaysia from the past eight years. They are artists chi too and Kat Rahmat; director and researcher Mark Teh; curators Azzad Diah, Tan Hui Koon and Ong Jo Lene; and writer Ridwhan Saidi.



One of the works displayed at 'ILHAM Contemporary Forum': 'Waterfalls', 2012, Haffendi Anuar
It's important to note that 'Contemporary Forum' isn't merely an art exhibition but also a showcase of works that capture the zeitgeist of Malaysian culture for the past eight years. This includes cultural and community projects, fashion pieces and more. The artworks are categorised into four categories – 'play, negotiation and resistance', 'discomfort', 'reassemble' and 'archive, narrative, the world'.


If you've been in a coma for the past eight years and need a refresher on the cultural shifts in Malaysian contemporary arts, this is it. Even if art isn't your thing, the cultural projects and other installations are worth taking note of too. But if art and cultural projects and installations really aren't your thing, there will also be screenings and talks scheduled throughout the next three months (the duration of the project).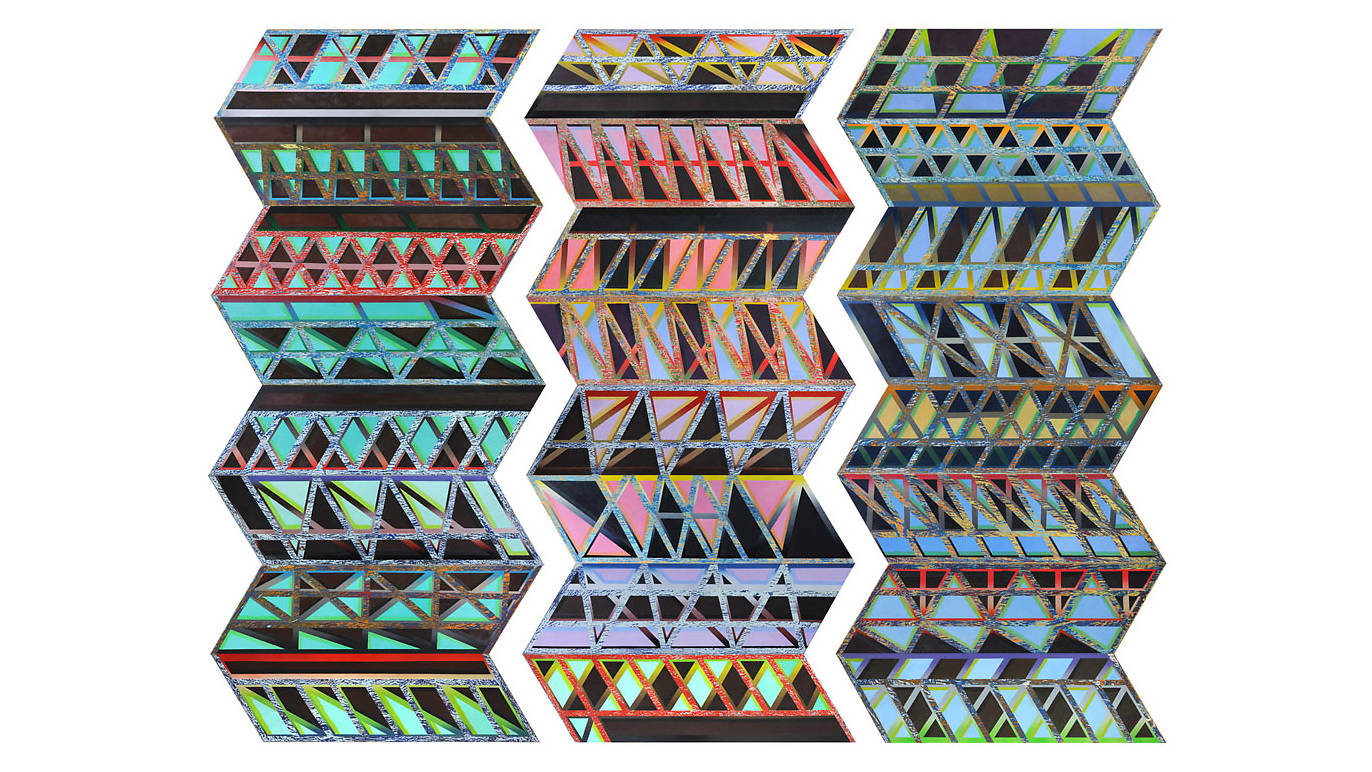 One of the works displayed at 'ILHAM Contemporary Forum': 'Highway Heat', 2016, Haffendi Anuar
Unlike other ILHAM exhibitions, the 'Contemporary Forum' doesn't have any strict themes or historical orientation. Rather than the usual top-down approach where the gallery feeds the audience works surrounding a particular issue, ILHAM have tasked curators to put together an exhibition to generate discussion and dialogue about our nation's contemporary culture. Here are some works that we liked.
Samsudin Wahab – Mud Painting
'The works here create a conversation with each other,' says Azzad Diah, one of the seven curators for this exhibition. He explains this can be seen particularly in the placement of Samsudin Wahab's Mud Painting next to Rizman Ruzaini's KL Twin Towers Costume he made for Miss Malaysia during the 65th Miss Universe competition in 2016.
Azzad explains that the artists both come from the same art school but have different leanings in their work. While Rizman's costume is a celebration of our nation's modernity, Samsudin's work invites the audience to reflect on the self and their own roots. Made completely from mud, which would crack and eventually fall off, the painting brings about questions surrounding identity and development, especially when contrasted with Rizman's work.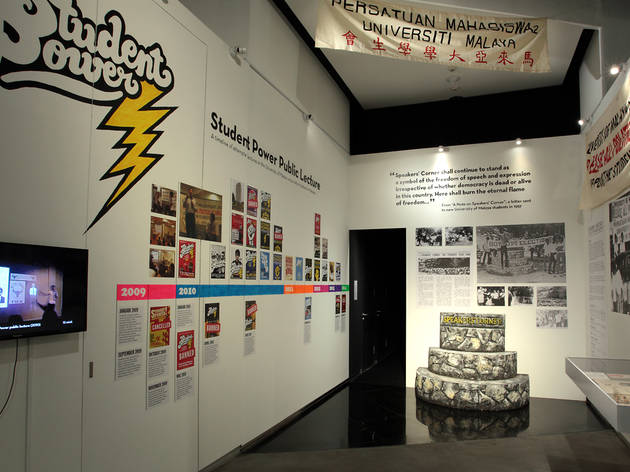 Fahmi Reza – Student Power
Back in 2009 Fahmi Reza started doing public lectures about the University of Malaya student movement of the late '60s to the late '70s. While many of the lectures were done in private spaces, Fahmi's main goal was to carry out the lectures in public universities, especially in University of Malaya – the birthplace of said student movement.
This installation features a timeline of his numerous (failed) attempts at carrying out the lectures in public universities and newspaper clippings of student actions back in the day. Apart from that, the installation also features a replica of the iconic speaker's corner steps – a platform where students were free to exercise their freedom of speech.
Chang Yoong Chia – Don't Spread Rumours
Part of the 'archive, narrative, the world' category, Chang Yoong Chia delves into our collective memory surrounding the incidents that happened on May 13 1969. Using stamps that were in circulation between 1965 and 1971 with postmarks of 'Don't spread rumours' and 'Don't listen to rumours' in four languages, Yoong Chia's work depicts the incident where moviegoers were gunned downed as they left Majestic Cinema in KL on that infamous day.
The piece confronts us with some uncomfortable truths about our nation's history, raising the question of whether we're still nursing the hangover from that fateful day. While the artist's use of red, pink and yellow to depict the incident doesn't just evoke the fiery emotions stoked at the time, the brightness of the collage indicates how fresh it remains in our collective memory.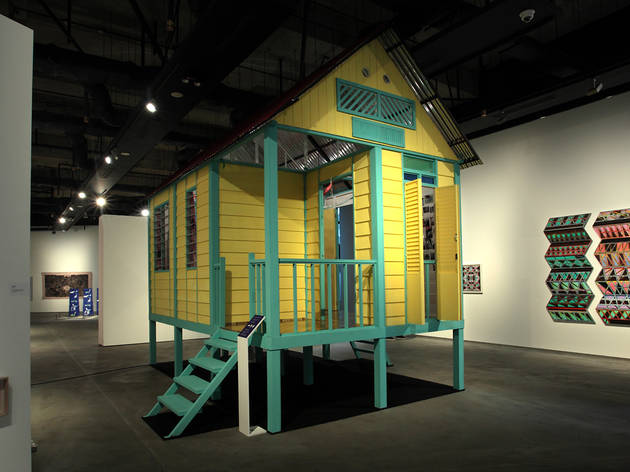 Projek Angkat Rumah
Spearheaded by Liew Seng Tat with around 20 other collaborators, Projek Angkat Rumah first got its inspiration from a news story about a man who, with the help from his neighbours, managed to move his kampung house to be closer to his daughter. The project first came to life in 2010 in the form of a flash mob (remember flash mobs?) where people were invited to volunteer to carry a house from Jalan Ipoh to Urbanscapes at klpac, where it would be used as a stage.
'It was a participatory and collaborative project. It was also so we could slip in some acts who would never be invited to Urbanscapes. Some really crappy, weird and provocative bands,' recalls Mark Teh – a participant of the project and also one of the curators for the exhibition. The idea behind Projek Angkat Rumah was soon made into a movie – 'Lelaki Harapan Dunia' – by Liew Seng Tat.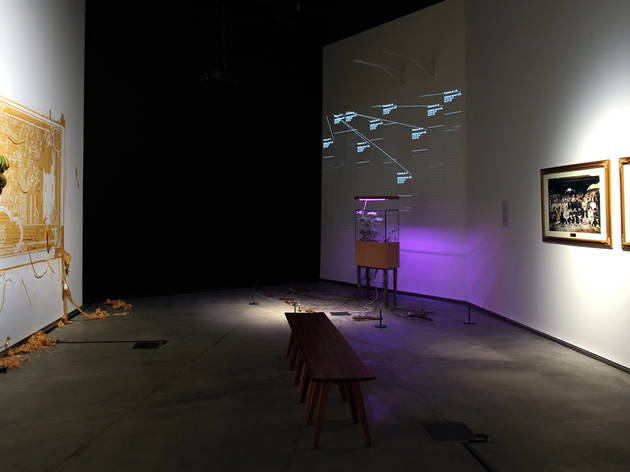 Lim Kok Yoong – Operasi Cassava 3.0
'Operasi Cassava' first started as an online participatory archive where the artist asked Malaysians to send in any story they had surrounding the cassava plant (better known as ubi kayu). Why cassava? This is largely because of how integrated the plant is in our collective consciousness; apart from being an ingredient in many local delicacies, it was also once an important source of nutrients during the Japanese occupation. In this work, the crowdsourced stories are connected to cybernetic cassavas – as the moisture of the plant dissipates the clarity and the opacity of the text will start to decrease.
See the exhibition until Oct 8
Public art gallery ILHAM is committed to supporting the development, understanding and enjoyment of Malaysian modern and contemporary art within both a regional and global context. ILHAM plans to engage a diverse range of audiences through both their exhibitions as well as through education and public programmes that seek to bring society closer to the art and the artists behind them.
Read more