Heads up! We're working hard to be accurate – but these are unusual times, so please always check before heading out.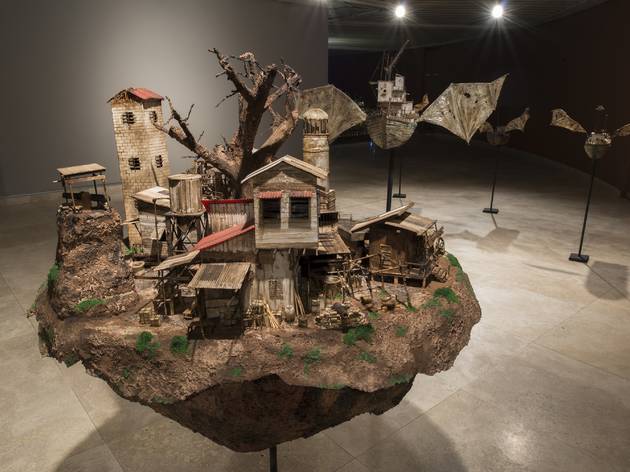 Interview: Syafiq Ali'am
We speak to artist Syafiq Ali'am about his works featured in Galeri Petronas's current exhibition
Galeri Petronas's current ongoing exhibition, 'Alegori: Contemporary Art Expressions from Malay Manuscripts' explores the foundations of the Malay identity through historically-significant manuscripts and rare Malay artefacts. Aside from these, the exhibition also features contemporary installations by local and regional artists.
Two installations on display are 'The Floating Empire' and 'The Honourable Pirates' by local artist Syafiq Ali'am, fantastical works that illustrate an alternate view of the Melakan empire's history. We caught up with the artist about the pieces, his background and his inspiration.
How did you start out doing what you do?
My father did a lot of landscape painting using watercolours; he introduced me to watercolour painting when I was just four years old. When I was six, he gave me my first watercolour set.
My grandfather believed that it's important to look at things from a different perspective. That's why although being an imam, he sent his son (my father) to St Michael's Institution in Ipoh, a church school. That sense of looking at things from a different perspective has been passed on to me.
You mentioned being exposed to art as a child. How has your interest developed as you got older?
Any formal arts education I had began when I was in high school. And later when I got into the Architecture and Arts programme at Universiti Teknologi Mara (UiTM). I learnt a lot while studying there, majoring in sculpting and minoring in painting. I think at that level, what you learn in art school or university is only a foundation; how far you want to go and how much knowledge you want to gain is all up to you and your efforts.
I've also designed sets and worked as an art director for films. One of the best experiences I've had was working with U-Wei Haji Saari. He's not only a reputable film director in Malaysia, but internationally as well; he's also an art collector. When I was working with him on 'Hanyut', he helped provide training for me with a scenic painter from Australia, Michael O'Kane who was involved in 'Superman Returns'.


Your works are part of the 'Alegori: Contemporary Art Expressions from Malay Manuscripts' exhibition in Galeri Petronas, and very quirkily named 'The Floating Empire' and 'The Honourable Pirates'. What're the meanings behind the pieces?
They're alternative perspectives of what happened during the invasion of our country. I used to work in museums in Perak and did a lot of research. During that time, I came across books that not many know about and I learnt about a different side to the stories. This installation is basically how I imagine the past to be, an alternate history.
We all know about what's written in history books, like how we were invaded by the Portuguese, Dutch, British and Japanese. In those books, we were made to look very weak.
'The Floating Empire' represents a different perspective of that story, and with 'The Honourable Pirates' I'm trying to change the perception of the word 'pirate'. In the past, our navy didn't wear uniforms, and the British empire referred to them as 'pirates' when actually they were the royal navy serving the Sultans.
In your works, you make use of both art and science. What inspired that decision?
When I was doing my degree, I did some research on technology as a form of art. That's when my sculptures started to look like science fiction. I referred a lot to Leonardo da Vinci. He did sketches of flying objects, submarines, war tanks and a lot more, and his ideas were only made into reality about 400 years after his time! I assume during his time he couldn't afford to build his creations, and that's how I look at things too. I want to see the potential in the things I create.
Of course, there are comments like 'You are too ambitious' and 'This can't even move!' and so on. But that's just because I don't have the funds to make my ideas come alive. We, as artists, are just projecting ideas; it just depends on who will want to invest and develop them.
So, any future plans?
I would love to open a public education space to engage the public with the creative industry. When I was studying in other places like Germany and Bangkok, I learnt a lot about the lack of public engagement between the Southeast Asian community and the arts. I believe there should be a mechanism to help this engagement take place. We can't only be depending on art institutions or museums, so we have to start small.
'Alegori: Contemporary Art Expressions from Malay Manuscripts' runs until Feb 4. Tue-Sun, 10am-8pm. Free admission.