Off Gravity: Into Contemplation
Contemplate and enter the void at TC Liew's solo exhibition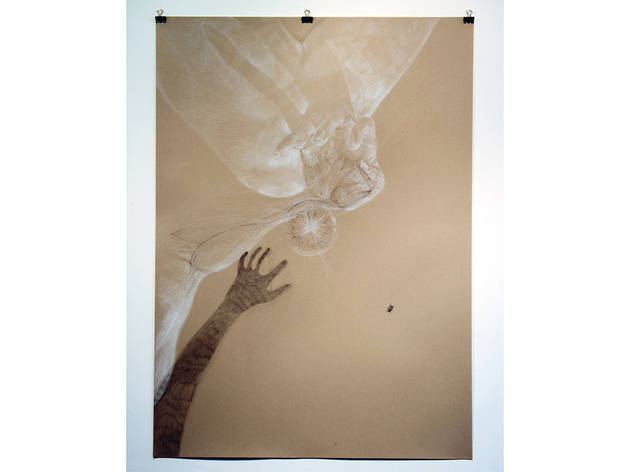 Art galleries in KL don't tend to come in the shape and size of Aku, getting to which entails a stroll past (in no particular order) a 4D store, a vegetarian restaurant and a tiny hole of an Indian barbershop, complete with a spinning barber's pole outside. Nearby, the Tun HS Lee police station hovers like a stern headmistress that's ready to pounce, while old street-lurkers wait patiently for her to turn her head, to allow for a fleeting minute of mischief.

Escorting you into the actual gallery on the first floor of a row of shophouses in Chinatown are paintings of ants, which punctuate every other step leading upwards. Blue walls and walnut wood panels greet you at the entrance, and inside, it's a world away from the chaos and bustle of the street below. Aku, where have you been all this while and why haven't we met sooner?

Aku, therefore I am
The offspring of Old China Café and Precious Old China, Aku doubles up as a café and its art identity is linked to its owner's art-loving ways and long involvement in the local art scene. Having opened its doors just last year, Aku has already hosted a couple of exhibitions in its compact space, and the coupling is genius: The café will never suffer the fate of having under-dressed walls; and if you come on a date here and the conversation runs dry, there's always a conversationstarter nearby.

This month, you and your company will be discussing and deliberating over the works of TC Liew. A former USM student, Liew's talents and intellectual fortitude already had his professors gushing about him some years ago, which raises the question as to why Liew didn't choose to go somewhere bigger for this solo exhibition.
If spatial considerations were of essence, then Liew couldn't have opted for a more fitting location for his quiet and pensive works. Aku's interior is soaked in minimalist charm, with Scandinavian vibes and antique furniture all jumbled up to create a twee atmosphere. The classical music wafting from the speakers threatens to send the entire experience into the realms of the sublime. It's all very charming, to say the least, as are Liew's works. A collection of drawings and meditations on cardboard, canvas, walls and other objects (more on this later), his solo exhibition is titled 'Off Gravity: Into Contemplation', and the artist intends for audiences to contemplate, be aware of consciousness, and to take a minute 'to experience the void'.

Deep stuff? You bet, but getting to grips with Liew's drawings doesn't require a degree in Philosophy or time spent in a monastery. All it takes, really, is your attention and time. The pencil marks on Liew's drawings are furtive, so you'll have to move closer to the works to make out the fine details and grey and white lines that sinew into limbs and insects. The sheer dominance of blank space in the works offer pause. The latter relates directly to 'Off Gravity', which Liew describes as a metaphorical term to describe silence and deep thought. You'll encounter this, as you zone into each and every one of Liew's works, and the only time you'll find your gaze interrupted is when the kitchen blender roars to make a customer's ice-blended drink.

I, TC Liew, will make you think
But back to the artist. Liew's name may not roll off the tongues of mainstream gallery-goers, but like his works, there's an unassuming quality to the way he has approached and honed his craft. The details are all plastered on one of Aku's walls, where a detailed diagram explains the artist's career thus far. Coloured lines denote periods of scholarship or curatorial stints, images of the artist's older works illustrate the development that he's undergone in the last many years, and the information – very methodically presented, we might add – also reveals that this solo exhibition has been three years in the making (2011-2014), and that it's been part of his MA and an effort to return to the basics. What's more revealing in the diagram, however, are the names that Liew has listed: the individuals who have played pivotal roles in his artistic career. His early days saw him fraternising with the likes of Tang Tuck Kan and Tan Chin Kuan, his student days saw him fostering conceptualist thinking and materialism with Hasnul Jamal Saidon and Fauzan Omar, and in 2009, he met artist Shooshie Sulaiman, a conceptual artist who has always championed the process of archiving and documenting. To those in the know, this pedigree sets the tone for exactly what you see in Aku today – conceptualism, irreverence to the market forces of commercial art, and curiosities where you least expect them, like the drawings of ants that appear on the wall or on the café's drink coasters.

Coming to Aku to view a show like 'Off Gravity: Into Contemplation' forces you to enter a spatial void of your own, away from the malls and retail developments where many of KL's galleries are based today, and straight into the city's heart, which has been pierced by the forceful blows of development. Need evidence of this? Just peek over the balcony at Aku and take in the cement and steel pilings within the enclosed area for Chinatown's new MRT station just across the street. The void? It's disappearing before our very eyes, and Liew's show offers the perfect chance for you to stop, contemplate, and have a think about it all.