Wei-Ling Contemporary's new rooftop space
Wei-Ling Contemporary leaves the ground and aims for the skies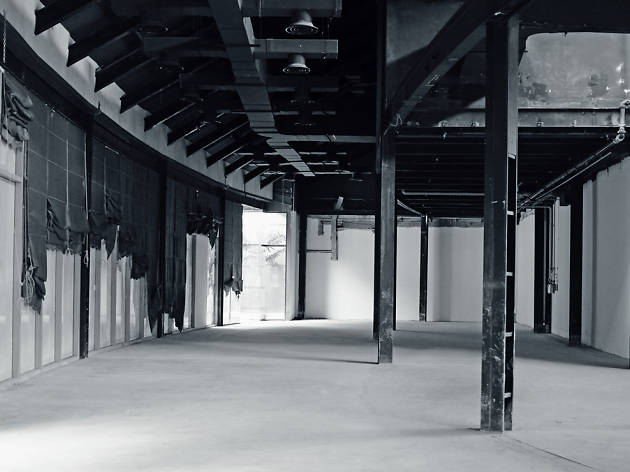 Rubble on the floor and a disused bar don't exactly sound like the makings of an art space, but it's these very elements that stand before us as we get a sneak preview of Wei-Ling Contemporary's latest incarnation – the prized rooftop space in The Gardens Mall. Six floors up from its ground floor home for the past four years, the gallery opens its doors this month at what was once the G6 nightclub, with a big Ivan Lam retrospective and even bigger plans on the horizon.

The next big step
Glamorous though it may seem, the art business can be a tricky one. The galleries that withstand the test of time build their success on perseverance and a great deal of savvy – and Wei-Ling Gallery ticks both of these boxes. Starting out as Townhouse Gallery in a domestic property in Bukit Bandaraya, the gallery changed its name to Wei-Ling when it moved to Brickfields. Wei-Ling Contemporary at The Gardens Mall opened a few years later, followed by a space in Penang, and representatives from the gallery have been making rounds in international art fairs over the last couple of years.

This month's relocation of Wei-Ling Contemporary is another big achievement for the local hero – a 9,000 m2 coup, to be exact. This sort of scale teases out the idea of bigger artworks on the cards, but gallery director Lim Wei-Ling contends that they're seeking quality and not just gratuitous flashiness. 'The space is large, but we do not necessarily have to put big works in there. Although, it will enable us to accommodate larger exhibitions and major installations and sculptural works.'

Two exhibition areas will command the new space, and Wei-Ling Contemporary (they're keeping the name) will also see a change to its programme structure. 'The new space will focus on major solo shows and curated group exhibitions by local and international artists. Exhibitions will take place for up to three months each,' explains Wei-Ling of the new modus operandi. Three months? That's an unusually wide leeway in the commercial scene, where the focus is usually on quick turnarounds and sales. So, this new move bodes well for both artists and the wider context of all things art-related here in Malaysia; the former will now have the luxury of more time on their hands – to, arguably, produce stronger works – and naturally, this will spill over into the local art scene. Win-win all around? It sure sounds like it.

And for audiences, the extra treat lies in Wei-Ling Contemporary's inauguration of an art foundation that serves to highlight key works from private collections. This means that rare artworks will be dusted off and given some time in the limelight, and we'll be getting a clearer picture of the artists' full careers and just how far Malaysian art has come. Surveys and more
Feeling that artistic appetite all fired up? Get a strong taste of things to come in the new space's opening exhibition, 'IVAN LAM: TWENTY'. A landmark retrospective bringing together 45 pieces from two decades of the artist's career, it's no coincidence that the gallery has chosen to open with Ivan's works. With an Art Basel appearance to his name and countless other accolades, the artist remains one of the gallery's brightest stars and one with a long relationship with the gallery. 'It also happens to be Ivan's fortieth next year and we thought a survey was due,' adds Wei-Ling. Sorry, Ivan, we've just blown your cover, but it's really no secret how far you've come, from your earlier works of landscapes and scenes executed in an almost paint-by-numbers fashion to your more minimal works of late, where detail is hidden beneath the glossy veneer and countless layers of industrial paint.

What follows 'IVAN LAM: TWENTY' is an equally exciting lineup for 2015, including an important survey exhibition that examines the contemporary Malaysian art practice, a solo exhibition by Pakistani artist and Wei-Ling Gallery favourite Amin Gulgee, and an exhibition of contemporary British art. One potential hazard down the line, though, is the possible dwindling of the foot traffic the gallery has enjoyed on the ground floor of the mall. Still, Wei-Ling's confident that low visitor numbers won't be the case. 'The gallery has always been a destination venue so we know that if people want to seek us out, they will come up to the sixth floor to visit us. I hope the exhibitions will be enough of a draw to have people come upstairs to see them,' she says.
Venue info
Those familiar with Wei-Ling Gallery at Jalan Scott will find a certain resemblance in her new space at Gardens Mall, Mid Valley. To echo the pre-war setting of the flagship gallery in Brickfields, Wei-Ling Contemporary utilises Peranakan antique doors and tall customised grills to provide a sense of modern warehouse feel. The design is specially crafted by local architect Lim Cho-Wei. We love the idea of an art gallery in a shopping mall. It's more accessible to the public to appreciate art – a subject that's commonly misunderstood as intimidating and overly sophisticated. Wei-Ling Contemporary is minimally designed so that the attention is all on the featured artworks. Think of this as a studio museum – the vast room enables arbiters to view art in a less constricted space. We heard that Wei-Ling may be organising talks by artists and professionals on topics such as art investment, and contemporary art. This may just be the chance for you to start an art collection. 
Read more