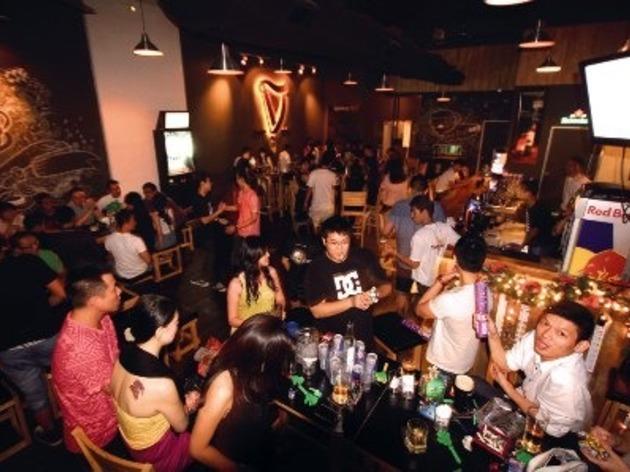 Note: BeerHive is now closed.
BeerHive could easily be a fictional frat house. Beers, kegs, Jägerbombs, party shots – you can find (and drink) it all here. Thankfully, there were no frat boys or anyone doing a keg stand during our visit. Only a dozen regulars were seen chugging beers, playing darts and making small talk.
This fratboy-meets-yuppie bar or, as the owner likes to call it, 'hybrid bar' is frequented by a strong faithful neighbourhood crowd. Owners Vincent and Bruce are often seen mingling, 'bro-ing' with their customers and introducing one to another. As a result, everyone seems to know everyone here. And Vincent stated, 'We're like one big family here.' Clichés aside, there's an easy-going vibe once you step foot into the place. Plus, with Kenji Chan graffiti on the walls, they're not short on street cred.
Seats are plentiful in the evening but become hot commodities after 10pm. Yet it's never too crowded here because the bar has a lot of room to extend outdoor. Overhead speakers stream pop rock songs from the '80s, '90s and a surprise Chinese tune once a while, but music is kept at a minimal level to allow people to converse, not shout.
Beers, as you'd have guessed, are the focus point here. Prices are reasonably marked: two pints of Guinness, Kilkenny or Tiger are RM36++ during happy hour (before 9pm) and RM40++ after 9pm. They also offer a Japanese premium beer, Kirin Ichiban, which can only be found at BeerHive and Ten Japanese Fine Dining at the moment. In a place where beers are everything, we're not surprised to locate a couple of beer cocktails too: Mocha Guinness, Snakebite, Poor Man's Black Velvet and others.
For whatever reason, BeerHive is an extremely popular joint for parties, be it birthday, anniversary, company or simply just a celebratory party. Perhaps that explains the abundance of party drinks: Jägerbombs, Absinthe shots like The Hulk Train (Absinthe + Guinness) and beer by the barrel. Plus, of course, their iconic beer diving game Let's Dive, in which you put on a snorkelling mask and down a pint of Tiger beer from a hose.
Strategically, BeerHive isn't in the best location (SStwo mall is rather dead if you haven't been there), but it still manages to appeal to beer drinkers. No pretentions, no nonsense, no rowdy high-fiving sports fans, just a whole lot of beers and fun. Chug a few pints and you'll forget you're even in a mall. Ian Loh
Venue name:
BeerHive [CLOSED]
Contact:
Address:
Lower ground floor
SStwo Mall
Jalan SS 2/72
Petaling Jaya
46300

Opening hours:
Sun-Thu, 4.30pm-2am; Fri-Sat, 4.30pm-3am