Guide to craft beers
Pass yourself off as a craft beer expert with our cheat sheet
Having been around for years, craft beers have grown from being a trendy drink into a mature global industry driven by thousands of independent brewers. With the help of Taps Beer Bar founder Alvin Lim, we help you navigate through the wide world of craft beers, from knowing where to start to what's next in the craft brewing scene. So let's hop to it!
It's hard to define what makes up a craft beer.
The definition of a craft beer differs from country to country, but the American Brewer's Association provides a good starting point. For them, a craft beer needs to come from a brewery that is small, with an annual production six million barrels of beer or less a year; independent, where less than 25 percent of the brewery is owned by an industry member that isn't a craft brewer; and uses traditional or innovative brewing ingredients or methods. But don't get too stuck into the technical details; after all, the craft beer movement began as a reaction against restrictive regulations like the 500-year-old German Purity Law, so why repeat history? As long as the beer tastes good, it's all that matters.
Why are craft brews so expensive?
A craft beer costs three or four times as much as a regular mass-produced beer because of several factors like international shipping costs, high local taxes, smaller volumes of beer and higher costs of labour, ingredients and equipment. 'We have to ship the beers in cold refrigerated containers, and that automatically jacks up the prices,' says Alvin. 'Also, the local tax structure is based on the alcohol percentage, so the higher the alcohol content, the more expensive it will be.'
Start light
Those new to the craft beer scene should ease in with a light-tasting craft lager or Pilsner, which is what most mass-produced beers are. But unlike those big-brand beers, craft lagers have a variety of herbal and fruity flavours thanks to the different types of hops used in the brewing process.
Another style worth trying out is the India Pale Lager (IPL). IPLs are fermented with a lager yeast strain at lower fermentation temperatures, and then hopped up with stronger tasting hops. While lagers undergo a slow, cold fermentation to produce a clean-tasting beer, ales like the India Pale Ale go through a shorter and warm fermentation that produces a fruitier and spicier brew.

A range of craft beers from around the world.
What's with all the different pale ales?
After you're done with the lighter lagers, it's time to hit the punchier brews. Start with a basic English pale ale, which bridges the gap between dark stouts and light lagers. Then move on to more hop-forward varieties like the India Pale Ale, which was created by English brewers in 1840 to withstand the long seafaring journey from England to India. From there, you can move onto a slew of other types of pale ales such as the American Amber or Red Ale, which carry stronger caramel, citrus and floral flavours and aromas compared to their English siblings. Then there are Double (also called imperial) IPAs, which, as its name suggests, are stronger versions of IPAs in just about every way – expect more alcohol, more hop aroma and bitterness, and more malt character.
Hops matter
Beer is primarily made from four ingredients: water, malted grains, yeast and hops. The last component plays a big part in creating the beer's flavour, which is why many craft brewers are starting to highlight the type of hops they use. Among the common variety of hops used are Challenger, which has an Earl Grey-like flavour with bitter citrus notes; Cascade, a popular American type that imparts floral and grapefruit flavours; Galaxy, which give flavours of passion fruit, peach and orange; Amarillo, a punchy citrus-tasting type found in American beers; and Mosaic, which has pungent notes of pine, pineapple and peach.
Canned or bottled beers: is there a difference?
We won't get stuck into the detail-driven debate between canned vs bottled beers, but the tl;dr version is this: cans are practically superior, but bottles are more aesthetically pleasing. Canned beers are lighter, easier to ship and keep the beer in better condition, but the majority of craft beers are still bottled because customers believe they taste better. A Nielsen survey commissioned by the Brewers Association in 2015 discovered that just 40 percent of drinkers thought the quality and freshness of canned beer was greater than or equal to that of beers in bottles. 'I think it's a perception driven by marketing,' says Alvin. 'What matters most is the way the beers are transported; as long as they're shipped cold and properly stored, all beers should be the same.'

A range of craft beers found in Taps Beer Bar.
What other surprising types of craft beers are there?
There's no shortage of new types of craft beers. Among the more eye-catching ones we've spotted in local bars are Rogue Ales' The Beard Beer, which was made using the natural yeast existing in the beard of brewmaster John Maier (don't worry, it doesn't taste anything like a yeasty beard). Spicy beers are another popular type – Mikkeller's Chipotle Porter and Rogue Ales' Sriracha beer are two examples of beers that combine the heat of red chillies with the light caramel flavours from toasted malts.
The past couple of years have seen the rise of sour IPAs, which amp up citrus flavours like grapefruit and lemon, and are funkier than regular IPAs thanks to the pungent-smelling Brettanomyces yeast. It takes a while to get used to it, but once you do, it's hard to go back to a plain Jane IPA. 'This year there's a trend called the New England Hazy IPA,' adds Alvin. 'It's unfiltered so it's super hazy that you can't see through it, and most of them actually taste like orange juice.' Perfect!
Where to drink craft beer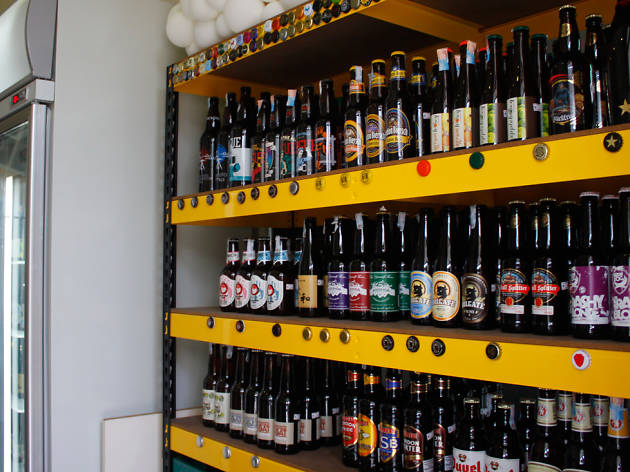 From bottles and varieties of craft beer ranging from pilsner and lager, ale, wheat beer, porter stout and more, these craft beer bars in town should have beginners and enthusiasts alike nodding in agreement.