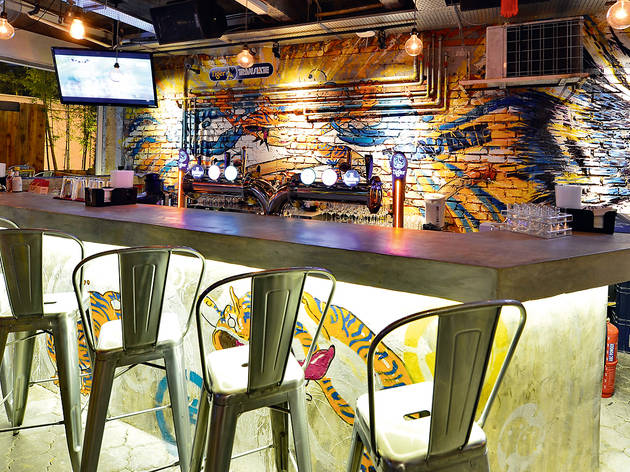 As far as bars on Changkat go, The Rabbit Hole's got a few tricks up its sleeve. For one, this new kid in town raises the bar with its unique space. Divided into different sections, it's a veritable night-time wonderland with alfresco areas sitting comfortably alongside private rooms (more on this later), and the vibe is easy and unpretentious, making it an easy choice for weekday or weekend drinks.
The Rabbit Hole occupies the lot where French restaurant Le Bouchon and nightclub Envy used to sit. You'll enter from the corner of the street, prime real estate as far as the Changkat strip goes. When you show up, the friendly staff will guide you in and offer you a choice of their seating areas. We love the outdoor bits: A large stage occupies one end, giving prominence to the bands and singers, and towering bamboo trees section off a small dining area where you can eat in what feels like naturally shaded seclusion.
We opt for this spot on our visit, but we can't help but eye the comfy loungers at the back. Aim for these if you're popping in as a large group. Prefer a funkier atmosphere? The Tiger Translate Art Bar inside is a warm-lit space where industrial themes mingle with brightly coloured graffiti. Cartoonish tigers decorate the walls, and there are other whimsical little additions like painted street signs ('Jalan #Yumseng') for you to rest your peepers on.
Having trouble focusing on account of too many drinks? Head for the bathrooms – which, like the main section, feature fun adornments. Try not to go headfirst towards a toilet bowl handle and peek into Arthur's Lounge, a cosy room bedecked with leather chairs and deep colours. Like a gentleman's private lounge, it's intimate, swish and the perfect place to get away from the revellers outside.
Tiger, Arthur – do you sense a running theme here yet? Here's one more clue if you're struggling: The Rabbit Hole's soon-to-be-opened clubroom, Heineken Green Room, is an all-white joint where the beats promise to be, well, unbeatable. Indeed, drinks purveyor Guinness Anchor Berhad (GAB) is linked to this nightspot, which isn't to say the drinks menu is dominated exclusively by GAB drinks. There's a dizzying range of spirits, wines and liquors on offer.
The expansive menu is appropriate for a bar of this calibre, but with KL's night scene improving each year, what really sets it apart? Say it with us: space. The different rooms mean choices for all, and the breadth means your night out won't be spent elbowing others just to lift your glass up to your lips. We like this. And we like the promise of more space to come. The Rabbit Hole's pledge is that once it hits its targets, it'll open up its Santorinistyle roof terrace complete with a floating DJ deck and a pool. A pool? On Changkat? Bonus points for you, The Rabbit Hole; we bet it'll be a splash when it's ready. Until then, you've made us happy bunnies with the warren you've built.
Venue name:
The Rabbit Hole
Contact:
Address:
14 & 16 Changkat Bukit Bintang
Kuala Lumpur
50200

Opening hours:
Daily, 4pm-3am