What you need to know about: Bibi Chew
We speak to the illustrious artist about her first solo exhibition, 'What If...'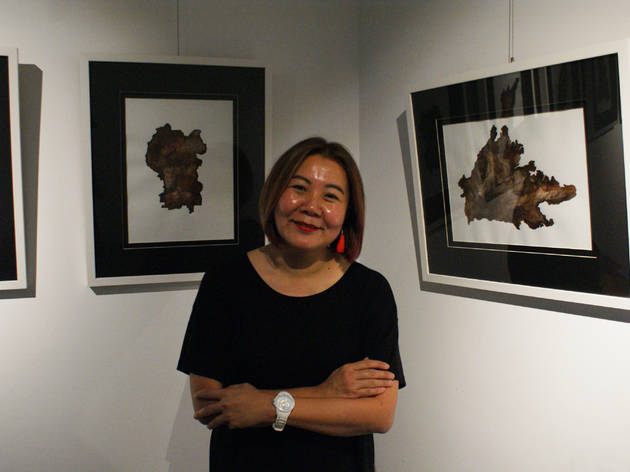 Artist Bibi Chew has had her work displayed all over the world and has garnered more accolades than many of her local contemporaries. Despite that, her current ongoing exhibition at Shalini Ganendra Fine Art – 'What If…' – is her first solo show in her illustrious 30-over-year career in art. Here are some things you need to know about Bibi Chew.
This really is Bibi Chew's first solo show.
Bibi admits that she's always wanted to have a solo exhibition, but the large amount of commitment it takes has always put her off . 'People have always mentioned "Bibi, it's time to have a solo" but I kept putting it off and making excuses. And then I noticed many of my friends and peers having their solo shows, which is when I thought "I must have a solo show too". So when Johari Said told me recently "Bibi it's time for you to have a solo show", I immediately agreed.'



'Fragile! Handle with care…'
Identity is a big deal for Bibi.
In one of her earlier works, 'Fragile! Handle with care…', Bibi collected sand from more than 100 sites all over the country and kept them in different recycled glass bottles. The glass bottles were then placed on two shelves separated by a path with all the different sands mixed together. The audience was invited to remove their footwear and walk on the sand. 'It invites the viewer to participate and question their own identity. I used sand because sand is formless but takes different forms when it enters different glass bottles, also at the same time, glass bottles are very fragile too,' Bibi explains.
Bibi makes her art participatory.
Just like the aforementioned piece, a lot of Bibi's works are participatory and interactive. She prefers her audience to engage with the artwork so that they come up with their own questions and conclusions. In another one of her pieces titled 'Itu Malaysia – Biasa, O, Kaw Kaw, Kosong Cam & Kurang' currently on display in National Art Gallery, she dyed coffee strainers with different amounts of coffee powder, which produced different tones. The coffee strainers were then made into masks that the audience is invited to wear at the exhibition



'Itu Malaysia – Biasa, O, Kaw Kaw, Kosong Cam & Kurang'
Her solo show is a continuation of these themes.
The themes of identity and geography along with Bibi's knack for participatory art is present in many of her other works. In 'What if…', she invites audiences to ponder impossible questions regarding our geographies and how they shape us. In the site-specific piece titled 'the MAP is upside down', Bibi produced a large-scale moveable map of Malaysia audiences can walk under. They will be able to see the three-dimensional topographical lines of each state from below and will be able to move and rearrange the map.
Bibi does her research.
Contrary to popular belief, artists don't just pluck ideas from their imagination. Plenty of research goes into it. Bibi is no different, especially since she's also a lecturer at the Malaysian Institute of Art. 'I don't sketch immediately, I start off with research. I Google, I go through sources and go through other artists' works before starting my sketches or exploring with materials.'