Guy Pearce and David Michôd on 'The Rover'
After the 2010 award-winning breakout 'Animal Kingdom', Guy Pearce and David Michôd team up again in the new dark thriller 'The Rover'. Nick Dent speaks to the duo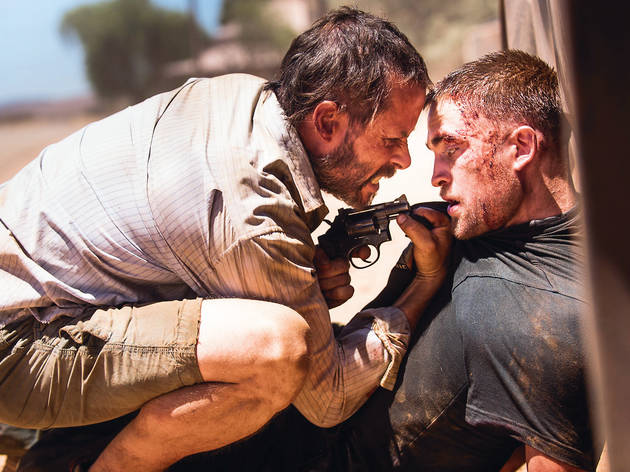 What can tip a reasonable man over the edge into a violent rage? For Guy Pearce on a movie set, it's a flock of paparazzi haranguing you and your co-star, Robert Pattinson, while you're trying to film an intense scene. 'Because he is super famous. You just know that you're going to get hounded,' Pearce says. 'Thankfully, there was only a minor amount of that on "The Rover" because we were a long way from any city [in the Southern Flinders Ranges].

'I get really grumpy about paparazzi. They just make me want to get violent.' Pearce laughs, and it's amusing to believe the famously sweet-natured actor could ever be like the character he plays in David Michôd's follow-up to 'Animal Kingdom'. Eric is an emotionally damaged man living in an anarchic, outback Australia after the world has suffered an economic collapse. When a trio of bandits steals his car, Eric goes on murderous, singleminded pursuit.

For Pearce, the character is akin to a wild animal let loose in a world with no moral boundaries. 'We talked about how when a dog has killed another dog, that dog now has the taste of blood and can't go back from that. I just wonder what it would take for us as human beings to go back to being barbarian. How far away from that are we?'

The film is a continuation of Michôd's study of the pack animal we call man, after the artistic triumph of his richly layered portrait of an imploding Melbourne gangland family. After 'Animal Kingdom' was nominated for an Oscar, a world of possibilities opened up for the Sydney-born filmmaker, but he found himself drawn back to a story he had concocted with Joel Edgerton in LA in 2007 while still struggling to get his film career off the ground.

Essentially a revenge Western, 'The Rover' takes place in a world not dissimilar from the 'Mad Max' films albeit one where the army tries half-heartedly to maintain order and human decency has almost – but not entirely – crumbled away. 'I didn't want it to be classic post-apocalypse,' Michôd explains. 'I wanted it to feel like there was a grand geo-political shift. The movie is about the people who couldn't really make it, who find themselves desperate and therefore dangerous.' The lack of clear answers in the film, however, invites an allegorical reading. Michôd says, 'At a certain point, the movie became for me about the world as I see it today: a world that has been completely corrupted by greed and neglect. And the absolutely murderous anger that might inspire in a man who has lost everything.'

Michôd wrote the lead character specifically for Pearce, who played the patient cop in 'Animal Kingdom'. 'Guy has that amazing ability to give you nothing and everything at the same time,' says Michôd. 'To be so completely cold and mysterious, and yet fully emotionally available. There aren't many like him.'

In the part of Rey, a wounded, dim-witted young American whom Eric kidnaps, Michôd cast heartthrob Pattinson. 'I still haven't seen the "Twilight" movies. I just liked him personally and he came in and auditioned for us and was extraordinary. I learned early on not to say no to meetings with people I might have felt were not up my alley.'

For Pearce, the opportunity to work again with Michôd was one not to be missed. 'Directors like David and Johnny Hillcoat ["The Proposition"] are my favourite to work with because you feel utterly respected. And it's funny – they're lovely, quiet, gentle guys who make the most violent movies.'

'The Rover' is showing now.