To KL with love: Kolumpo
'Kolumpo' celebrates the beauty and complexity of human relationships in KL. Yet it is the city that takes the lead role in this local film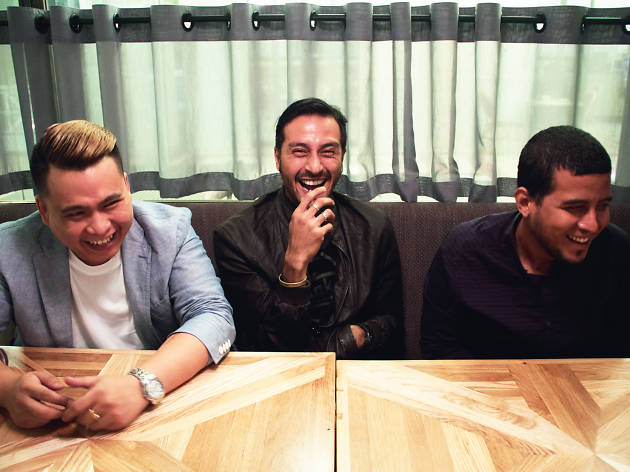 Films have time and again lauded the virtues of beautiful cities. Woody Allen's 'Midnight in Paris' shows frustrated writer Gil wending through picturesque Paris to find his soul's bearing in the era of Hemingway and Fitzgerald. There's also the sparring couple from 'Before Sunrise', Jesse and Celine, who engages in romantic verbal tango in Vienna. In KL, three maiden directors – Bront Palarae (pictured, centre), Sheikh Munasar (pictured, right) and Rozi Izma – have attempted to write the perfect love letter to the city through a collaborative piece called 'Kolumpo', an anthology film about how Malaysians from different backgrounds come to grips with KL.

A portmanteau film that features three multilingual short stories, 'Kolumpo' is a two-year production conceived out of sheer serendipity. The three directors – also friends and co-founders of Otto Films with executive producer James Wong – were working on their respective short films in 2011. As the directors discussed their projects one day, they discovered a common theme – Kuala Lumpur – and decided to weave the stories (30 minutes each) into one coherent piece. Apart from newcomer Amirul Ariff who's been thrown straight into a leading role, the cast are comfortingly familiar: Sharifah Amani, Mano Maniam, Sabri Yunus, Nell Ng and Azad Jazmin.

Bront Palarae – the versatile, award-winning actor previously embroiled in drama-thriller 'Bunohan' and trapped in unrequited love with Maya Karin in 'Ombak Rindu' – has finally followed the well-trodden actor-turned-director path. His story in 'Kolumpo' revolves around Rahul (Azad Jazmin), a worker hailing from India who ends up an illegal immigrant after the company to which he applied goes out of business.

'We use illegal immigrants like batteries to power the growth of the country. But what happens to Rahul is he got help from a local restaurant owner, and he starts life anew as an illegal immigrant worker in the city. It's a heart-warming take on a common scenario in KL,' says Bront. 'I know this sounds like a serious topic but the presentation is very light-hearted. This is not social commentary but the story is relatable enough to make you think. Forget what you know about formulaic romantic comedies. Sheikh Munasar (better known as Mun) has contrived a storyline in which dialogue, not action, takes the weight. Hafidd (Amirul Ariff), who has never dated in his life, meets Siti (Sharifah Amani) at the LRT station after they both miss the last train. Circumstance throws them together; the duo meanders through the city's night life and finds meaning in their conversation. 'You know how sometimes you get an epiphany and make life-defining decisions after you've spoken to someone? This story has a bit of that,' Mun remarks. 'It's not only about love; it's about how a conversation can change someone's perception about life. The friendly encounter with a stranger in Rozi Izma's tale however, is less amorous. Gienna (Nell Ng) is a Chinese woman in her thirties who constantly avoids her mother's calls. Eventually, she finds herself helping a senile old lady to locate her house in Setapak.

'Kolumpo' reveals how the simplest exchange between strangers disrupts the expected narratives of everyday life and goes as far as to shift someone's perspective. It demonstrates how momentary connections can also be packed with meaning, just like the fleeting relationships Rahul, Hafidd and Gienna establish in the film. 'We're constantly finding footing in the city because it [the city] grows so quickly. Our identity fluctuates. Therefore, we make sense of our self-being and surroundings by interacting with people. Even strangers,' Bront concurs. Executive producer James Wong (pictured on top, left) also adds, 'KL remains a place for the optimistic…for the dreamer. Watching "Kolumpo" will rekindle an image of KL that's still affable.

The very nature of city life – more globally mobile, migratory and distracted than ever – has prevented us from establishing deep, meaningful relationships. We're drifting through society, wandering in our own little bubble of self-interest. It's naïve to think that a film can change such apathy but 'Kolumpo' still addresses these issues in a realistic, albeit jocular manner. Here is a paean to the city that disconcerts as it entertains, and if you search deep enough, it might even reinstate a sense of empathy that was once lost.

'Kolumpo' opens Dec 5. www.facebook.com/Kolumpo2013.