Best food streets in KL: Jalan Peel
We pick the street's best dishes to try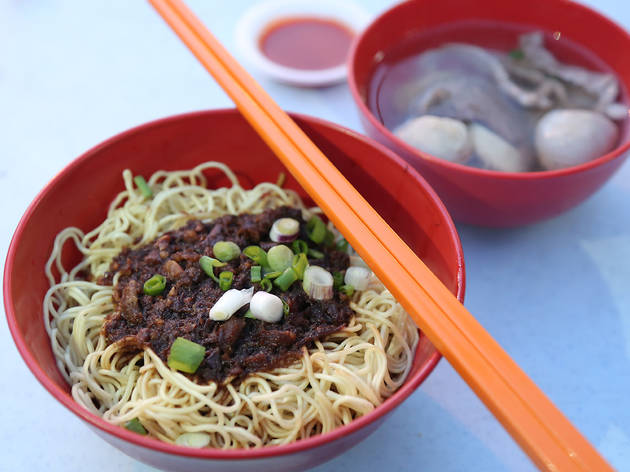 1/7
Photo: Hizwan Hamid
Beef tripe noodles
A far cry from the starchy strands that pass for egg noodles in supermarkets, the noodles here are springy with a slightly rough texture that helps the dark soy sauce and minced beef cling to their surface. You'll begin to wonder if the accompanying beef tripe, tendon and stomach – tender and soaked in a cloudy beef broth – actually matter when the noodles are this good. Soong Kee on Jalan Tun HS Lee still takes the crown in terms of consistency and flavour but this beef-centric bargain on Jalan Peel doesn't lag behind.
Yang Kee Beef Noodles, 6pm onwards.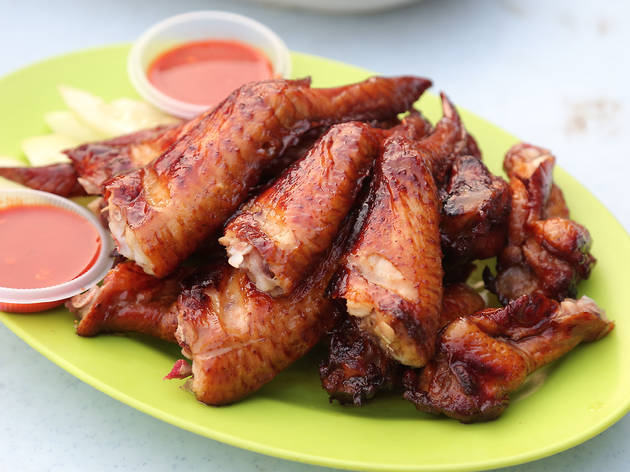 2/7
Photo: Hizwan Hamid
Grilled chicken wings
There's no reason to resist tearing these sticky wings with your fingers because that's the best way to eat it. Dutifully traditional, these wings are delectable straight up, yielding a light crunch with a lacquered mahogany finish. The customary chilli sauce dip is unnecessary – these honey-marinated wings are good enough to have on their own. If you've never had a reason to head over to this part of town, you do now.
Ah Wah Grill Wings. Tue–Sun, 4.30pm–12midnight.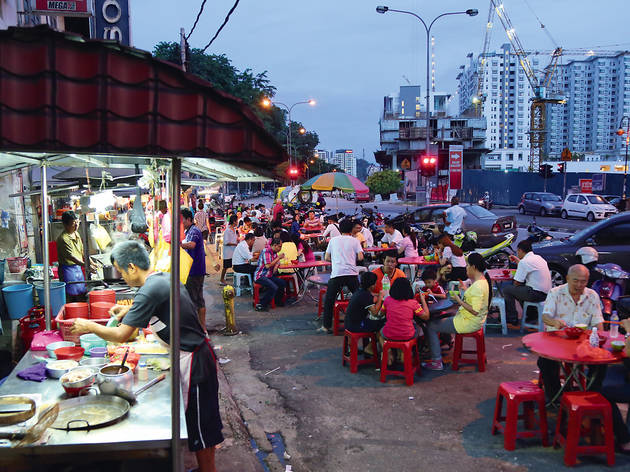 3/7
Photo: Hizwan Hamid
Pork innards soup and rice
Pork innards such as intestine, stomach, liver, kidney and coagulated blood are stewed with meat and bone since seven in the morning to achieve a tender texture. For the broth, Mr. Siew uses only two ingredients – salt and a minimal amount of ajinomoto – so that the taste is kept light and it complements the offal pieces, where the attention is due. A simple garnishing of spring onion tops the dish, which goes best with a bowl of white rice.
Sin Kee. Tue–Sun, 5pm–11pm.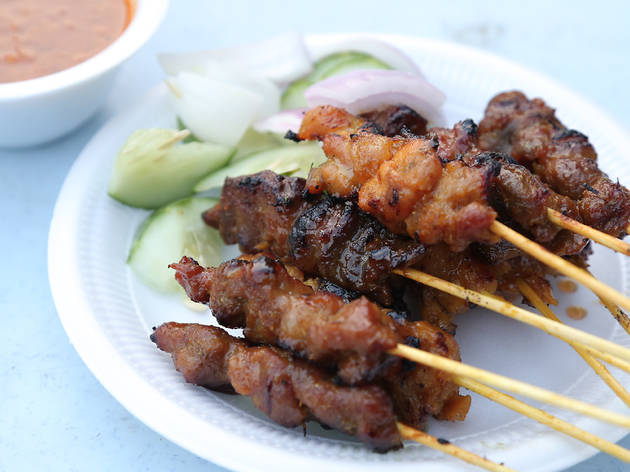 4/7
Photo: Hizwan Hamid
Satay (beef, chicken and lamb)
Owner Suhairi Majid nails the most crucial aspect of satay that so many cooks get wrong: the cut of the meat. An outstanding skewer requires a good balance of fatty and lean bits so that the meat still remains juicy on high heat. Suhairi threads chunks of meat (chicken, beef or lamb) on a stick, constantly basting and fanning them over scorching coals. Flame-licked and imbued with smokiness, the satay here is charred perfectly and should be dipped into chunky peanut sauce and savoured with a side of ketupat and sliced cucumbers.
Queen's Restaurant. Tue–Sun, 6pm–11pm.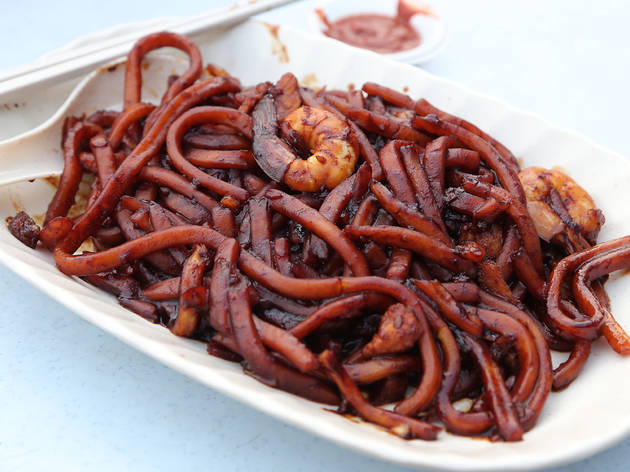 5/7
Photo: Hizwan Hamid
Hokkien mee
When Mr Ma took up the wok at Machai Stir Fried to replace the previous owner, he brought with him three decades' worth of experience. Cooking the traditional recipe his mentor taught him, the stall dishes out no-frills smoky noodles drenched in dark sauce, with pork pieces, prawns and crunchy bits of deep-fried pork lard.
Machai Stir Fried. Tue-Sun, 4pm-11pm.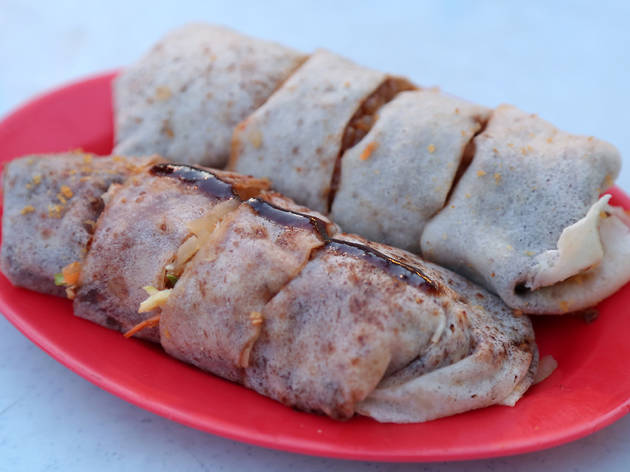 6/7
Photo: Hizwan Hamid
Popiah
While business is manned by both husband and wife, it is Mrs Goh whom you'll see making the popiah. Wrapped in a paper-like 'skin', this vendor's pork-free rolls are stuffed with grated sengkuang (jicama), carrots, shredded omelette, bean sprouts, chopped peanuts, fried shallots and crispies. Sweet sauce and gravy from the cooked vegetables give the popiah its juiciness, but don't leave it out for too long or you'll be biting into a soggy roll.
Popiah stall. Tue–Sun, 4pm onwards.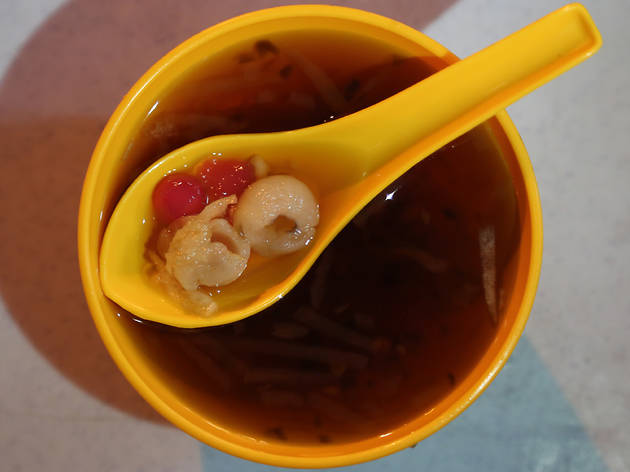 7/7
Photo: Hizwan Hamid
Lin zi tong sui
At Jalan Peel, dessert comes in the form of a cold curative drink made from winter melon, brown sugar, barley, snow fungus and lin zi (lotus seed). Make your order and watch as Madam Hoong expertly spoons grass jelly and pink sago balls into a bowl before filling it with the pandan-infused tong sui and a small amount of water to balance out the sweetness. Based on a four-decades-old recipe the owner inherited from her aunt, the refreshing treat caps off your meal on a high note.
Jalan Peel Tong Sui stall. Daily, 2pm–11.30pm