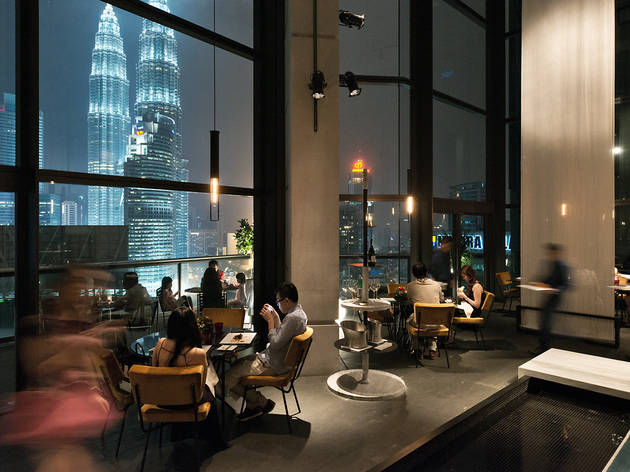 Caviar can instantly elevate the (monetary) value of a dish, and is commonly abused by chefs to glamourise a dull affair. But at Cantaloupe, Chef Christian Bauer and team want diners to appreciate the caviar as a serious dining component – and it shows in this limited-time six-course dinner.
It begins with the trout caviar course, made up of marinated trout roe, celeriac blinis (celeriac that is blitzed and cooked into blinis) and baked scamorza cheese – an upgrade of caviar-and-blini. Crème fraiche and a scattering of caraway seeds round off the earthy, slightly peppery canapé. The oscietra caviar is a touch of lunacy on the team's part – tau foo fah is recreated and layered into dashi before plated on a pool of reduced maple syrup, a milder substitute for rock sugar. Oscietra – what many connoisseurs believe to be the best of the caviar family – is smoked and rested atop the tau foo fah.
Next will be the salmon caviar, widely used in Japanese food. The caviar is spooned onto an oblong of steamed eggplant, which in turn is set on a smear of miso-glazed aubergine. To offset the strong umami notes, a clean fennel salad with pickled oyster tartare is served on the side. The snail caviar is a conversation starter – instead of fish egg, the caviar is derived from snail, intricately shaped into tiny silver-grey globules and served in an imitation caviar tin. Taking from escargots bourguignonne, the side of 'crusty bread' is instead toast and a topping of whole-roasted garlic and cream cheese butter. Spoon some snail 'caviar' onto the crispy bread for a play on textures.
The very pricey beluga caviar is incorporated into the fifth course. In one element, poached chicken is topped with caviar and set on hollandaise; in the second, cauliflower 'couscous' is scattered about with burnt cauliflower; while in the third (and most surprising), fried chicken wing is paired with coffee jus – but in a mind-bending move, the wings are stripped off its meat and stuffed with lobster meat before the skins are 'sewn' on again. At dessert time, passion fruit pulp is submitted to spherification so to appear like fruit caviar and topped on a doll-sized stack of maple syrup cream cheese pancakes. In the dish's second element, elderflower 'caviar' is placed on a mould of marinated strawberries, while the last element consists of chocolate mousse 'walls' that encase rum sugar pearl caviar.