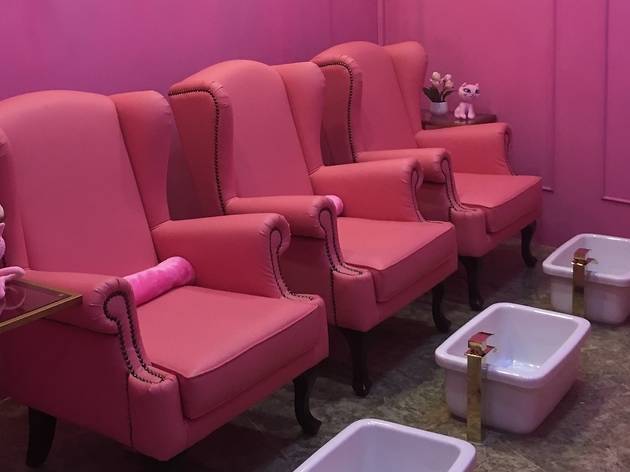 In 15 minutes, you can squeeze in a quick snooze; you can read a chapter or two in a book; you can drive from Sri Hartamas to the city centre if it's a good traffic day. Pink Parlour waxed me clean in 15 minutes.
I feel like that's about all anyone needs to know come bikini season and below-the-belt grooming is in order: 15 minutes is fast! It's nothing! Of course, I'm comparing this to the first and worst and, until that point, last time I got my privates ripped out at another salon, which lasted 45 minutes – an eternity during which I prayed for death and questioned all my life decisions that had led to that exact moment.
Back to Pink Parlour: I woke up bright and early on the Saturday of my appointment with the Singaporean brand – my booking was online and hitch-free, by the way – and ended up sitting in my car at the parking lot of Sunway Putra Mall for a good ten minutes, wondering why women wax. Yes, yes, I regularly wax other parts of my body: eyebrows, upper lips, underarms, legs, the list goes on.
But a Brazilian wax calls for applying warm wax all over your nether regions with your legs spread open in a birth-giving position, while a stranger gets up close and personal with your labia majora so she can rip hair out of your roots, and all the while she's asking you questions about your life, your love life or lack thereof, your grandmother's birthday parties.
I had heard that some women develop a hopeless addiction to Brazilian waxes – maybe it's something to do with the hairless aesthetic, with our ingrained desire to emulate cinematic standards of beauty. Post-Pink Parlour, I consider myself a convert.
First of all, the place is pink – pink armchairs in pink rooms, pink tubs, pink towels. My very nice, very professional waxpert Wendy ushered me into the shower room (it has gold plated shower knobs) to wash and wipe up. Feeling horribly self-conscious, I then hobbled into the waxing room; I was stripped from the waist down. I made nervous first date chit-chat with Wendy; dead sober, I was lying down on the table in the brightly lit room with my feminine landscape splayed wide open. She talked me through every step of the process, working in small sections, and working quickly. In fact, Wendy promised that she'd be done in 20 minutes, but finished in 15 instead.
Wendy offered me a pink kitty plushy to cling on to, but it barely hurt. I won't kid and say it was painless, but on a scale of one to five, it was a soft three. She pressed down on my skin immediately after pulling off the wax strips; this dulled the pain considerably, and really, it was all very brief. Soon she got to the tweezing – some 'touch up', Wendy said – and in seconds, there were no leaves left on my garden.
Some bare facts: Pink Parlour has a spray tan room, two private hair spa stations, three nail stations and three waxing rooms. Its Brazilian treatment is award winning, the trainers and specialists have years of experience, and the brand has outlets all over Singapore, Indonesia and the Philippines.
I'm sold on the service. The next time I voluntarily decide to get myself shorn, I might not even have a nervous breakdown in my car.
Venue name:
Pink Parlour
Contact:
Address:
G-1-16/17
Sunway Putra Mall
100 Jalan Putra
Kuala Lumpur
50350

You may be interested in:
Average User Rating
3.7 / 5
Rating Breakdown
5 star:

2

4 star:

0

3 star:

0

2 star:

0

1 star:

1
One of the best nails salon in kuala lumpur, will definitely come again soon!
I've been consistent with Pink Parlour since I've been in Singapore and their waxing services and brow/lash tint services are great. Since last Oct I've visited KL on and off and the results are the same with their Sunway Putra outlet. Recently tried their lash extension service and it was good too. I like the privacy of the outlet - it's nice to have a manicure/pedicure done without feeling like everyone walking past is having a look in as well!
The worst company I have ever used my girlfriend went there to get eyelash extensions and I don't know where to. start they use a cheap glue not intended to go any where near the eyes they then glued the lashes to the skin and in the process got glue in her eye then to get it out they blew a hairdryer in her eyes ?? I received a call from absolutely companyhistorical the staff did nothing and didn't apologise and after 3 weeks the only message we've received from them is a generic email saying it was my girlfriends fault for not following the proper aftercare procedures. She has still not gained vision in her right eye and today she went to her normal eyelash place where the staff were shocked at the kind of glue they used its so strong they couldn't get it off. We have it all on video so will be making a youtube clip shortly.