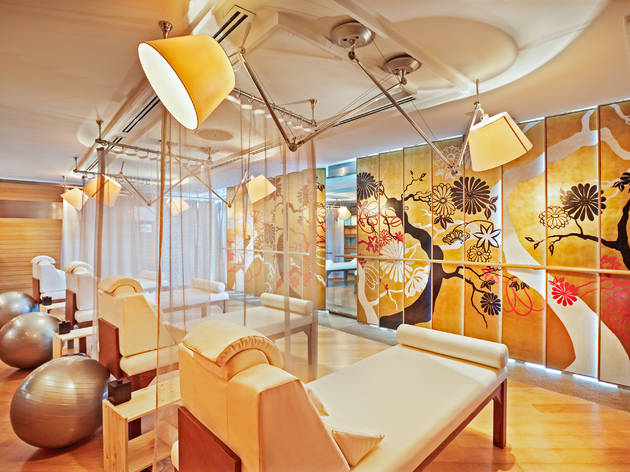 It's the middle of the year and I'm still keeping to my New Year's fitness resolutions. So when the opportunity to go for a massage came about, I thought what better way to reward myself. All those hours slaving away at the gym and spinning classes were making old injuries prominent again.
Hailing from Bali, Swasana Spa in Impiana KLCC offers a new range of Chill treatments focusing on reflexology and acupressure. There are four different treatments to choose from – Chill Classic, Chill Out, Ultimate Chill and Holistic Chill. I went with the 60-minute Chill Classic.
As you step into the spa, you're greeted by a warm interior with wooden accents and leafy plants, which immediately put me at ease. Before starting the massage, you're given the option to stay in your clothes or change into a prepared spa garment (a comfy cotton two-piece set). Next, you're offered a cup of warm ginger tea – its strong aroma alone managed to relax my stiff muscles and tense body.
The Chill treatment area is closed off from the rest of the spa with its own dedicated space filled with a row of reclinable ergonomic beds. Dim lights and sheer drapes separating each bed give the room a whimsical aura. I only had about a minute to take in my surroundings before my therapist guided me to one of the beds. She passed me a set of earphones – something I've never experienced at a spa before – and clicked play on a remote, filling my ears with soothing ambient rainforest sounds and transporting me to a whole other place. An eye mask followed next, which sealed my temporary escape.
Starting at the feet, my therapist began kneading the skin, pinpointing each pressure point. The calming sensation spread throughout my whole body as tension slowly drifted away with each rub. Working up to my ankles and calves, she applied acupressure, finding those magic points on the body that not only soothe the muscles and skin but also promote blood circulation and release muscular tension. Moving to the upper body, I was propped up to a sitting position. Starting from the lower back and travelling up to the temples, each press of a pressure point untangled and undid any and every knot in my body.
What was supposed to be a 60-minute treatment extended to a 90-minute one – no complaints here. As the massage didn't incorporate any oils, there was none of that sticky and clammy feeling on my skin. Leaving the spa, any tightness and soreness was long forgotten, and my body felt languid and rested.
Venue name:
Swasana Spa
Contact:
Address:
Fourth floor
Impiana KLCC Hotel & Spa
13 Jalan Pinang
Kuala Lumpur
50450

Opening hours:
Daily, 10am-10pm
You may be interested in: