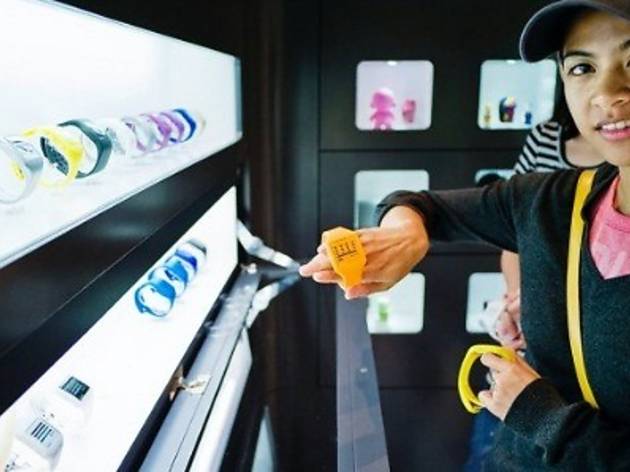 Time Out says
Everybody wants to go no frills nowadays. Even spas. However, Pure Energy, the award-winning Energy Day Spa's trendy little sister, now open at the refurbished Nomad Sucasa, proves that just because its treatment prices are 20 to 30 per cent lower (than its elder sister), doesn't mean we have to put up with inconsistent service, discounted qualities and bad/utilitarian design.

Here is what I like most about Pure Energy: the design is ingenious. The minimalist interior is dominated by four treatment cubes, each constructed of wooden frames and art canvas walls. The decor is simple, earthy and comfortable. It almost has a sort of Japanese zen-like simplicity to it, which is very soothing. While some spas go all out to wow the customers, the design at the end of the day can become rather intimidating. Pure Energy has none of that. The space and the design is very functional, down to earth and I like that a lot. And instead of the lame instrumental tunes, Pure Energy plays down tempo chill music.

Pure Energy caters to busy executives on the go; someone who wants a quick fix in between appointments. Its treatments, which range from full body, shoulder and foot massages to facials, scrubs and waxing, also come in express 30-minute versions, which start from just RM35. There are comfy loungers for those foot massages or quick clothes-on body works where you can enjoy a cuppa and take advantage of the spa's free WiFi. Yes, Pure Energy has WiFi. Good eh?

For me, I decided to go for a lengthy session. I started with the dry body brushing (RM45/20min) whereby my Balinese masseuse, Balek, lightly scrubbed my skin with a short bristle brush (in the direction of the lymph nodes) to stimulate blood circulate, remove dead skin cells and help my body detox. Although at first the treatment seemed a little ridiculous, the repetitive movement of the brush slowly gave way to a soothing effect. And seeing how I had to go to the toilet after that, I suppose the treatment did work after all.

Next came the spa's signature Purity Special full body massage (RM120/60min). This oil massage is a blend of relaxing and deep tissue massage so while it is pampering, the masseuse also pays extra care to those tensed muscles. The moment Balek put her hands on me, I knew it was going to be a good massage. Her pressure was strong yet measured (a quality not as common as we think as many masseuse are just strong and brutal) and she seemed to have an intuitive sense of how the body works.

Lastly, I finished off with a foot massage (RM50/30min). For this treatment, Balek did apply pressure on several of reflex zones at the base of my foot. However, it is not one of these excruciating proxy massage of your internal organs. Instead, it is a comfortable and enjoyable massage that soothes tired feet.

While Pure Energy doesn't have all the common spa luxuries such as a full-service lounge, sauna and Jacuzzi, it still feels very much like a complete spa. And they are very strict on hygiene – separate towels for foot and body. The treatments are great and thorough and the space is cosy. So even though you're paying less for your massage, there's no short-changing you here. I will go back there again. Lim Chee Wah
_______________
The Nomad, Sucase, 222 Jalan Ampang, KL. (03 4252 9909) 11am-10pm daily.
Map to Pure Energy

View Pure Energy in a larger map
Details