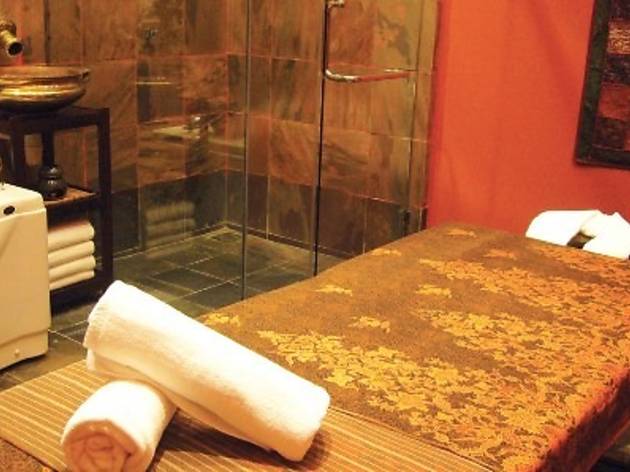 Time Out says
May 2009

By Lim Chee Wah
If there's such a thing as a 'boutique spa', S Spa would fit in the category nicely. It really is small, as in four-room-kind of small, and its reception lobby is an exercise in minimalism. But the limited décor that it has is rich in details, evident from the Damask-inspired wallpaper. All four rooms are individually designed but the Indian room looks the best, which features red walls, a Jacuzzi tub and beautiful Indian fittings.

I was so pleased to find that S Spa offers the Hawaiian Lomi-Lomi since not many spas in KL offer this 'loving touch' massage (it's more innocent than it sounds, seriously) known for its long, sweeping full body strokes. But I opted for the 'Raindrop Technique & Vitaflex' massage simply because it sounded so foreign and new to me.

For this treatment, Tatiana, who is the Croatia-trained therapist cum spa manager, used seven different types of earthy, herbal essential oils such as oregano, thyme, basil and peppermint. These oils, all in their pure form without any dilution of base oil, were dripped onto my spine and then gently massaged into my skin. Tatiana assured me that she had some base oil on standby just in case my skin reacted adversely to the essential oils. This 90-minute treatment also came with the Vitaflex foot massage.

Inspired by the Lakota Indians from America, the 'Raindrop Technique & Vitaflex' massage is a form of reflexology on the spine and the nervous system. It helps to realign the back from incorrect sitting/standing postures and stimulate the nervous system to rid the body of toxins. Even though there wasn't much force used, my back and shoulders did feel lighter and less tense after the treatment.

S Spa may be a cute little outlet but its menu is extensive, ranging from massages to facials, body scrubs to hand and foot treatments. The spa intends to keep the treatments as natural as possible and so the manicures and pedicures do not come with any nail colouring. Before each treatment, you will be asked a lengthy series of questions evolving around your work and lifestyle habits. Tatiana explained that even though it has nothing to do with the massage that you choose, it is still beneficial to help you have a conversation with yourself and put your daily life into perspective.
Details