Time-saving workouts
No time to work out? These new and fun workouts will make the most out of whatever free time you have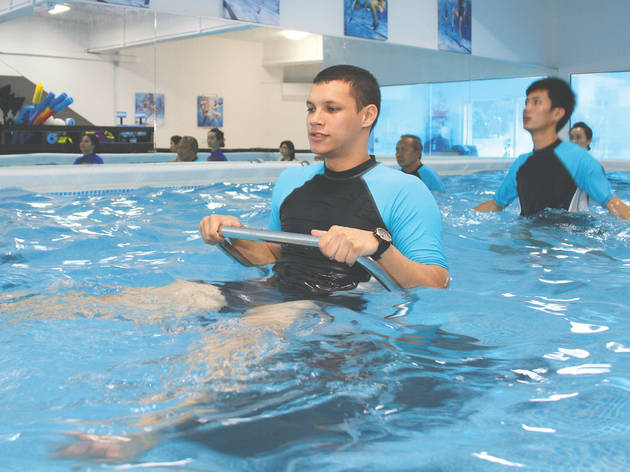 Duration: 30 minutes

What it is: Love exercising but hate the sticky and sweaty feeling afterwards? Working out in water eliminates the problem and you'll be twice as toned compared with going to the gym because you're exercising on a hydro bike, treadmill and moonwalker while using floatation restraints such as hand paddles, leg cuffs and water dumbbells. Since water provides 12 percent more resistance than movements on land, you're actually engaging in a higher workout intensity. For example, a 30-minute run on the treadmill in water will help you burn the same amount of calories as running 5km on the road.

Wearing a swimsuit, you'll be half submerged in the pool that's maintained between 28 to 30C (so don't worry about the chill). Start by swimming a few laps or go straight to the 30-minute aerobic exercise video that includes warm-up and wind-down sessions. The instructors will then guide you through exercises such as jumping jacks, punches, kicks and circuit training in shallow water to achieve your fitness goals.

What you'll achieve: Water-based workouts give your joints a break – the low-impact exercises improve the cardiovascular system, muscles and bones without overstressing your body. The water resistance augments the actual workout so you burn more calories. Best of all, you can still sculpt a six pack without knowing how to swim.

Try it at: Water Aerobic Gym, 3 Jalan SS4D/2, PJ (03 7806 5815/watergym.com.my). Walk-in, RM30; once-a-week session, RM80 per month; fees from RM150 for unlimited pass. Mon, Wed & Fri, 10am–7pm; Tue & Thu, 10am-9pm.
Read more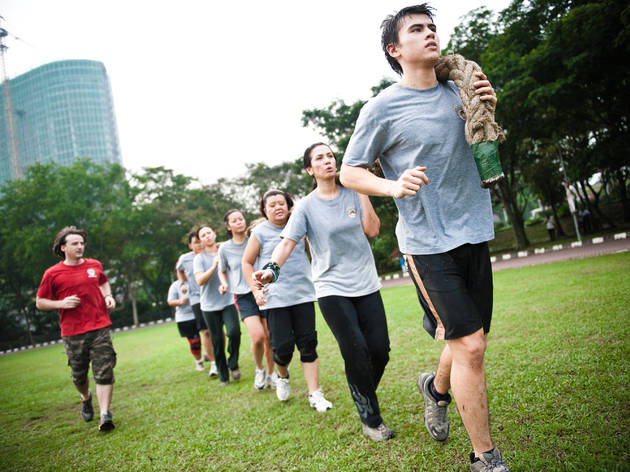 Boot Camp
Duration: 60 minutes

What it is: An alternative for gym rats who feel their workout is turning into a repetitive chore, Original Bootcamp takes you outdoors and back to basics. Sandbags, tyres and ropes – not treadmills or exercise bikes – are your new circuit machines. The one-hour military-inspired exercises move away from just developing your individual muscle groups and focus on High-Intensity Interval Training (intense exercise with shorter recovery periods) where you gain overall strength from running, climbing, jumping and lifting.

For the uninitiated, the first few sessions will be gruelling – you'll be sweating before the sun is up, working out in the mud, and finishing with sores and aches. But instructors are around to assist and motivate, just in case you chicken out halfway. What sets Original Bootcamp Malaysia apart from its peers is the emphasis on team camaraderie – it's like a fraternity where you engage in fun team-building games to build trust and confidence.

What you'll achieve: Combining CrossTraining, Kettlebell routines and bodyweight drill progressions, you build a stronger core and lower back. The mixed exercises not only help you shed pounds but increase muscular endurance, coordination, speed and agility.

Try it at: Original Bootcamp. Meeting points include KL Padang Merbok, PJ Padang Astaka and KLCC (012 668 2267/www.bootcamp.com.my). KLCC park, twice a week, RM200 per month; Padang Merbok and Astaka, three times a week, RM299 per month. 6.45am onwards (one hour each session).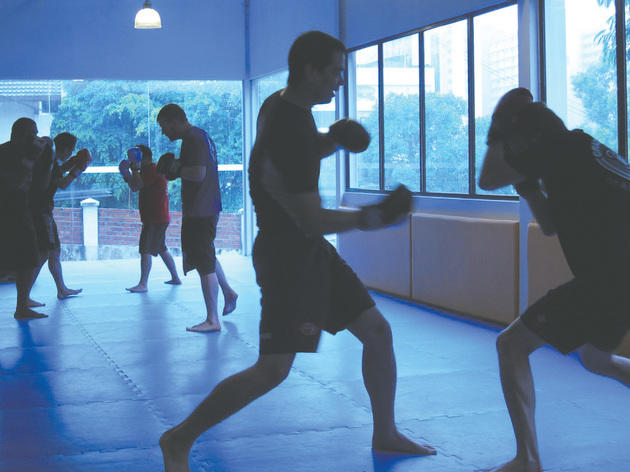 Duration: 90 minutes

What it is: When it comes to learning martial arts, interest tends to wane long before stamina. CMD's training is a series of intense and fun workouts, which embraces an amalgam of fighting styles such as boxing, grappling and Brazilian Jiu Jitsu. Catered to participants not actually looking for a rumble, the styles you learn can also be developed for personal safety. Although Brazilian Jiu Jitsu is used as a competitive sport, the underlying philosophy of CMD is to equip you with self-defence skills while keeping in shape.

The workout at CMD is done at a pace you're comfortable with, unlike the competitive environment at martial clubs where participants are trained with a winning attitude in mind. Utilising fitness toys including power wheels, steel clubs, jump ropes, boxing gloves and punching mitts, CMD provides an all-rounded workout to improve your physical state as well as self-confidence.

What you'll achieve: You'll have a solid foundation of defence first before offence. The fighting styles teach you to force opponents into submission, while abdominal exercises and slower-form drills help you build core strength.

Try it at: CMDMalaysia, 9 Jalan Riong, Bangsar (03 2201 7556/www.crazymonkey.my). Package rates will only be calculated after free introductory class. Membership fee starts from RM275 (may vary depending on class). Open Mon–Thu, 6pm–10pm; Fri, 6pm-8pm; Sat, 2pm-5pm.
Read more