Interview: Joanna Bessey
Actor director Joanna Bessey talks about her efforts to create the ideal creative platform for a new generation of Malaysian talent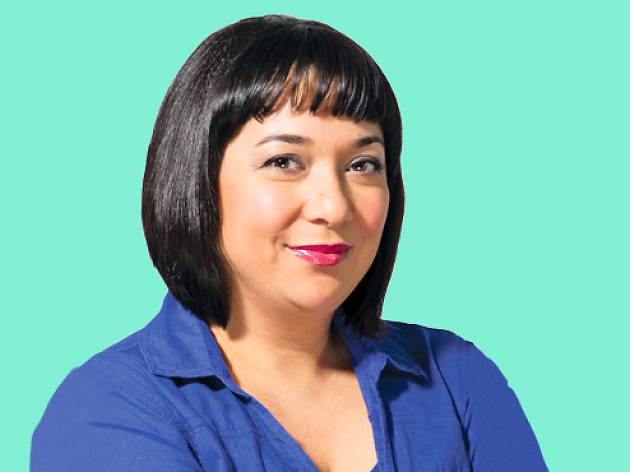 One of the most popular and memorable Malaysian sitcoms in the late '90s was 'Kopitiam', which ran for seven seasons. In fact an entire generation of local viewers diligently tuned in to watch the shenanigans of a group of unique Malaysian characters speaking Manglish and playing out their lives in that favourite local hangout – the kopitiam. Joanna Bessey played Marie Tan, a slightly uptight lawyer who takes over her father's kopitiam. This role – combined with her British accent and comedic flair – made her a household name. Joanna spent her formative years in the UK and took acting lessons at the Beverly Hills Playhouse in Los Angeles before returning to Malaysia to pursue her career. In her younger years, she was active in the performing arts and TV industry, covering all aspects from acting and writing to producing and directing. Currently, she's the principal and course director for Enfiniti Academy – a hub for nurturing and teaching young performing arts talents – where her passion for performing arts is evident through the classes she teaches. She also still directs, and her most recent directorial foray was 'Aladdin: Reloaded', a musical theatre comedy that earned rave reviews during its run at the end of last year.
'My fascination with people and what it means to be human is why I became an actor in the first place'
Tell us about Enfiniti Academy
The Enfiniti Academy of Musical Theatre & Performing Arts was founded with the aim of being an incubator for developing and nurturing young talent with the highest standards in all aspects of musical theatre and entertainment art. We gather a team of talented artists and instructors in an exciting and professional setup to pursue the vision of building the academy to inspire young performers and strive to hone their talents as actors, singers and dancers. As a part of the courses, the students have an opportunity to perform in front of an audience to showcase all their eff ort and hard work. We do weekly classes, holiday weekend workshops, as well as scriptwriting and voice acting for animation.
Are there any age limits to taking the classes?
No age limit actually and it's never too late (even for the adults). For children we have various classes, starting with the Little Actors aged three all the way to teens and adults. Our motto is 'inspiring creativity in everyone', so we try to make it as accessible as possible; this is also reflected in the class fees.
That being said, why should parents encourage their kids to take up performing arts classes? How beneficial are they to a child's mental and emotional development?
For me, drama is the key to soft skills. Finding a safe space to have true human engagement; finding one's voice; building real social skills, confidence and communication techniques in a fun, creative and artistic setting – all these are truly important to the holistic education and development of a child. As a by-product, we also observe a great deal of leadership type qualities developing.
What are your thoughts about the kids' theatre scene in Malaysia today?
It continues to grow substantially and there are many wonderful productions out there for children, compared to back then. I hope productions with children performing in them continue to grow and improve in quality; it's quite an exciting time.


Photo: Enfiniti Academy
'Aladdin: Reloaded' was a massive hit last year. What prompted you to start directing?
I got to a stage in my acting career in which I wanted to have more artistic and creative control; I was also getting tired of being hired and just playing a role. The idea of inspiring and evoking great performances out of fellow actors really excited me, and I love the technical aspects like lighting, sets, working to deadlines and budgets. It's a wonderful challenge to have budget limitations and to see how creative we can get with limited resources.
How do you deal with the transitions from actor to director, and now an educator?
Well, education in the performing arts was something I've always done, even while I was on TV. But yes, the transition from actor to director was pretty tough. I realised how difficult some actors can be, requiring one to basically be their life coach and annoying things like that. These are natural things that happen to most actors when faced with public scrutiny and the pressure of an audience – all of our insecurities become amplified. I think it's made me into a better actor, understanding the process from the other side of the footlights.
Do you have any unforgettable experiences that you'd like to share?
Too many stories to share! But I have learned how to deal with a lot of situations. Directing has taught me a new level of patience and compassion but I'm still learning; I don't think we ever stop learning, since human beings are as varied and unique as the stars. My fascination with people and what it means to be human is why I became an actor in the first place. I'm sure the kids and their personalities are very interesting.
And finally, can we expect to see you back on the screen soon?
I would love to act in theatre again actually. I was recently offered a role in a feature film, so we shall see if my full-time job and motherhood permits. In the meantime, my younger and skinnier self can be seen on various online channels like iflix, Viu and possibly Netflix… or so some people I've met recently told me!
For more info, visit enfinitiacademy.wordpress.com.