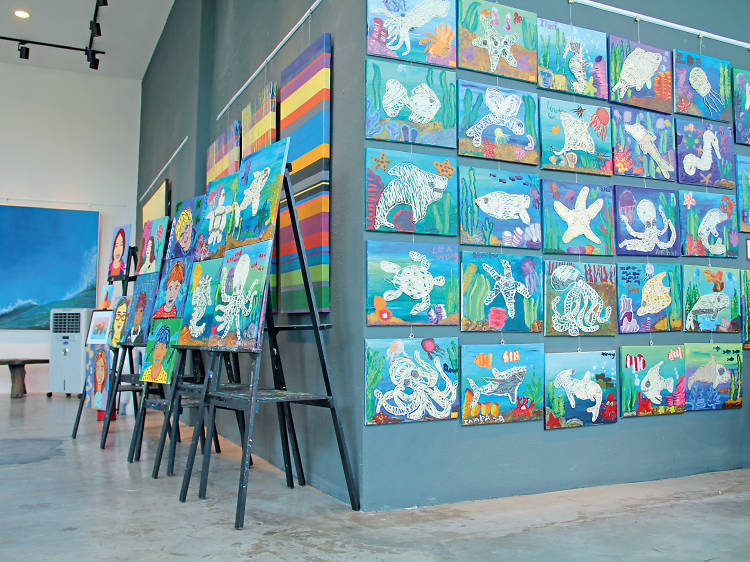 Tightening the strings on his apron, an eight-year-old focuses on the colourful canvas before him, planning his next step not unlike a chess player. Around him, other young, aspiring artists are equally engrossed in their works.

Airy and flooded with natural sunlight, The Studio at KL is one of few local art studios equipped with canvases and easels. The opportunity to work like a professional gives the students a sense of pride.

'We try to raise the kids' self-esteem through painting' says Jonny Ishaque, Director of The Studio at KL.

Creativity is given free reign and no child is admonished for colouring outside the lines.

'Here, we'll never say no,' says Jennifer, Jonny's spouse and business partner. 'It's good for them to explore. It's their painting.'

'We implement quite the opposite of join-the-dots or colour-by-numbers,' continues her husband.

The Studio at KL's syllabus teaches its students to express themselves in myriad art styles. Each three- to four-week-long project comes with important lessons on art theory, like the storytelling element behind aboriginal art or the history of French Post-Impressionism when creating Vincent Van Gogh-inspired paintings of sunflowers and starry skies.

An important event on the studio's calendar is its annual art exhibition, a jovial celebration where friends, family and members of the public may view the students' works at the studio's gallery in Nexus Bangsar.

The Budding Artist Class is for six- to seven-year-olds while the Young Artists Class is for eight- to 14-year-olds. All first-timers are entitled to a free trial lesson.