Top Southeast Asian destinations
TOM Kids scouts out Southeast Asian destinations where history, adventure and stunning scenery make for memorable family getaways
The combination of diverse cultures, steamy jungles, tempting cuisines, ancient architecture and temples make Southeast Asian to a perfect travel destination. If you are thinking of taking your family's first trip to this region during the upcoming school holidays, here are our top picks of beautiful destinations you should visit.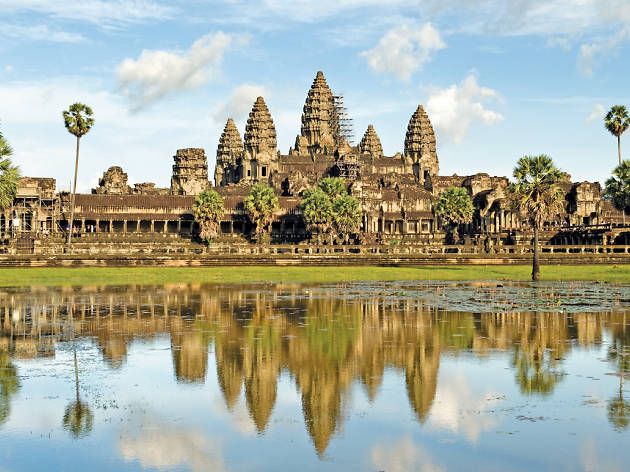 Siam Reap, Cambodia
Admittedly a tad touristy, this town is the gateway to Angkor Wat, Cambodia's top tourist attraction and the world's largest religious monument. What makes Siem Reap familyfriendly is ironically, the high volume of travellers. Officers patrol the streets to keep pickpockets at bay and high competition among vendors makes for cheap shopping.

What to do A must-do in Siem Reap is obviously visiting the maze of temples that is Angkor Wat. Built to resemble and pay homage to Mount Meru, a hallowed mountain range in Hindu, Buddhist and Jain cosmology, Angkor Wat was built by the Khmer King Suryavarman II in the early 12th century. You have to get inexpensive single or multiple-day permits to tour the temples, which can be arranged with your hotel or the tuk tuk driver who takes you around. Make sure you check with several drivers to get the best price. The kids will love running around the huge temple complex and if they're older, get a guide to explain how this incredible city was built with just human labour. Other memorable activities to pursue in Siem Reap include sampling creepy crawly cuisine at the famous Bugs Café and haggling for artwork, handmade apparel and accessories at the Angkor Night market. For older kids, a visit to the Cambodia Landmine Museum is both educational and thought-provoking.

How to get there AirAsia flies direct to Siem Reap daily.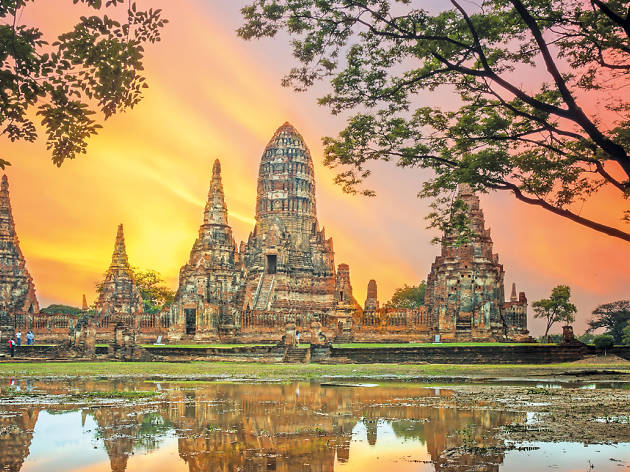 Ayutthaya, Thailand
During the 14th century, this was the capital of Siam and thought to be one of the largest, technologically advanced and diplomatically open cities in the world. Its strategic location on an island surrounded by rivers and connected to the Gulf of Siam made it an important trading post. All this ended in 1767 when the Burmese attacked and burned it to the ground. It was never rebuilt (the capital moved to Bangkok) so what you see today is an authentic archaeological site, which is why it's gained Unesco World Heritage status. Easily accessible from Bangkok by road, it also makes for a great day trip.

What to do This is an ideal two day trip with older kids, as the town isn't suitable for strollers and accommodation and food is pretty basic. The main reason to visit is for the historical park which encompasses Buddhist monasteries, temples and the remains of what used to be an incredibly modern city for its time – it even exchanged ambassadors with the court of Versailles! The heritage site is easy to walk round and climbing stupa steps is fun, not so much for unfit parents but it's all a big adventure for the kids. But what will really make the trip unforgettable is a visit to the Royal Elephant Kraal and Village (elephantstay.com) where you can spend a couple of days in an elephant village and get up close and personal to these wonderful animals. It's a non-profit organisation which retires old animals, runs an active breeding programme, and trains them to work (parades, film, ceremonies); all monies go straight back into their care. Their family packages include room and board, and your own elephant to ride and care for , which is something the kids will really enjoy.

How to get there AirAsia and MAS have several daily flights to Don Mueang and Suvarnabhumi airports. From Bangkok it's approximately over an hour's drive to Ayutthaya.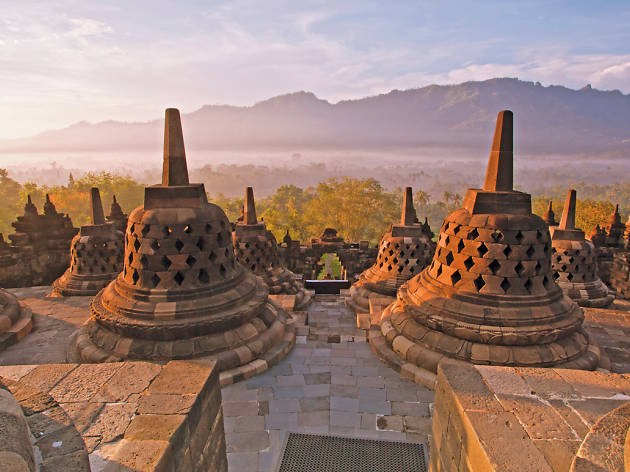 Borobudur, Indonesia
Built in the ninth century, Borobudur is both a Buddhist shrine and a place of pilgrimage. A testament to the presence of Hindu and Buddhist kingdoms in the regionduring the time, this Unesco World Heritage Site consists of two million stone blocks, massive bell-shaped stupas and 504 Buddha statues representing the levels to attain Nirvana.

What to do Most people stay in Yogyakarta and join a tour or rent a car to the area, or stay in hotels in or near the compound. Head out in the early morning because the most spectacular time to visit Borobudur is at sunrise. After that, start the pilgrims walk at the eastern gateway – go clockwise (as one should around Buddhist monuments) where you'll encounter ornate carvings on the walls, a lengthy panel sequence about Queen Maya (a vision of white elephants with six tusks), and images of Buddha along the way. Climb to the top of this temple and feast your eyes on the view of the surrounding area. Hire a guide to get insider information – the kids will listen to a stranger before they listen to you! Dress modestly not only out of respect, but to protect against the blistering heat. After a morning of exploration, head to the majestic Prambanan temple, less than an hour's drive from the city centre. Take a breather after temple hopping by catching the sunset at this beautiful Hindu temple. The Ramayana Ballet show, performed against the backdrop of the temples, is a bit touristy and is based on the ancient Hindu poem. If shopping's on the agenda, head to Jalan Malioboro, Yogjakarta's main shopping thoroughfare for traditional wares.

How to get there AirAsia flies direct twice a day from KLIA2 to Adi Sucipto International Airport in Yogyakarta, from where it's a one-hour drive to Borobudur.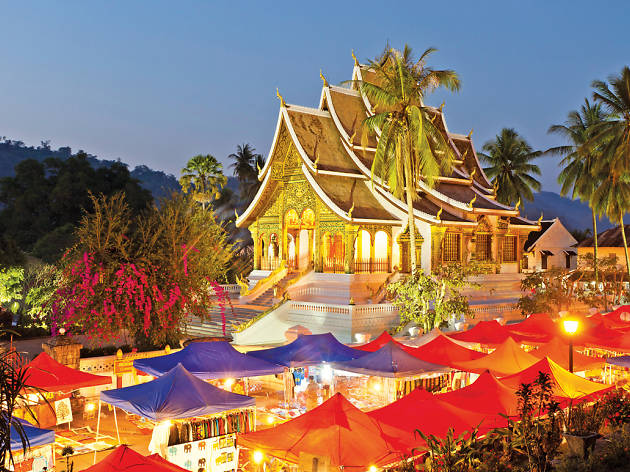 Luang Prabang, Laos
Laos isn't the first country that comes to mind when planning a family trip, but the country – once known as the 'land of a million elephants' and part of the French colony of Indochina – is the traveller's go-to destination to see the real Southeast Asia. Backpackers and intrepid travellers are more wont to visit the Plain of Jars and Vang Vieng, but family travel is best limited to the Vientiane and Luang Prabang (tourismluangprabang.org), which is a 50-minute flight from the capital by propeller plane.

What to do Luang Prabang is a colonial town located next to the Mekong River and a Unesco World Heritage Site. Accommodation is plentiful, from ultra luxurious resorts to gorgeous boutique hotels in colonial buildings. It's quite a small town and easy to walk around so you'll be able to cover the sights in a few days. There are temples, but nothing like Cambodia or Thailand, which younger kids will be glad of as how many of those can they bear anyway? The night market is one of the best in the region with none of the usual haggling and harassment. Tribalvendors sell knick-knacks the likes of jewellery, rainbow coloured embroidered bags and more; there's also a tradition of intricate weaving seen in beautiful wall hangings and bed linen. There are also very good cafés and restaurants serving Laotian cuisine and French-influenced dishes. It's easy to feed the kids and if they're not adventurous, there are baguette sandwiches that are as good as their French counterparts! Suggested family-friendly day trips include the Kuang Si Falls and elephant sanctuary; a sunset boat trip on the Mekong is always the perfect end to the day. The town is famed for its saffron robed monks who pass through the streets at the crack of dawn collecting alms and although it can get impersonal with people lining the streets snapping pictures, be discreet and respectfully watch them. The kids won't be impressed being woken up at 5am, but it's a sight they'll be glad they woke up for.

How to get there AirAsia flies direct to Wattay International Airport in Vientiane three times a week (Tuesday, Thursday, Saturday) from where you take a 45-minute flight (three flights per day) on Air Lao to Luang Prabang.