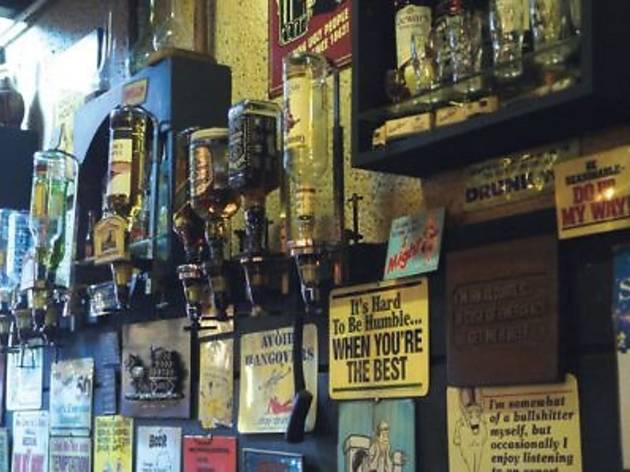 Most head to Jalan Gasing to tuck into chicken rice or banana leaf, but we found ourselves at a cosy little bar on a Wednesday night, in what felt like a sudden time warp. Rennie's House of Ox-tail, a landmark to PJites and those from the suburb's surrounds, looks like it hasn't changed since day one. A glance at its aged carpet and the padded bar will confirm this, but we checked with its owner just to be sure. (Nope, not one thing, she said.)
You won't miss the spot, anyhow. On the same row as Kanna Curry House, Rennie's is fronted by a mock Tudor façade, with darkened windows that shroud the time capsule within. The bar area is what greets you first, and it's intimate, cosy, and at full capacity, would probably require an ample amount of squeezing around. There's a dining area at the back, too, if you're after a meal.
And do dine-in once. After all, they don't call this the House of Ox-tail for nothing, and their eponymous dish – a generously portioned oxtail stew – is comforting and, quite possibly, life-altering. You got dumped? Order this magic brew. Just lost your job? The stew will get you back on your feet.
A pint or two may also have the same effect. If you're after draught, it's Tiger and Guinness on tap, and they have all the usual liquors and spirits, too. Just don't go asking for a drinks menu. There isn't one here, but they do have a collection of witty signs and old posters behind the bar, which they've amassed over the years. Here's one simian saying that we thought was worth sharing: 'A wise monkey never monkeys with another monkey's monkey'. Wise words, and we also love the cheeky sign-off on their receipts: 'It's hard to be humble when you're the best'.
For the uninitiated, Rennie's will be a spot that evokes a strong sense of nostalgia and authentic retro charm. And you may find yourself coming back again and again, just like their regular patrons. Mainly those who live or work close-by, we spoke to a few – a friendly bunch – and one gentleman revealed that because his uncle used to drink here decades ago, he's adopted this spot as his own local for years now.
We can see why. Rennie's clearly thinks of its patrons first before anything else, and the bar offers you more than just bemusement by way of its retro furnishings; it's about the memories carved in every single inch of its rooms. Confirm this by reading the stories about its founder, the late Mr. Rennie Klassen, a Dutch- Malaysian gentleman, from all the articles that proudly command one wall. They were written by journalists who used to frequent the bar, and there's even an article that appeared in Newsweek.
If you're lucky, you may even meet the pub landlady herself. We were, and when we asked the late owner's wife for her name, she gave us a steely Bette Davis look (with her wing-tipped black eyeliner no less), wrote her name on a receipt, and then took a long-drawn puff from her cigarette from behind the bar. Rennie's, clearly, offers a film noir experience to boot.
If you're after minimal furniture or fanciful cocktails and a DJ, Rennie's isn't the spot. And precisely for not turning into yet another generic bar, this PJ old-timer ranks highly. Good honest people, life-changing oxtail stew, and drinks by the dozen, Rennie's is a keeper in our books – a great, small bar, to say the least. Rachel Jena
As featured in Time Out KL's 101 things to do in KL
Venue name:
Rennie's House of Oxtail
Contact:
Address:
119, Jalan Gasing
Petaling Jaya


Opening hours:
Mon-Sat, 5pm-12midnight