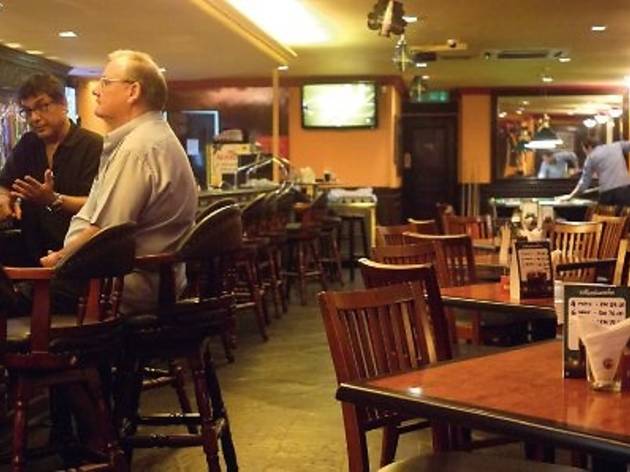 Time Out says
What constitutes a great small bar? Longevity is one criterion, and Ronnie Q has managed to outlast many a tenant in the Bangsar precinct. Like another neighbourhood oldie on Jalan Telawi (Dinty's), this watering hole hasn't tried too hard to refashion itself according to current modes. Instead, it has kept many of its original features firmly in place. Don't knock what works, as they say. At Ronnie Q, the décor hasn't altered too drastically since its early days, and the general look is masculine, woody and everything that a pub should be. Fashionable? Not so much. Reliable and comforting? Plenty.
The pub has been in the neighbourhood since November 1992, making it one of the longest-standing spots in the area. Its name comes from the original pub landlord, a Ronald Quay, who remains one of Ronnie Q's four presentday owners. Fridays and Saturdays see the place at its peak, and entertainment here comes by way of a pool table around the back. Sadly, their weekly pub quiz – once a draw – has become a thing of the past. Rumour is, however, that they're planning to revive this weekly fixture in the near future.
For now, the main attraction is sports. Televised live matches pull in the sports aficionados, who put back a pint or two whilst taking in a game of football, cricket, rugby, golf or tennis. Naturally, Ronnie Q has been one of KL's reliable choices for big sporting affairs like the World Cup. Music, on the other hand, takes a backseat to these events, so if you're the kind that prefers K-Pop videos playing on a loop, go somewhere else, oppa.
As far as tipples go, their bestselling drinks are the ones from the tap. The options are all the Guinness Anchor Berhad staples, so you'll have no problem finding yourself a cold, thirst-quenching Guinness, Tiger or Paulaner after a hectic day. Prices are standard, but look out for the monthly promotions. And Ronnie Q also serves cocktails, although mostly of the garden-variety. The boon is, though, that everything is priced under RM25.
For the belly, their kitchen will dish up British fare, and porcine pleasureseekers will love the fact that there's genuine piggy goodness here. Try the all-day breakfast (RM24.90) if you want a hearty one. Is it a touch of spice that you're after? Whet the appetite with their South Indian mutton curry or pork curry. Both will fire the palette up enough to keep you knocking back the cold ones.
Like other pubs of its ilk, Ronnie Q isn't a place for the trendies (Bangsar has plenty of other spots for that), but if you're a no-nonsense, laidback drinker, then this spot is perfect. Punters mostly keep to themselves, so there won't be any leery nonsense to ruin a quiet evening, and the music will never threaten to ruin an intimate conversation.
Still, it's no secret that Ronnie Q's future as an institution in the area rests nimbly on whether or not it'll be able to stay afloat amidst its rapidly changing environment. But – and this is genuinely to its credit – whereas more stylish joints have come and gone, this granddaddy of a pub has managed to stay where it is for over two decades. Rachel Jena
Details