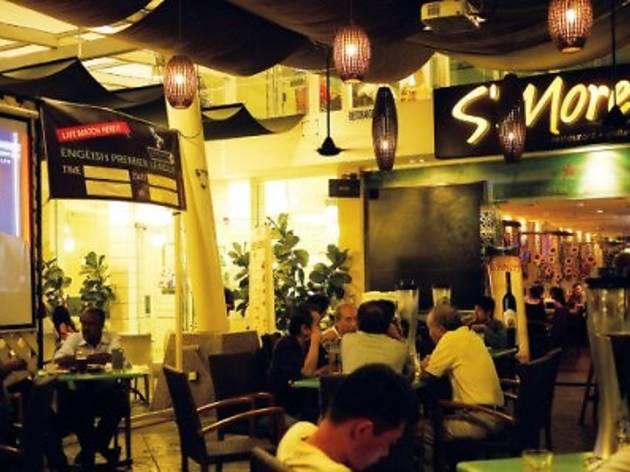 The name S'mores isn't going to win this bar the allegiance of macho beer guzzlers (it's the name of an American treat favoured by boy scouts), but their beer deals will. Their Happy Hour promo is an enticing RM50 for three pints or three cocktails (3pm-1am), although we suggest going for the former – a glance at some of the liquors on their menu revealed some dubious sounding brands, which may explain why the cocktails are so cheap. We didn't try any of these for fear of terrible physical repercussion.
Speaking of headaches, S'mores' menus almost elicited one; four menus were put before us – one for bar snacks, lunch and dinner deals, drinks, and food – and the contents were overwhelming. The drinks menu, especially, was an ADHD-like compilation that left no stone unturned. It had Belgian beers, German beers, every single cocktail known to man, and promos explaining just how much money you could be saving if you made S'mores your drinks provider. It was honestly a little too much when our goal was to just sit down and have a quiet after-work drink, but as we're besieged by the onslaught of failing economies and the rising cost of inflation – wait, what drinks are on that RM50-for-three deal again?
Still, we'll give credit where credit is due, and S'mores deserves a pat on its back for their effort to keep things fresh with their varied deals. Food deals are popular here. They have a weekend all-you-can-eat BBQ buffet at a reservation rate of RM38 (walk-ins pay RM58), and each night, there's a different beverage promo. Sunday to Tuesday (9pm) are Tower Beer nights, and if you've ever wanted to drink Medieval-style, S'mores is your place – RM789 gets you a barrel containing 62 pints of Tiger or 52 pints of Guinness.
Again, all this info is a little too much when you just want a cold beer, but S'mores is clearly big on their drinks and they do know how to pull in the crowds. On a Monday night, we struggled to get a decent seat outdoors (it was too smoky inside), and had to settle for tall bar stools though our eyes were really on the loungers – what you should aim for if you're coming in a large group. And do large groups flock here. Like flies to a trap in fact, which in S'mores' case is a giant screen projecting EPL games.
Crowds, we're told, really pack up the place from Thursdays to Sundays. And when this happens, S'mores' variety should prove useful. You'll find almost every beverage from a hot cup of tea to absinthe (two types even) here, and another boon is the fact that pork dominates their menu.
But if we had one complaint about the place, it'd be the service. It was friendly enough, but our starter (they have a big food menu – surprised?) disappeared into the Bermuda Triangle of misplaced orders, and it took effort to get someone's attention. Perhaps S'mores' staff are more used to pundits that are quite content on sitting around with their beer towers. And why change this? S'mores is a relaxed place and one you'll probably head to without hesitation if you're in the area. Would it make you leave the confines of your nest in Ampang or Damansara? Probably not, but punts are on the fact they don't really care – when we visited on a Monday night, it was crowded and the many beer towers scattered across the tables showed they've already got themselves a loyal following. Rachel Jena
Venue name:
S'Mores
Contact:
Address:
The Sphere
Unit G2, Ground Floor 1 Avenue 1
8 Jalan Kerinchi
Kuala Lumpur
59200

Opening hours:
Mon-Thur, 12noon-1am; Fri, 12noon-2am; Sat, 5pm-2am; Sun, 6pm-12midnight