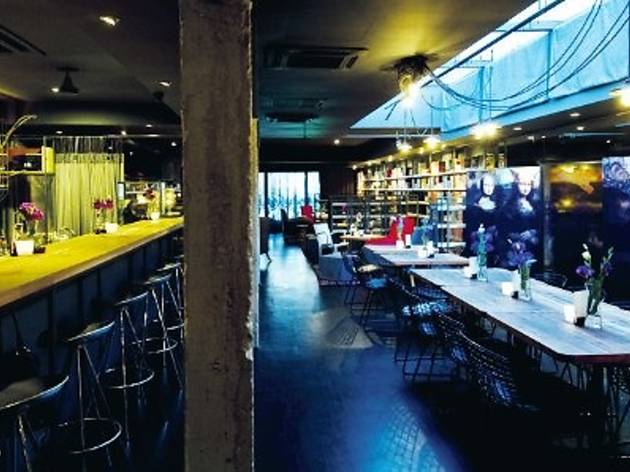 Many people flock to Alexis Telawi for their famed Tiramisu but few venture to the cool bar upstairs. Literally named Upstairs @ Alexis Telawi, the bar is undeniably swanky and urban, like a cross between a posh private gentlemen's club and a resort library. We absolutely adore the quirky and humorous Mona Lisa screens. However, we are slightly disappointed that the books are just decor elements; they are not real.
The skylight across from the bar is a wonderful feature, both aesthetically and functionally as it provides an uplifting quality to the overall broody-looking space. It's a stylish space no doubt. Upstairs' emphasis on architectural design will attract the chattering crowds who enjoy some 'see and be seen' pastime.
The overall look and ambience could be perceived as either pretentious or downright sexy and vibrant (we lean towards the latter verdict). But we think it has provided a more relaxing and classy space to compliment Upstairs' top-notch live jazz shows held every first Monday of the month. Featuring up-and-coming as well as established local and foreign headliners, the entertainment is interestingly diverse.
Injecting a much needed cool factor to Bangsar's largely uninspiring bar/lounge scene, Upstairs is an ideal place to chill. There's an extensive menu (which notably features a wide range of wines) and some really good cocktails (try the mango daiquiri). Be warned that there's a strict dress code policy: shorts and slippers are not allowed. It's not too much to ask really; after all, it's always good to go to a place where everyone makes a little effort to dress up.
Venue name:
Upstairs @ Alexis Telawi
Contact:
Address:
29A Jalan Telawi 3
Kuala Lumpur
59100