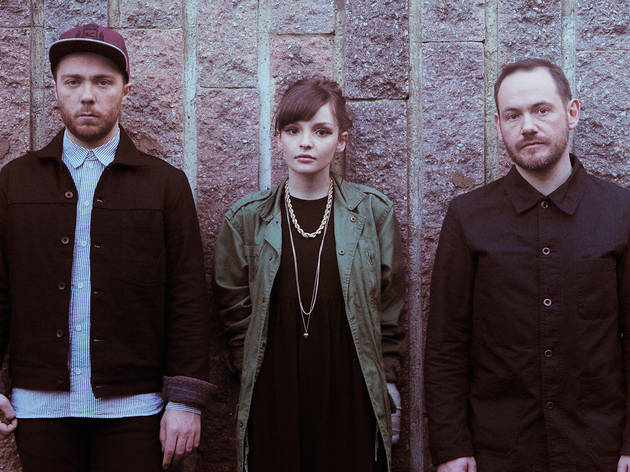 Chvrches interview
Iain Cook on the band's debut record, their whirlwind success, and future plans for record number two
Like Arctic Monkeys and Vampire Weekend before them, Glasgow synth-pop trio Chvrches rode on a wave of online buzz before translating social media hype into bona fide chart success. Since premiering 'Lies' as a free download on the Neon Gold music blog in mid-2012, Iain Cook, Martin Doherty and Lauren Mayberry have gone on to release critically acclaimed debut record 'The Bones of What You Believe' in September.

Congrats on the release of 'The Bones of What You Believe'. How does it feel to finally have a debut record out?
It feels fantastic. It took us about 14 months from the very start of the project to finishing the album. So the feeling of having got to the end of that and then waiting another six months for the album to be released – there was just so much anticipation. And when the album was finally out, the feeling of relief was massive.

It must also help that the album is receiving positive reviews.
Ultimately, we make the music for ourselves. But I'm happy and it definitely helps when other people get behind the album. That's a really exciting thing.

What was the band's goal when 'Lies' was first posted online last year?
At that early stage, there wasn't really any goal other than to put a song out on the internet and see what kind of response we got. We weren't really into the band at that point in time; we've just been writing songs in the studio and we've never played anything live. So we didn't even know if it was something that we could or even wanted to do. We noticed that the reaction we got on Neon Gold was unbelievable, way beyond what we expected. Then we thought, 'Okay, now we have to figure out how to play this live!'

It's a good thing that you did, as Chvrches have quickly become one of the hottest bands around.
Have we? That's really cool. [Laughs]
Now you know. Has the band's whirlwind success raised your expectations of what Chvrches can achieve now?
Frankly, I just really want to see how far we can go. I don't necessarily have expectations, in terms of if we don't do this by this point in time we'd be disappointed. We're going to keep writing and see what happens. If people continue to support the band and buy our records, we'll keep doing it as long as we're enjoying it. It's certainly very exciting, but I've got no idea where the band will go

So there's no added pressure to produce a knockout sophomore album now that your debut is a hit?
The only pressure we face is internal. It's our own musicality and creativity that will be put to the test.

How's record number two shaping up?
It's a bit too early to say, but I have a funny feeling that we'll go a little bit more stripped back and minimal. I'm really excited about writing some new songs. We're playing the same songs every night – we are not bored of them yet, but we're just ready for fresh ones.

Let's move away from the positives – tell us about your biggest disappointment of the year so far.
There really haven't been that many disappointments, so I'm delighted. Everything's gone pretty much according to plan. I can't think of any disappointments.

That's quite a problem you have there.
[Laughs] Now you've got me thinking. [Pauses]

I read Lauren's op-ed on The Guardian. It must've been disappointing to read some of the inappropriate comments she's been receiving on social media.
Yeah, we need to support each other. At the end of the day, it's important to us to have a close relationship with our fans. But we've had to disable our Facebook Messenger to make sure people can't directly send messages to us in private, which is probably something we should've done from the very beginning. I guess we just need to keep things in perspective – there's always going to be a small percentage of assholes making it tough for everyone else, but we realise that people who listen to the band and come to see us are cool and are respectful of us as people.

'The Bones of What You Believe' is out now in stores. chvrch.es.