Clean Bandit interview
The English quartet's violinist, Neil Amin-Smith, opens up about debut album 'New Eyes', their classical-meets-dance music sound and being the band's second best dancer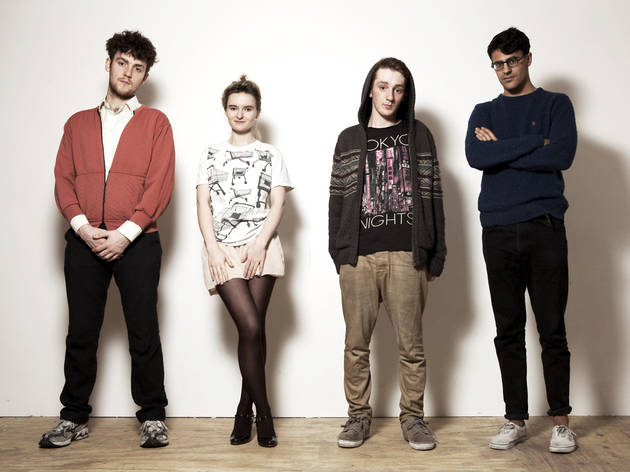 Congratulations on 'Rather Be' being the most played track in a single week on UK Spotify and debuting at number one on the UK singles chart this past January. How does it feel to achieve all these accolades before the release of your debut album?
It's completely amazing, to be honest. I never expected or imagined that things would turn out this way. I guess it's also perfect that it happens before the album and hopefully it means a lot to the people who listen to the album.

Do you feel like you've stumbled upon a recipe for penning hits?
[
Laughs
] No, it's hard to know what made 'Rather Be' so successful. But people seem to love the song.

How is the process of making music like for you guys?
Jack [Patterson], our keyboard player, does most of the songwriting. It usually starts from him writing weird and short beats or tempo. My main contribution is working on the strings section for Grace [Chatto] and I.

Usually bands have a lead singer, but you guys don't. Is there a reason for that?
It kind of just worked out that way and now we enjoy the freedom of being able to work with different people on different songs. So our album has 12 different singers, which means that every song has an almost different quality to it and that's really exciting for us.
Since you do a lot of collaborations, are there any musicians whom you'd like to work with?
I think we all would love to work with Drake, Beyoncé and maybe Woodkid one day, but the problem is that at the moment they are a bit out of our reach.

The band is known for blending classical and electronic music. What are some of the challenges you face in making sure you get the right mix in a given song?
I guess you never think too consciously about trying to get the right balance between the two because classical and pop music are almost similar. They make you feel something all the time. So there has never been a conflict of having too much of something in a song or anything like that.
Who are your musical inspirations?
Recently, we've been inspired by Radiohead with the electronic music that they did. Then obviously a lot of UK dance music since it has been evolving through the years, so people like Disclosure and Kidnap Kid. At the moment for me, I've been listening to a lot of Woodkid, Four Tet and electronic stuff.
What should we expect from 'New Eyes'?
Hopefully people will listen and be kind of surprised because we don't have a singer in the band. There are many different sounds and emotions in the album. Each song is totally different so I hope people who weren't exposed to this style of music before will enjoy it.
We heard you like producing your own music videos.
It's just something that we've always done. Our first ever video was made because Jack finished a song and we wanted to make a video for it. Then suddenly there were thousands of people listening to the song where before there was only about 11 people. So we kind of never stopped and we're kind of lazy to get someone else to do it now.
So what's the story behind the band name?
Well, Jack and Grace used to live in Russia and one of the Russian fans used to call her 'clean bandit' in Russian, which meant total bastard over there. But they meant it affectionately. So we thought it was just a funny expression. I mean, if you translate it to English, it's just a weird expression and we just stuck with it.

Who's the best dancer in the band?
Definitely Grace. I think she's got a little bit of an advantage since she has been getting dance lessons her whole life. She's a very good dancer.
Do you dance then?
Well yes, I would say I'm the second best and I'm the best out of the boys. [
Laughs
]
'New Eyes' is out in stores, cleanbandit.co.uk.