Empire of the Sun interview
We speak to Nick Littlemore, one half of the duo behind dance floor hits like 'Alive' and 'We are the People'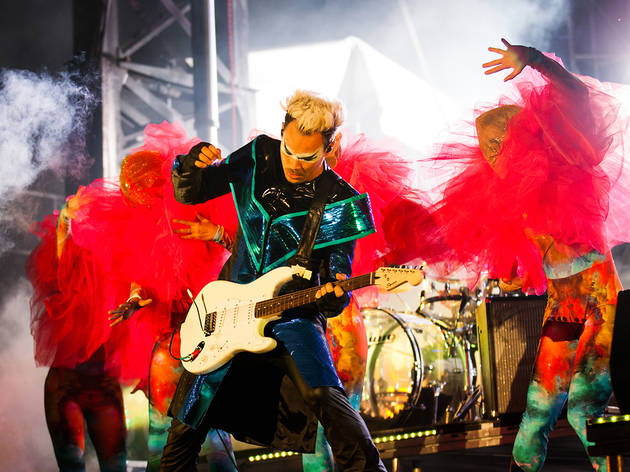 Sydney electro-pop pair Empire of the Sun is synonymous with a highly visual, flamboyant approach (makeup, costumes, you name it) and their 2008 debut LP, 'Walking on a Dream', that proved to be a runaway success. We spoke to Nick Littlemore, one half of the duo behind dance floor hits like 'Alive' and 'We are the People'.

Since Empire of the Sun went on hiatus, you've been living in London. How did that happen?
Well, let's see. On May 6 2008, I had lunch with James, my brother, at about 6pm. We were walking down the street from Woollahra to Paddington [in Sydney] when he turned to me and asked, 'What are you going to do tomorrow?' I said, 'Well, James, I am going to London.' Sure enough, when the next day came, I got on a plane and went to London. I resumed my life as it was but in London instead. I don't remember everything that has happened in the past five years, but I tend to work every day.

Let's talk about your new album. It has a very positive, almost uplifting vibe to it. Do you feel the same way?
We wanted to do something that's cleaner and more deliberate. I think people aren't interested in a wicked man scenario where you're inciting some kind of wickedness or witchery. I don't want to call ourselves good witches, but there's certainly an alchemic quality to the record. It is part of what we do; it is the way we search and define things. At the end, the record is a music theory of life moments, of joy.

The new record doesn't sound very 'now'; it has a '70s, '80s sound to it. Is that what you guys have always wanted to do?
Ours is not the tunes of new, ours is tunes of you and me and everyone else. We are not here to be the latest and the loudest and the biggest. We are here to heal your heart. We are here for love. That doesn't have a price tag on it. If you look at the newspapers, there is not a whole lot of love going on here; listen to the radio, there is not a whole lot of love going on there either. Our tunes might be a box of wines or a delicate candelabrum, maybe a porcelain bowl of gold, a painting, an hour glass, the lamp beside your bedside table or the alarm that wakes up every morning. Or it could be a tree.

That's very conceptual, much like your costumes. So what inspired your regalia?
David Lynch.

And?
I thought I would give you a short answer since I have been babbling a lot.

I mean, don't you get tired of all the costumes and makeup?
Yeah. My girlfriend says that too. She once came up to me and asked, 'Don't you get tired of being annoying?' But I think you can always be more annoying.

Okay. We've also heard rumours about a film that's going to accompany the album.
Oh well, rumours. People say a lot of things. People like to talk about things, make up things, some of them are true, and some of them are false. But I think most of them are true. When the moment is right I will give the game away.

So what are you guys working on now?
We started a new record; the new album is going to be a pre-call, the album before 'Walking on a Dream', before the Emperor and the Prophet. We feel like we're kind of responsible to the crowd to make something that's good enough for them. I mean, these people changed our lives; they bought our first record and cherish our music. It is such a wonderful gift that we are celebrating – to be cherished the same way people cherish real, mega, big rock stars.

Empire of the Sun's latest album 'Ice of the Dune' is now in stores. empireofthesun.com.