Introducing: Menikmati
Menikmati is to enjoy – so do as you're told and layan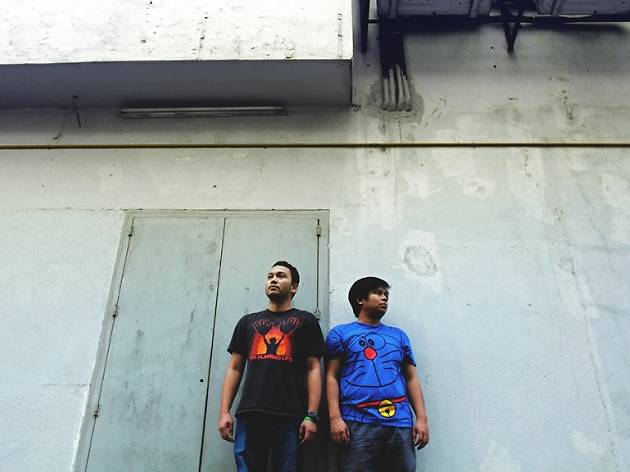 So what's their story?
Oki, Iwaz, Mao and Gan met while studying in Melbourne in 2012. They entered a music competition (and won!), decided they like each other's sounds and continued their jamming sessions. As for the name Menikmati, it was one of those spur-of-the-moment things. For now, only half of the band is in KL; the other two are still in Melbourne but they still get by (thanks to the internet).

What is the Menikmati sound?
The band champions the nusantara sound – the usage of Southeast Asian instruments in their music. This is pretty much the result of being out of the country, which made them miss home. Or as Iwaz puts it, 'Damn it, I'm in Melbourne but I wanna be proud of my heritage.' Just imagine something that Parameswara's palace musicians would have come up with if someone gave them the internet and a chockfull of Majestic Casual playlists.

'Senyuman' is real catchy. What's that about?
It doesn't sound like he's in a lot of pain does it? It's awfully happy – like a Hollywood class act after meeting his manic pixie dream girl – but it isn't really. We're told that it was written after a breakup (details of which shall remain a secret for now).

There's so little to listen to right now. I want more.
Okay, so 'Senyuman' has been making the remix rounds: one sounds like a post-lovesick Tom Hansen by Adam Kasturi and another by Pradana which seems to amplify all of the original's happy vibes. 'Kacau Bilau' sees them moving away from the dreamy, happy feels with a little angst, but if you can't move past 'Senyuman', here's a pretty good live and extended version of the song.

Okay, cool. What's next?
Since only Oki and Iwaz are in KL, the band is in a sort of 'meditative' state, silently prepping their 'S/GNALS' EP. In the meantime, catch the lads at the upcoming HO4X gig, where they will be performing with a secret collaborator.
For more on Menikmati, visit soundcloud.com/menikmatimusic.