Introducing: RYÖT JONES
The all-male funk soul act is a big band with a big sound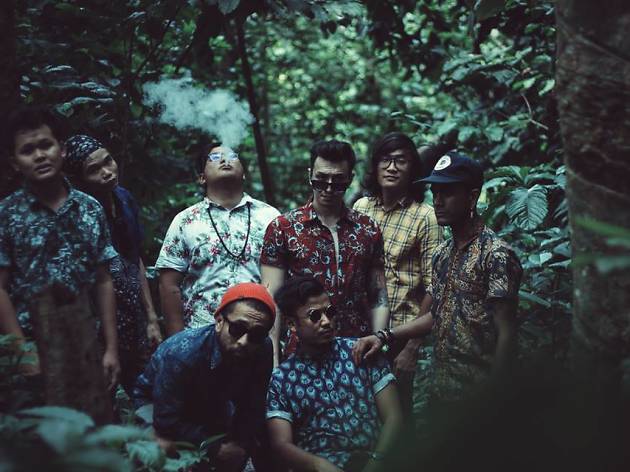 What is this, a football team?
Meet RYÖT JONES. They're a big band, as you can tell.

Who's captain?
That would be Kyren Thomas, who tells us the band actually started with 'Deo (Karmawan, electric guitars) coming up to me a couple of years ago after a show I did with my old band'. Long story short: the two got in touch with more musicmakers, there were some jamming sessions – and now they are nine.

Okay, but what makes this crowd stand out from the... crowd?
They're a big band with a big sound, a welcome breath of festival funk/jazz air in the somewhat pop, rock and/or rap saturated scene in the city. Today, RYÖT JONES is the best argument for live bands in KL: a crowd-pleasing, club-wrecking machine, bringing superhuman levels of energy to their shows. Thus the RYÖT JONES modus operandi to success: putting themselves out there, playing live gigs, primarily focusing on purposeful instrumentation. 'We want to show people that [jazz] is as accessible as every other genre and that there is a great time to be had,' Kyren says. 'We want to give people a show; ditch the awkwardness and dance, vibe out and have a bleeding good time.' We believe the phrases 'good vibes' and 'great energy' were also used.

Ten out of ten for the ~vibes~, lads.
Yes, but it's not all ~vibes~; they're also super hard-gigging and super hardworking. You might have seen them at Artebar, Laundry, Live House, Merdekarya and No Black Tie. (They recently won Live House's Rock the House talent search, and with it a cash prize of RM10,000. More recently, they made it as one of the top ten finalists of Tiger Jams.) 'I remember at our first gig telling people that we played funk jazz, and everyone's response being, "Hey, that's cool but that's such a niche market",' Kyren says. 'But a market has to be created and cultivated, and that's what we strive to do: to educate ourselves and our audience about the sounds we're dishing out. It's like sitting in for the weirdest, funkiest lecture of your life.'

All right, give us the music-slash-lecture.
Well, you can visit their SoundCloud page for some acoustic versions of their tunes – listen to 'On My Knees' – but they're gearing up for the release of their first proper single 'Dancing Shoes' (with an accompanying video!) in August. They've finished about seven tracks, and more tracks are being fleshed out as you read this – which is not too bad for a band that's really only about three months old. According to Kyren: 'Nothing's forced or rushed, we let it take shape as it comes and we grow. No half-baked releases, no teasers – just entire packages. A great track over a good music video, and it'll take life from there on its own.'

Well said, but you haven't actually told us what they sound like.
It's pretty tough to pin them down. There's a surprisingly genuine soulfulness to them; their sound, which floats from funk and jazz and soul, is tied together with swagger and a lot of style. Kyren, who is a frontman's frontman by the way, cites Darren Ashley, Hujan, Salammusik, SonaOne and P Ramlee as influences, along with James Brown, Jamiroquai and Michael Jackson, so that should give you an idea. Your friends will like it, and so will your mum.

Sold. One last thing: how do we pronounce the name?
It's 'riot', and 'JONES' is, you know, 'jones', as in rhyming with 'bones'.

For more info visit facebook.com/ryotjones.