Leo Ari interview
The cooler-than-cool chillwave musician speaks about break ups, being honest and the zeitgeist of our generation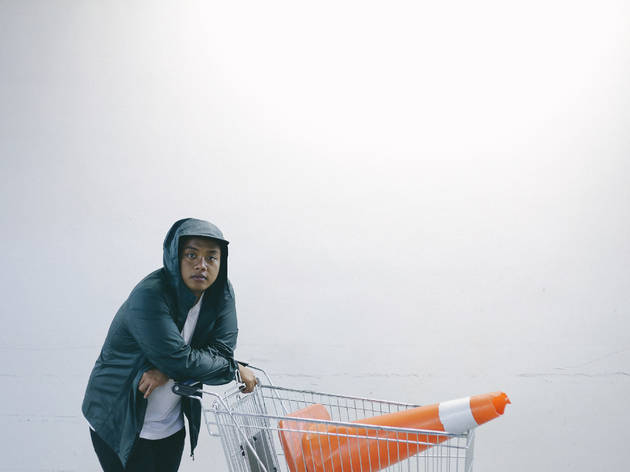 Leo Ari is an artist, according to Leo Ari. 'I'm an artist. Leo Ari is an artistic concept, not a musical concept; it's an artistic concept as a whole, which will constantly change, constantly evolve,' says the 24-year-old musician and visual artist, whose real name is Adli Nazrin.

If you haven't heard of Leo Ari, it's because: a) you're not a Generation Y, Z or a millennial; b) you're not on the internet, but more specifically, you're not on Reddit, Tumblr or YouTube, the rabbit holes of cat videos, glitch art and post-internet poetry; and c) as scene as it is to like Leo Ari, he's after all relatively new to the scene. It's only been a year since he debuted with 'Silap', but it's fair to say he's at the forefront of a new subculture: one that crosses over from digital to reality and back again to digital, nostalgic for early internet and late '90s/early millennia pop culture, appropriating cybergoth, punk and rave elements.

His debut EP – a six-track offering titled 'Love Must Be Real' – is potent; here is a person that not only believes that the bare fact of love is fleeting and futile, but also manages to convey that confusion into sound, streamlining the complications of love into simple forms: limber, liquid chillwave electronics, earnest and enthusiastic, with emotional and sonic touchstones of familiarity. 'Love must be real, because it fucking hurts' is printed on the back cover of the EP; it's trite, but it's true. 'Love Must Be Real' isn't exactly nostalgic for the past; it isn't a reflection of the pain of heartbreak and loss, it's a recreation of it, which grows and keeps growing.

Tell us more about your EP 'Love Must Be Real'. It's about love, of course, but what of love?
Everything, every aspect of love, the ups and downs. The EP is actually about my relationship with my ex-girlfriend. I was in a relationship with her for five years, and out of the blue, we broke up. I was kind of lost for a while.

A lot of artists work better when they're heartbroken.
With art, you have to look into yourself. You can't solve big problems. Art doesn't stop war, art doesn't solve the economic crisis. The only thing art is for is spiritual reasons, to find answers, to find peace. That's what I did.



What's the significance of closing your EP with 'I Don't Love You Anymore'?
I guess it just fits. The EP is titled 'Love Must Be Real', so you expect a very beautiful love story, I guess, but it ends with something brutally honest and real. That's as real as love can be. The song 'I Don't Love You Anymore', that's me being brutally honest. I think everyone in a relationship has come to a point where they felt like, 'Sometimes, it feels like I don't love you anymore'. I didn't realise it when I wrote the lyrics and the song, I only realised it after. It was like, 'Yeah, there were times when I didn't love her anymore'… So I guess this break up was inevitable.

Do you feel like you're putting too much of yourself out there?
It has to be personal. It has to be honest. I just want to see people being honest with what they do.

Your paintings referenced pop culture, and in doing so you aimed to 'capture the zeitgeist of our generation'. Is that the same sort of approach you take with your music?
It's more about love. It's not that I planned it that way, it just turned out that way. In the music video for 'Silap', I included a lot of clips of movies that I grew up with. There's 'Swedish Love Story', 'The Notebook', 'Pulp Fiction'. My whole interpretation of what love should be is based on movies. These are the movies I grew up with and these movies taught me how painful love can be, how real love can be.

What is 'the zeitgeist of our generation'?
We embrace confusion. We do. In the morning you want to eat roti canai, tengah hari you want to eat Malay, at night you want to eat Chinese.

What are your thoughts on the scene right now?
Oh, I just posted a post on Facebook. Hold on, what did I say? Oh, yes, there are so many good EPs and album releases this year, 'I am just so happy to see the scene well and alive'.

'Love Must Be Real' is out now at www.leoari.bandcamp.com.