OJ Law interview
After a four-year silence, the local indie producer, singer and songwriter is back with his fourth album 'Let's Be Adult'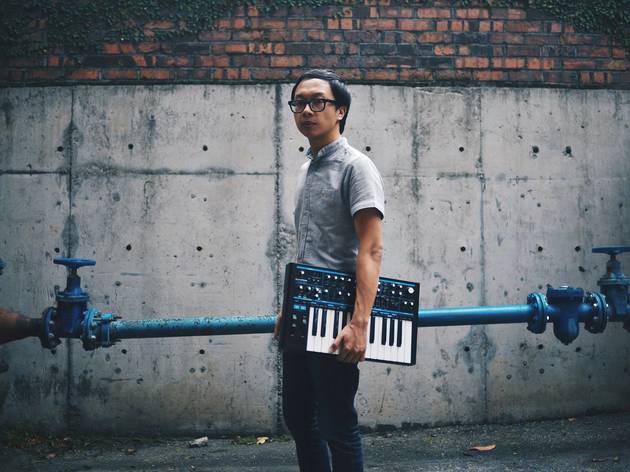 'It's just funny where your music ends up,' OJ Law mulls, referring to his single 'Tongue-Tied' (off his latest record) making the rounds on mainstream radio stations. Nine years, four records and one OJ Law-inspired ice cream flavour later, the indie one-man show is on the brink of breakthrough – and he's just a touch uncomfortable with it. 'It's awkward, really. That's not really been my thing, but at the same time, yeah, it's nice to be played on the radio, for people to go, "Oh, this is cool"'.

London-born and KL-bred, OJ Law is a sound engineer by day moonlighting as a musician. With 2006's debut album 'Law', he established a lo-fi, sparse sound, bisecting the worlds of power-pop, rock and soul in equal measure – but he has never been one for genres. Today, 'Let's Be Adult' – the follow-up to 2011's '60s disco pop, sun-drenched 'Yesterday Is A Distant Dream' – sees him travelling further into the melodic, textured electronic soundscapes where drums, keyboards and guitars interweave with lush, nostalgic, synth sonics.

On your Facebook page's 'About' section, you describe your genre as 'banana indie soulrocktronica'.
I've got to change that.

You don't feel like you can be pigeonholed into a genre.
I kind of like the idea of genres not existing; you just have music that you like and music that you don't like.

We read somewhere that 'Let's Be Adult' is an autobiographical album, your most personal to date.
I mean, the album is bookended by two relationships – it starts at the end of one, and then it's a sort of journey to the beginning of the next one. There's a lot of repetition in the lyrics and melody, and that's when you're just stuck in this horrible place and you can't really get out of it emotionally and your head is just spinning, going over the same thing over and over and over again; I was trying to put that feeling into the songs.

This album, more so than any other before, talks about love: love not being enough, longing, regret, solitude.
For sure, that's definitely the theme; just finding someone, or making connections, and you know, falling out, losing people. You make these connections and you have these bonds with certain people and they're so strong you think you're invincible and suddenly they're not there anymore, and it's crazy, right? And then you don't even want to talk to them or see them anymore, ever. So yeah, so… what was the question? [Laughs]

We were just pointing out how love is the recurring theme in your album.
I don't know if my previous albums had themes, so I guess this is a first. Before, they were albums but it was more about: 'This song should flow into this song because it sounds nice to have a slow song after a fast song'. On this album, it was more about the emotional side of it.

How old were you when you started writing these songs?
I started writing when I was 29.

We're only bringing this up because recent studies have found that true adulthood begins only at 25.
Oh, I don't think so. I look back to my twenties and I feel like I could have maybe done more with myself. In some ways I'm trying to make up for that now, and I'm trying to do more of what I want to do. With the album title, I always liked the idea of what it means to be an adult. It's not really an age thing; it's a state of mind. The album title comes from a song by this Japanese group Pizzicato Five, and their song is in Japanese and I don't really know what it's about, but I liked it. It's kind of a weird phrase; it kind of doesn't sound right, 'Let's be adult'. I also liked the sensual, sort of sexual connotation of it. It tied everything together.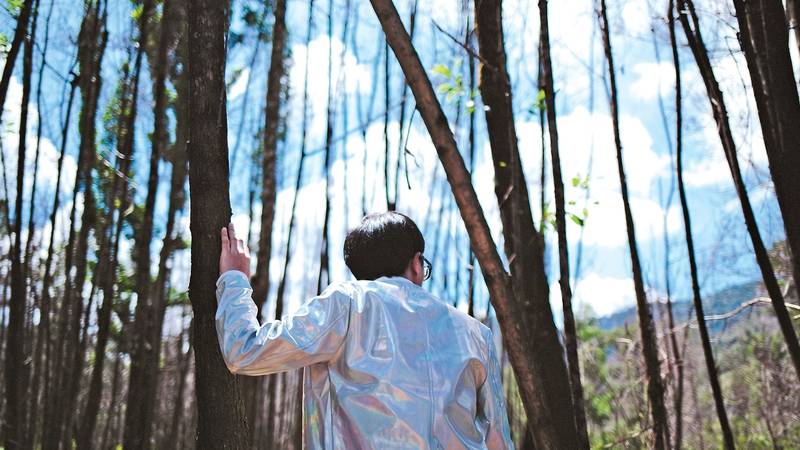 The release of 'Tongue-Tied' and 'Introverts' have been described as 'an exciting change of direction influenced by '70s pop and contemporary synth-pop'. Is this a bit of a turning point?
With this new one, I was listening to a lot more electro, pop, synth-y stuff from the '70s to now. Two things had influenced it: I was listening to that, and also I started playing more keyboard rather than guitar. I started writing off that, so just using different instruments influenced how the songs turned out. You play a C-chord on the guitar and you play the same chord on the synth, they're going to sound completely different. I don't expect whatever I'm going to do next to sound that much like this because my mind just wanders, really – I get bored of stuff very quickly.

You wouldn't call it 'a turning point'.
It's just how I felt; it's just how I feel right now.

'Tongue-Tied' has, so far, been very well received.
That was surprising for me.

Surprising how?
It got a lot more traction on radio than anything I've done before. I mean, obviously, in pop music there's been a sort of shift to dance-y, disco-y retro sort of thing. In fact, when all this started happening I was in the middle of working on this album, and I started freaking out; I didn't want it to seem like I was jumping on to a trend. It was just something that happened, and actually I ended up scaling some of it back; 'Tongue- Tied' was a lot more disco-y to start off with. It's awkward, really. I'm so used to not being part of what was happening in the mainstream, so to suddenly be played on the radio next to, I don't know, Katy Perry, it's just like, 'What?'

Does it make you uncomfortable?
It's just a bit weird, I guess. I always expected to be played next to stuff that I'd be listening to, so if you played me next to Caribou, I'd be like, 'Yeah, that's really cool'. I can't complain; it's just funny where your music ends up.

Are you an introvert?
Yes, I guess so. It's something that I struggled with when I was younger. With 'Introverts', it was like a combination of experiences, but specifically I remember the feeling in the lyrics; I actually wrote it for a prom, the memory of feeling that way in a prom, being at a prom and feeling really awkward about it. That sort of feeling, that memory of shitty nights out: 'What am I doing here?'

Was there ever a moment when you paused and stopped to think, 'I've done it, I've cracked it now'?
Oh, no no no. I'm still working it out. It's all just a mad experiment, you know. I've been trying to figure out how to write songs since I was 13, since I figured out how to play three chords on the guitar, then I was like, 'Yeah, I can write songs' [laughs]. I've written so many terrible songs; songs that I wouldn't even go back and listen to, I would just cringe so much. I still don't know what I'm doing, honestly.

You have a day job but have you ever given any thought to making music full-time? Do you ever wonder if you could have achieved more success, become more popular, if that matters at all to you?
It's hard to say. The thing is, I think if I was left to my own devices and I was only focusing on music, I wouldn't get that much done. To say 'I'm a professional musician and this is what I do 24/7', that's not going to be enough to sustain me. I'd probably have to be composing for ads and I don't want to do that.



Do you feel like you're on the brink of popularity?
No, I don't want to think about that. This horrible thing happened to me the other day: There's one song I left off the album, so I was revisiting it. I was listening to it and I was just like, 'You know what, this is a really good song. I really like it. If I remove the melody and just use the backing track and I sing something else over it, it'd be really catchy, and then I could put it on radio'. That's a fucking terrible thing to be thinking of, because suddenly it's not even about the song anymore. It was quite scary to be thinking of that; it was like, too calculated. I think radio has really helped me recently, but I don't want to get stuck in this thing where I'm trying to write songs for radio.

A lot of names we're familiar with do what you do: Independent musicians who gig hard, play festivals, but still hold down fulltime jobs. Any thoughts?
It's all about 'I need money', unless you've already made it or you have a record label – and a record label at the end of the day, they're just loaning you money, they're like a bank with publicity. I self-funded this album. It all comes from me. I wouldn't recommend anyone who wasn't 100 percent passionate about their music to do what I'm doing and what the rest of the guys are doing, because it's a lot of money and it's a lot of work. It's basically a second job that doesn't pay as well as your first job.

Let's talk about the evolution of OJ Law.
I'm just trying to figure out how to do it, really. I mean, I'm going to say this now but it might not be true later on; what I want to do next is have a more sort of hip hop, R&B production style to it.

That's neat. Your first album was released in 2006, so that's nearly ten years now…
Fucking hell, yes, shit. That's crazy! I wish I knew what I know now back in 2006 when I was making my first album.

You spent two weeks on that album.
That's something I'd never be able to do again. That first album took two weeks, or three weeks, I think; I wrote all those songs in two or three weeks.

Why wouldn't you be able to do that again?
I've tried. Some of the songs on the new album, I might have spent a year, two years working on them. I mean, I kept coming back to them every so often and then adding a bit more or changing them. Sometimes you just need distance between your work so you can come back with a clearer view. You get too close.

A lot of people have been saying it's the return of OJ Law.
Really?

Do you feel the pressure?
All the pressure that I felt making this record has come from myself, that's why it took so long. If my music wasn't going anywhere, I'd still be making music.

For more information visit www.ojlaw.co.
A look back: OJ Law over the years


Following a two-week 'explosion of music making' focusing only on a bass guitar, a drum machine and keyboards, OJ Law's debut album is lo-fi, minimalist power pop, with nine out of ten tracks under the three-minute mark.


Drenched in nostalgia, 'Timezones' is a little more indie pop rock, a little more refined.
'Yesterday is a Distant Dream' (2011)


Featuring 'Fantastic Adventure' with Liyana Fizi, 'Now We Disappear' and 'Start/Stop', his third album was Time Out KL's 'Album of the Year' for 2012.


The latest album dispenses dance floor-ready sonics and synths, tunefully-tight '70s disco funk and a slice of '90s house.