Third Eye Blind interview
'A lot of bands who've been going on for ages end up in competition with their earlier work,' says Third Eye Blind guitarist Kryz Reid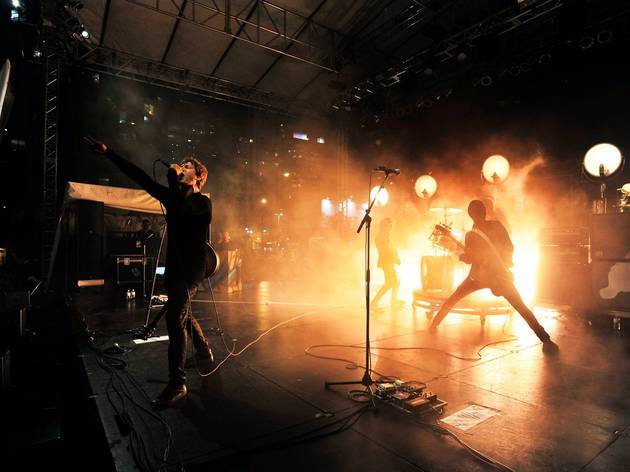 The pop rockers of the '90s, whose appeal lies partly in sly songwriting and partly in their ability to trigger nostalgia whiplash, released their fifth record 'Dopamine' last year, rumoured to be their final – before promptly following it up with the seven-track EP 'We Are Drugs' in October.
'We feel that the EP is very immediate, and a snapshot of the band today,' says Kryz Reid, lead guitarist of Third Eye Blind, on the politically-peppered release.
In June, the semi-charmed American alt-rock juggernaut took centre stage at a Republican National Convention-linked charity event in Cleveland, during which the band played deeper cuts from their catalogue, proclaimed their support for LGBT rights, and at one point, asked the audience members to raise their hands if they believed in science.
We catch up with Kryz via email ahead of the band's debut in Malaysia for Rockaway Festival to talk about David Bowie, 'Dopamine', and '90s nostalgia reunion booms – not that the band has time for nostalgia.

Photo: Josh Sanseri
It appears that all anyone can talk about these days is the RNC-adjacent performance in Cleveland's Rock and Roll Hall of Fame – it's been dubbed a 'troll-tastic' event, in which you asked the audience members, at one point, to raise their hands if they believed in science. Were you at all concerned about hurting the Musicians on Call charity and fundraiser?
That's a charity we've worked with in the past; we have a relationship with them. They chose the time and place for that show, and it worked out well; we were on a nationwide tour at the time, so we rolled into town that morning and it was everywhere. I mean, you couldn't walk down the street without religious fanatics and anti-abortion slogans being screamed at you. It was bizarre. I think we helped MOC. We're kind of used to being considered the underdogs, so that sort of mob mentality doesn't faze us.
Do you think that perhaps people should've known better anyway, considering the fact that Stephan Jenkins did once write a commentary piece for The Huffington Post entitled 'Why We Aren't Playing at the RNC'?
Haha! That article was years ago. I think it's good to shake it up. Listen, we have Republican fans; even members of our touring crew are Republican and we all happily discuss political differences all the time, but it's a conversation. What's really surprising is the lack of that conversation a lot of the time. So, for people to show up to that show and learn that 'Jumper' was written about a gay man, it provokes that conversation, I think. Also, we're always surprised when people complain about political content in our songs, like, who have they been listening to for the last twenty years?
We read a few interviews in which you said you were done with albums after 'Dopamine'. Is that still the case, and why? You did release the seven-track 'We Are Drugs' EP this year, which is almost an album in length.
That comment was more about full-length studio records and about releasing more frequently, whenever we feel like it, really. That's how 'We Are Drugs' came about. We want to just jump into the studio as we have the songs, ready to record, instead of over-thinking a whole record and concept, and whatnot.
'Dopamine' has at least two David Bowie references.
Bowie is a huge influence on, I think, anyone who has made music in the last how many years, but the references to him on the record were timely, for sure. We had all gotten our Bowie on when we were recording the track 'Get Me Out Of Here' for 'Dopamine'. Lyrically, I think maybe Stephan stayed in that headspace for a while, and some of it lingered onto 'We Are Drugs.' None of us had any idea that [Bowie] was ill, far less that he was so close to dying.
'Jumper', we now know, is a song about a gay guy who jumped off a bridge. When it first came out all those years ago, it had a darkness to it – but today it seems to have been infused with a real sense of joy, relief. Why do you think the song still resonates with so many people today?
Stephan's lyrics. I think he has a way of communicating content which is timeless, really.

Photo: Danny Shippey
Writing music seems to be all about the words for Third Eye Blind, about the lyrics. We read that the lyrics on 'Dopamine' took a while to hone, and that some songs took you a year to write. How do you know when a song is finished, when the words are right? Is it ever possible to spend too much time tinkering over a song?
Absolutely, we're far more immediate now in our approach to recording, more about the moment rather than getting bogged down in second thoughts and second guesses.
Are you a political band now, or do you consider yourselves a political band now? You've doubled down on your political messages in your music in more recent times, especially with 'Cop vs. Phone Girl' on the EP 'We Are Drugs'. You've mentioned in an interview that Top 40-type songs don't directly address the issue of police brutality – is that why you wrote the song?
We're a band. Period. Stephan has never shied away from expressing his views – political or otherwise in his lyrics. Like I said before, we were amazed when we saw some pushback after 'Cop vs. Phone Girl' was released; people were saying 'Stick to music', etc. There's been a lot of social commentary in Third Eye Blind songs since the beginning, and I think some of it has to do with the buttons you push with people. All those people at the RNC, they weren't there to 'make a stand' or 'stand up for what's right'; more so they were there because everyone else there was on their team. It's like having a debate with someone who agrees with you; it's just reaffirmation. It's like when that Scientologist left 'South Park' – a show that had ridiculed every religion for years, none got a free pass. He was partisan to that for years, but when it was his religion, suddenly he thought they had crossed a line. So, I think it's like that with our songs.
'Third Eye Blind has always existed in a kind of netherworld between the mainstream and the alternative, never part of a clique or a scene'
In an interview with Red Bull in June earlier this year, you stated that you're 'a cult band'. But you're one of the few mainstream rock, guitar rock successes that have stayed on the scene post-early 2000s, and you're still playing huge rock stages at Bonnaroo and Lollapalooza.
Third Eye Blind has always existed in a kind of netherworld between the mainstream and the alternative, never part of a clique or a scene. Honestly, I think it's a good thing. It also means that the band gets spread by word of mouth far more than by advertising or anything that's shoved down people's throats. Our audience grows with us, and they want to share what they've discovered. That's how our shows are populated – by returning fans, and first-timers. This kind of dynamic leads to a following that I think exists with us in between the mainstream and the alternative; our fans find each other at our shows and they become family, reuniting each time we play. We bubble under the fray, cult-like, if you will.
There's been a recent revival of late-'90s, and early-2000s artists cashing in on nostalgia tours, but it seems to us that Third Eye Blind isn't quite a nostalgic band. What are your thoughts?
Yes, we're never going to be resting on our laurels with respect to cashing in on nostalgia tours. We're far more concerned with moving forward as a band. That's why you see us at festivals like Bumbershoot, Lollapalooza, Summer Sonic.
How do you come to terms with nostalgia, as a band that debuted two decades ago?
A lot of bands who've been going on for ages end up in competition with their earlier work. That's something that sometimes time has to give some perspective to. I remember when 'Sign o' the Times' came out and people were comparing it to Prince's earlier work; now, it's considered a part of his earlier work. You have to understand that from the inside, we're not ever looking back in that respect; we're constantly moving forward.
For more, visit thirdeyeblind.com.