Toko Kilat interview
The creative motors of fast-rising Toko Kilat speak about starting over as old hands in a new band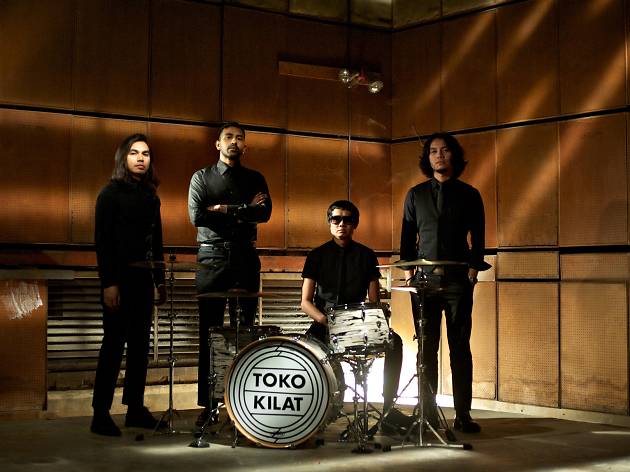 'For once, it feels like I'm in a band.' This, coming from Redzuan Hussin of Toko Kilat, might sound slightly surprising, if not strange; the bassist, with guitarist Khairil Shah, makes up the Singaporean half of Toko Kilat; the other half being Malaysians Edwin Raj – a frontman's frontman – and Irfan Iskandar, drummer.

Be warned: The word 'supergroup' is one that doesn't sit well with Toko Kilat. Perhaps it brings to mind bloated egos bickering over creative control; perhaps it's the association of supergroups being flash-in-the-pan side projects. Independent of the collective members' individual pasts – Edwin also fronts, most notably, They Will Kill Us All; Irfan drums for Britpop bands Bittersweet and The Times; and Khairil and Redzuan are in the two-decade old Singaporean jazz act Moods – Toko Kilat, for one, has substance beneath the style.


'We're still searching for the Toko Kilat sound. I feel like it has embodied the name Toko Kilat. It has become Toko Kilat'


Toko Kilat is reclaiming rock'n'roll. In their thirties, the band's members aren't posers: they're pioneers. No doubt, the skinny jeans – black, of course, paired with black shirts – are supposed to say something about style, but it also says something about Toko Kilat's sense of purpose: This is a band that looks the part, lives the part. This is a band that's all about the business.

'I'm not – we're not – going to go to the studio, and just be like, "Let's jam for fun". We've got careers, we've got kids. It's not like that, it's more like, "This is the song, this is the sound, this is what we have to do",' Edwin says.

Take the success of single 'Pemacu Api' for instance, which was mastered by Frank Arkwright of Abbey Road Studios, whose discography reads like a who's who of music greats (Joy Division, Morrissey, The Smiths). It's shot through with seething urgency – a sonic landscape stricken with fire, thunder, lightning, akin to the sounds of gods moving furniture. Apt, as there's no camouflaging Toko Kilat's commitment to the cause. 'Pemacu Api' sounds even stronger once one learns of the conditions under which it was created; that is, with the Singaporean half of the band crossing the causeway to Kuala Lumpur on Friday afternoons for rehearsals and recordings, before driving back down south on Saturday evenings every fortnight.



Photo: Ahmad Cipoi Saiful

'This is the modus operandi: we write the songs on Friday nights, we jam until the wee hours, and on Saturdays we're in the studio, laying down the parts,' Edwin says. 'We're not going to over- Radiohead it lah. It's fast, yes – but we're confident.'

This confidence, especially for a band that was only fully formed in February, is natural, if not inevitable: Toko Kilat is guided by their collective skills and synergy, and as a whole, they are greater than the sum of their parts.

It's worth taking stock of the way conversation has swirled around them – especially having only properly released one single. To many, they are Malaysia's answer to Interpol.

'It could be worse,' Redzuan jests. The riffs on 'Pemacu Api' are very much Fugazi-leaning, the band is quick to clarify, 'rather than Interpol'. 'Interpol is a fucking good band. If people said, "Hey, you know, they're like Hootie & the Blowfish", I'd be worried. That'd be a problem,' Edwin jokes.

'People think, because of our pasts, "Oh, this must be some technical music that Toko Kilat is putting out", but no, for the first time we didn't dictate too much on what should be done,' Edwin says. 'Let's just make music, let's see what happens. We're still searching for the Toko Kilat sound. I feel like it has embodied the name Toko Kilat. It has become Toko Kilat.'