Yellow Fang interview
We speak to the all-girl Thai band ahead of their Urbanscapes show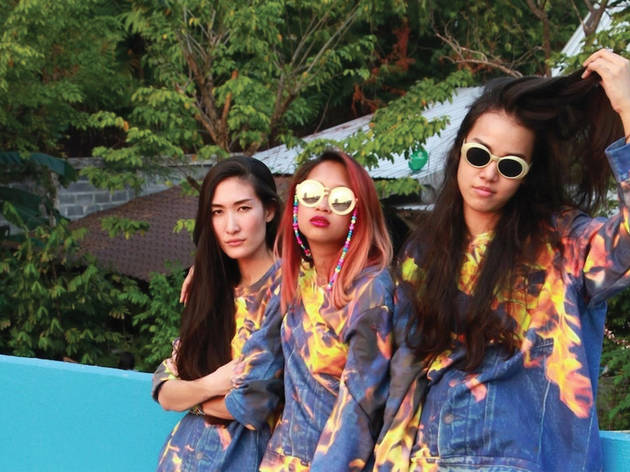 Yellow Fang loves you, trust us, they do. If you need proof, check out their merch and social media handles. The Thai all-girl band – consisting of Pang on guitar and lead vocals, Praewa on drums, and Pym on bass – has been around for about ten years and is still going on strong. The girls have played in various music festivals all over Asia including Tokyo's Summer Sonic, Pattaya's Wonderfruit and Malaysia's own Cross Border hosted by The Wknd. They'll be back in town for Urbanscapes and leading up to that, we had a short chat with them about girl power, the next greatest, and The Powerpuff Girls.

Hi guys! So excited to have you back! Anything interesting happened the last time you were here in KL?
Hellooo from Yellow Fang! We're so excited to be going to KL, as always. We love travelling and meeting friends along the way while touring. Last time we were in KL, we had a lot of fun despite our short stay. We think we slept more on the van travelling than on the bed (commuting between KL and JB). Shout-out to our driver Mark, he had good music going all the way. We look forward to eating sessions after the show; after hours food places always have character. Night-time experiences while touring are often the best.

How's the scene like in Bangkok these days? Has a lot changed since you first started out?
The difference is that there are more festivals and more creative spaces that have started to organise gigs. We see more varieties of genres emerging, bringing with them their own followers, gathered from online platforms like Facebook or YouTube. There are more choices to move about in; we might see the same person attending all kinds of different music events, because a person could be a mixture of all kinds of things.

Even now we're excited about a hip hop movement that's starting to take shape. Bangkok is fun to be in at the end of year; a lot of organisers like to host events then, because it's more of a 'chill and beer' weather.

Do you have any pre- or post-show rituals?
Check makeup if we have time. Adjust setlist if we feel like something should be added or taken away. After shows we like to find good local food and hang out a bit.




What do you think of the phrase 'girl band'? Because boy bands are usually of the pop genre, but a girl band is almost always playing rock.
To think of it, it's a very funny truth. Girl bands give you a perception that a girl would be holding an instrument while boy bands are more like a boy group. Guess it's one thing we like about the phrase, even if it tickles us a bit to say it about ourselves. Obviously, we still haven't thought it through.

What do you think of 'girl power' and feminism in music?
Girl power is a positive encouragement for people who are growing. And even though a lot of music and media have their own individual interpretation of the phrase, it's better to have this phrase in the world than not. Feminism is a legacy that had been handed down to us from strong female artists. And feminism in music is dignity more than aggression. A female artist is an artist who just happens to be born female.

'The Greatest' came out over three years ago. When can we expect the next greatest?
We're looking for new sounds, it might take a while, but it's coming along, we still enjoy playing music very much.

So who does Yellow Fang love at the moment (besides the fans) ☺? (In reference to you guys using the phrase 'Yellow Fang loves you'.)
We're loving the new sounds the world has to offer coming from the jazz and hip hop genres, new artists to be discovered. And look at festival line-ups that are getting crazier every year!

Let's say it's Halloween and you're going as The Powerpuff Girls. Which one of you is Blossom, Bubbles and Buttercup? And why?
Pang is Blossom, because she always is the maker of plans. Praewa is Bubbles, because she's sweet and cuddly but still has an edge. And Pym is Buttercup, because she had the same bob and she's a bit of a tomboy. It fits!

facebook.com/yellowfangloveyou