The past few weeks have seen KLites making googly eyes at zang zang bao, or 'dirty, dirty buns', a messy-to-eat trifecta of a chocolate-filled Danish, coated with molten chocolate sauce and covered in cocoa powder. It was first created by Beijing-based Bad Farmers & Our Bakery in early 2017, and within a year, the Frankensteinian chocolate creation was named by CCTV as one of China's trendiest food items of 2017 as it spread to Korea, Taiwan, Singapore and Malaysia.
To see what the hype was all about, we sought out five bakeries in KL selling their own versions of the dirty buns, queued up and stuffed ourselves to figure out which was the best. It's a dirty job, all right, but someone had to do it.
D'Croissant
Appearance and taste: This bakery in Sri Petaling has come up with the 'Dirty Dino Bun', named so for its large size and rice crispies sprinkled on top. Given the name of the shop, we expected a dirty bun that had the light and crispy texture of a croissant, but it leaned closer towards being a Danish that had a bready and chewy bite.
Verdict: It's not bad, but it could've been better with a lighter pastry. It also didn't help that we had to wait an hour before we could get our hands on two – the limit per customer. Best consumed within 20 minutes, or the outer layer gets a little soft.
RM6.90
67 Jalan Radin Tengah, Sri Petaling (014 639 6393/fb.com/dcroissantmalaysia). Daily, 10am-8.30pm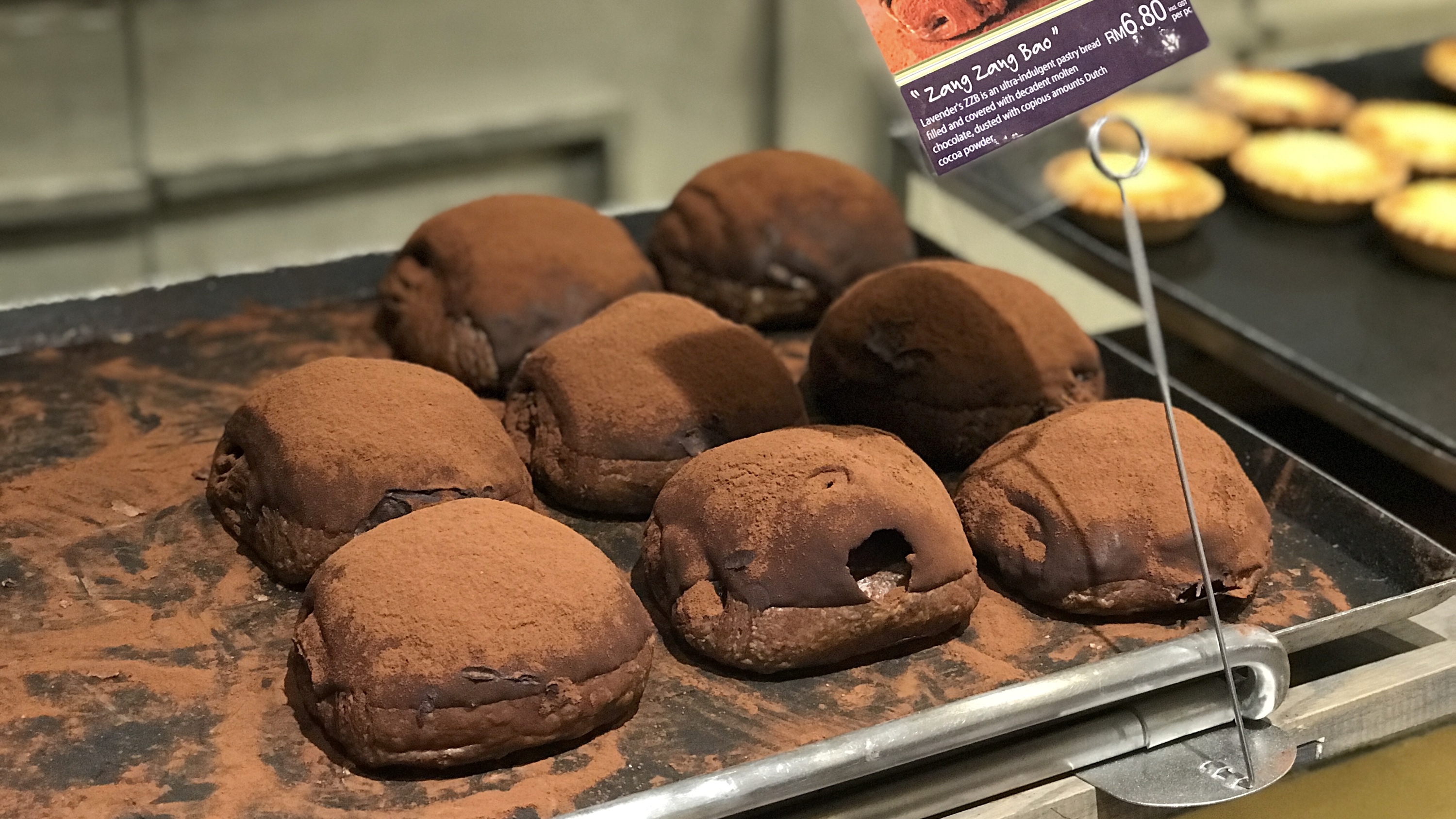 Lavender Bakery
Appearance and taste: Lavender Bakery's take on the dirty bun doesn't stray far from the original formula. But unlike the others on this list, the pastry remained airy, crispy and light, much like a pain au chocolat. We also liked that the outer layer isn't completely covered in chocolate sauce, so you can hold the pastry at the base without your hands getting dirty.
Verdict: Of the five we've had, this tops the list: the pastry maintained its shape and texture, and there's a balance between rich and bittersweet flavours of the chocolate, pastry and cocoa powder.
RM6.80
G213, 1 Utama Shopping Centre, 1 Lebuh Bandar Utama, Bandar Utama, PJ (03 7731 0674/lavender.com.my). Daily, 10am-10pm.
Donutes
Appearance and taste: This bakery chain proclaims on posters that their buns use '100% Japanese flour, 84% AOP French butter, and a 52% French Chocolate Nugget' – we're not sure how they got to such precise figures (or what makes up the remaining percentages), but it does taste like a proper dirty bun. The chocolate is rich and bittersweet, and the croissant pastry light and airy.
Verdict: Definitely one of the better ones – it comes in second on our list, just behind Lavender Bakery's. Bonus points for being open 24 hours, so if you're in need of a chocolate fix at odd hours, you might find it here. Our only gripe: the outer layer had gone soft and peeled off a little too easily.
RM6.90
1 Jalan PJU 5/13, Dataran Sunway, Kota Damansara, PJ (03 6143 7262/donutesmalaysia.com). Daily, 24 hours.
Original Cake
Appearance and taste: Taiwan-based Original Cake's 'Dirty Bom' is essentially a chocolate covered cream puff. Inside the choux pastry is a vanilla custard filling that oozes out the moment you bite into it, creating a goopy mess that needs plenty of cleaning up after.
Verdict: Try this only when you've had other conventional dirty buns (like the others on this list); the cream puff pastry lacks the light crispy delicacy of a layered Danish and the rich custard does get a bit too much after the third bite.
RM6.90
S121b, 1 Utama Shopping Centre, 1 Lebuh Bandar Utama, Bandar Utama, PJ (03 8069 1626/originalcake.com). Daily, 10am-9.30pm.
Haruka Bakery
Appearance and taste: While others are content to stick to the original recipe, Haruka adds their own twist by making their pastry without chocolate, resulting in a white Danish pastry that's coated with molten chocolate, with a stick of chocolate baked at the centre.
Verdict: We liked this one too – particularly the buttery notes, which are more pronounced without the triple chocolate intensity found in others. We only wished it had more crunch to the pastry, but otherwise we'd happily go back for seconds.
RM6.90
18-1 Jalan PJU 5/17, Dataran Sunway, PJ (016 225 1161/fb.com/haruka.panya). Mon-Fri, 8.30am-9pm; Sat, 8.30am-8.30pm; Sun, 7.30am-8.30pm.